CONCORD – Over his last two years of high school football, Cody Cline was one of the best in Cabarrus County.
Just months after graduating from Cox Mill High School and matriculating to Charleston Southern University, Cline has proven he's one of the best in the Big South Conference.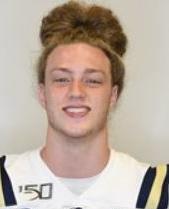 On Tuesday, Cline was named the 2019 Big South Football Defensive Freshman of the Year, the league announced.
The 6-foot-1, 185-pound freshman safety led all Big South players in his class by averaging 6.1 tackles per game.
During his time at Cox Mill, Cline was also a standout basketball player, starting at point guard for back-to-back state championship-winning teams.
Cline becomes the fourth Charleston Southern player in program history to claim honors as one of the top freshmen in the conference, and the first to claim Defensive Freshman of the Year. Cline joins Jonna Lee (2003), Danny Croghan III (2013) and Solomon Brown (2015) as the lone Bucs to claim top freshman honors following their first season of competition.
Cline earned a starting role with the Buccaneers from the beginning in 2019 and showed he would be a player to watch this season with seven tackles (six solo) and a pass breakup in the season opener against Furman. He followed up with six more tackles the following week against South Carolina.
Cline came through in big games throughout the season with nine tackles (seven solo) and a season-high 1.5 tackles for loss against North Carolina A&T in CSU's home opener. He added nine more stops in the crosstown rivalry game against The Citadel.
Cline posted his first double-digit tackling effort with the Bucs against Monmouth with 10 tackles and a pass breakup.
The following week, Cline earned Big South Freshman of the Week recognition with a season-high 11 tackles and his first college interception in a win over Gardner-Webb.