CONCORD – With the score being what it was in the fourth quarter, the Central Cabarrus boys basketball team was probably playing good enough defense to beat Jay M. Robinson anyway. But Vikings coach Jim Baker sensed that the effective man-to-man his team played until there was five minutes left in the game wasn't a slam dunk to victory.
Baker's gut feeling of switching to a half-court, 2-3 zone against the poor-shooting Bulldogs proved to be the right choice. Cream of Cabarrus No. 6 Central Cabarrus held Jay M. Robinson to a single fourth-quarter field goal, which came with 20 seconds remaining, and the Vikings held on for a 64-56 win in the South Piedmont 3A Conference opener for both teams Friday night.
"I don't like playing much zone, but sometimes at about that four- or five-minute mark, I like throwing a curveball up there," said Baker. "You've been throwing fastballs, and all of a sudden you make them stand around a little bit …"
Central Cabarrus, which has won six of its last seven games, improved to 10-5 overall. Jay M. Robinson, which shot 37 percent from the field (18-for-49), dropped to 8-6.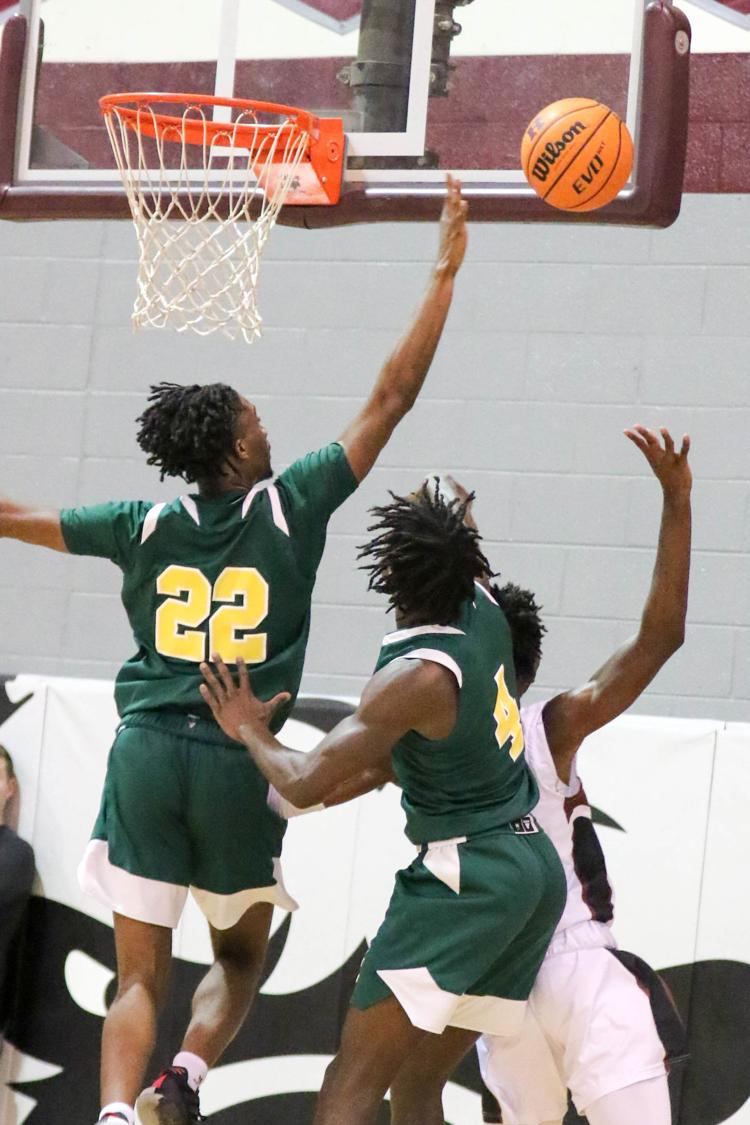 "I think (the first conference win) is big," added Baker. "All these early (wins), you don't have to worry about winning in the end, so it was good for us."
Jay M. Robinson made seven of eight free throws in the fourth quarter, including Mark Chambers' pair that brought his team to within 51-49 only 34 seconds into the final frame. But Tre Bost's tip in of a missed layup and Da'Jon Johnson's step-back 3 in front of his team's bench stretched the Vikings' lead to 56-49 less than a minute later.
When Jay M. Robinson's Justin Boateng sank a pair of free throws with 2:44 left, the Vikings trailed 58-54. Baker calls 6-foot-3 junior Teveon Glover his best interior defender, and his steal in the low post and rebound of an off-balance Bulldogs shot over the final couple minutes made a difference.
"Central came in and pretty much man-handled us in pretty much every facet of the game," said Jay M. Robinson coach Lavar Batts Sr. "We fought part of the game. They fought the entire game. That's why they came out victorious."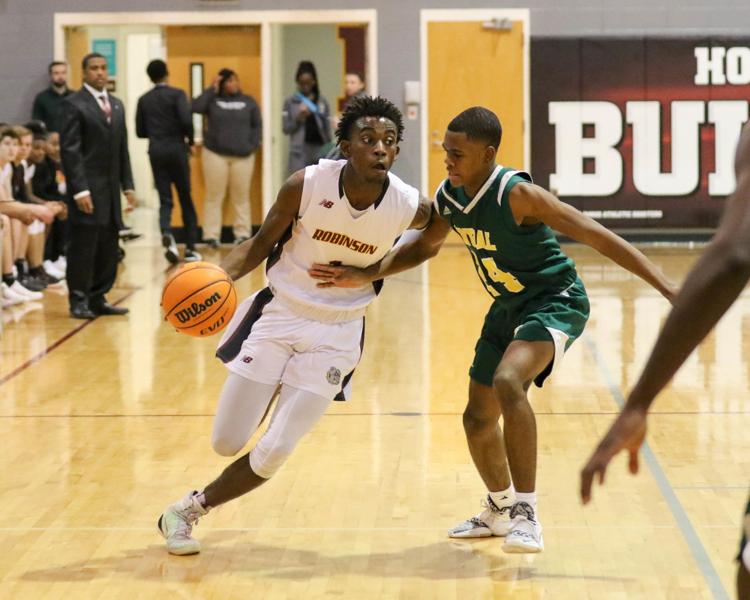 Boateng, who had a game-high 22 points along with six rebounds, scored 12 in the game's first nine minutes. His two free throws and a short bank shot by Deandre Kelley-Little gave the Bulldogs their last lead at 19-17 with 6:48 left in the first half.
A baseline jumper by Bost (13 points, five rebounds) and a Johnson 3-pointer from the left wing put Central Cabarrus up for good, but it was Glover's hard-nosed play through the rest of the second quarter that helped the Vikings build a modest halftime lead.
Glover hit two jumpers from the free-throw line midway through the period. The second one came after he tipped a defensive rebound to freshman point guard Jaiden Thompson, who returned the favor on the other end by assisting on Glover's basket.
With less than a half-minute to play in the half, Glover assisted on Bost's 3-pointer, then grabbed a defensive rebound and coupled it with a layup on the other end for a 34-23 lead. Ky Richardson's trey with eight seconds left cut the Bulldogs' halftime deficit to single digits, 34-26.
"I feel (mid-range jumpers are) where I'm most consistent because I've been doing it for so long, since middle school," said Glover, who had a team-high 14 points, five rebounds, four assists, and three steals. "My dad told me a mid-range has to be like a layup to you because I'm not that tall."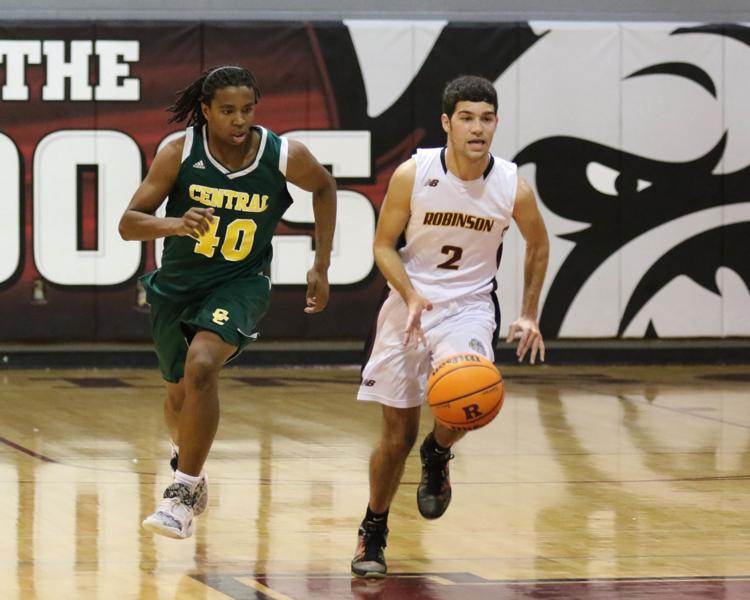 Central Cabarrus squandered most of its lead by the third quarter's midway point. A seven-point Jay M. Robinson run cut the lead to 40-38, and a disgusted Baker called a timeout.
"This is a funny group in a good, good way," said Baker. "I don't say too much to them. But I called that timeout and chewed them out a little bit, and, boy, they spurted that thing right back up."
Zachary Bessette scored two quick baskets, including a dunk off a nice bounce pass in the lane from Glover. Over two minutes, Johnson (10 points) made a baseline jumper, Glover scored on another mid-range jump shot, and Thompson scored a layup as the lead quickly rose to 50-41.
Jay M. Robinson senior forward Mark Chambers had a game-high 13 rebounds and added 16 points.
Central Cabarrus     17     17     17     13 – 64
Jay M. Robinson      15     11     21       9 –  56
CENTRAL CABARRUS – Da'Jon Johnson 10, Cornish 6, Steed 7, Bessette 8, Marvin Bost 13, Thompson 6, Teveon Glover 14
JAY M. ROBINSON – Justin Boateng 22, Abee 4, Reed 3, Richardson 5, Kelley-Little 5, Beone 1, Mark Chambers 16