Editor's note: This is the third in a series about addressing mental health illnesses and finding resources in Cabarrus County.
There is a common negative stereotype that comes with suffering from a mental health crisis.
Gwen Bartley, founder of Amazing Grace Advocacy in Concord, said that years ago people were ashamed or didn't want to talk about it or seek help.
"We are finding that not to be true in this day and age," Bartley said. "People are talking to their doctors about it. They are out there seeking help, looking at the internet."
Local leaders continuously work to educate the public on how to interact with a distressed person and to find help in Cabarrus County.
 ------------------------------------------------------------
 ----------------------------------------------------------------
Mental Health First Aid available to public through Atrium
Atrium Health, Cabarrus County Emergency Management Services, the Cabarrus Health Alliance, Mental Health America and Cardinal Innovations have local courses designed to train community members and first responders in case of mental health emergencies.
Since 2014, Atrium Health has instructed more than 15,000 people in Mental Health First Aid in North Carolina and South Carolina.
Since 2016, in Cabarrus County, 835 people were trained by Atrium.
"We know that knowledge is power so we know that if we educate people with the facts, that No. 1, that automatically helps reduce the stigma," said Jerrika Swartz, with Atrium Health. "It's not training you to be a therapist. You are really meant to be trained to be armed with the resources you need to help that person."
Atrium has already had nine classes in 2019, and is expected to have eight more this year, from city and county employees to first responders, teachers and regular community members.
"We want Mental Health First Aid to be as prominent as regular first aid is," said Timbs Fulghum, an Atrium Health First Aid instructor. "If you think about CPR that's taught to corporations, communities, churches, we want the same thing to happen with Mental Health First Aid."
Atrium instructs eight-hour training sessions, either one full day or two four-hour days.
Fulghum said the training sessions really go into detail for any situation, including helping people identify signs and symptoms of anyone experiencing a mental health illness.
"That's so important, because if we reduce stigma, then we know people will seek mental health treatment sooner," Fulgham said. "We are not training people to diagnose mental health illness. We are simply training people to provide assistance and support."
Fulgham said that in the training sessions, they talk people through scenarios in which could turn into a dangerous incident.
"It has been great because one of the things we know is it empowers people to be able to ask the questions, are you having thoughts of suicide?," she said. "We have actually had people come back and say, 'I was prepared and I asked this question because this class taught me to ask this question. I felt empowered and I was able to help this person."
Other mental health training services available
Mental health issues are happening at schools, in the workplace and throughout communities.
Cabarrus County leaders initiated the Mental Health Advisory Board, which has nearly 30 experts in the mental health field and first responders, to begin the discussion.
"I think the biggest thing is reducing that stigma," Cabarrus County EMS Assistant Director Justin Brines said. "For the community, it is to raise awareness to understand that you can talk about it and that you can ask for help. If you have a family member who needs help, you know where to find it."
Cabarrus EMS, Cardinal Innovations and Mental Health America offers Mental Health First Aid Training to the public and emergency responders.
EMS and the Cabarrus Health Alliance provide public training in QPR (Question, Persuade and Refer).
"That is specifically on helping someone who is contemplating suicide," Brines said. "We are a resource to other departments in the county to go out and train the public, and part of that comes with removing the stigma."
Cardinal Innovations takes lead in CIT training
Crisis Intervention Training was introduced to North Carolina in 2004 and picked up by Cardinal Innovations four years later.
Now, local law enforcement officers and emergency responders are getting trained in crisis intervention through Cardinal Innovations.
"Anyone who is diagnosed with mental illness, substance abuse disorder or disability, they may have a crisis, which means things aren't going too well and it could escalate and be potentially harmful for themselves or family members or the community," said Kilsey Silva-Disla, Community Engagement Specialist with Cardinal Innovations.
Cardinal innovations train emergency responders on how to handle crisis situations and how to deescalate that type of situation without using force.
"If it is a dangerous situation, they have to protect themselves and the community," Silva-Disla said. "For the most part, we want to train them in how to handle those situations and the resources. If somebody doesn't need to be incarcerated because they didn't break the law and it's just someone having a crisis because of their mental illness, then we want to give them the resources on where we can take this person for treatment."
Silva-Disla said Cardinal Innovations train just about every month, and individual emergency responders train for 40 hours.
She said crisis intervention started in Memphis, Tennessee after a woman's son, who had a mental illness, died when a crisis situation escalated.
"She went to the Memphis Police Department and said, 'I don't want this to happen anywhere else. What can we do to provide law enforcement so they know what to do in these types of crisis situations and reduce fatalities?' Silva-Disla said.
In 2018, Silva-Disla said Cardinal Innovations trained about 90 local law enforcement officers and more than 80 emergency responders.
She said the goal of the course is to make emergency responders aware of what signs to look for and find the best ways to respond.
Cabarrus EMS Assistant Director Justin Brines said about half of their staff has been CIT trained through Cardinal Innovations.
"One of the first things we did when the Mental Health Advisory Board came out was to think about what training specifically we do for our staff to better equip them to handle folks in crisis," Brines said. "We decided that CIT would be that additional training. We've really focused on our full-time staff and our master paramedics. Almost all of them are trained because they are going to be on the truck when somebody gets there."
Concord Police Chief Gary Gacek told the Independent Tribune that his officers are also trained for crisis situations through Cardinal.
"Industry standard is to get 20 percent of a patrol force CIT trained. My goal since becoming chief is 100 percent," Gacek said. "We have made progress towards my goal but have not yet achieved that very high bar. CIT is basically additional training for officers to identify people in mental health crisis and giving them the tools they need to better handle these situations."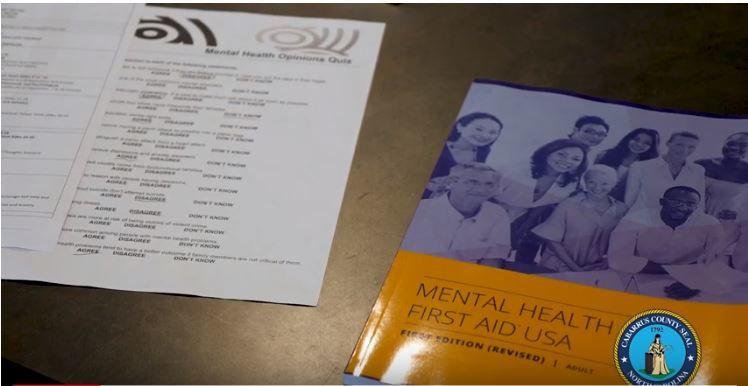 Kannapolis Police Chief Woody Chavis added that when he started in the police force, CIT wasn't thought about.
Now, he said, the Kannapolis Police Department is in the process of sending all of its officers through training.
"They've really bought into it. It's hard to say how many lives have been saved because of it, but we know it saves lives," Chavis said. "We really want to stress to our officers to try and talk your way out of it first. No officer wants to get into a physical confrontation or hurt somebody."