That's what Kate Culbreth, Cabarrus County Schools 2018-19 Teacher of the Year and 2019 Southwest Region Teacher of the Year, told new teachers they needed to do to be successful in their education career.
Cabarrus County Schools welcomed its new teachers and other certified employees during a new employee orientation event at Jay M. Robinson and Culbreth shared these words of wisdom with them during a luncheon.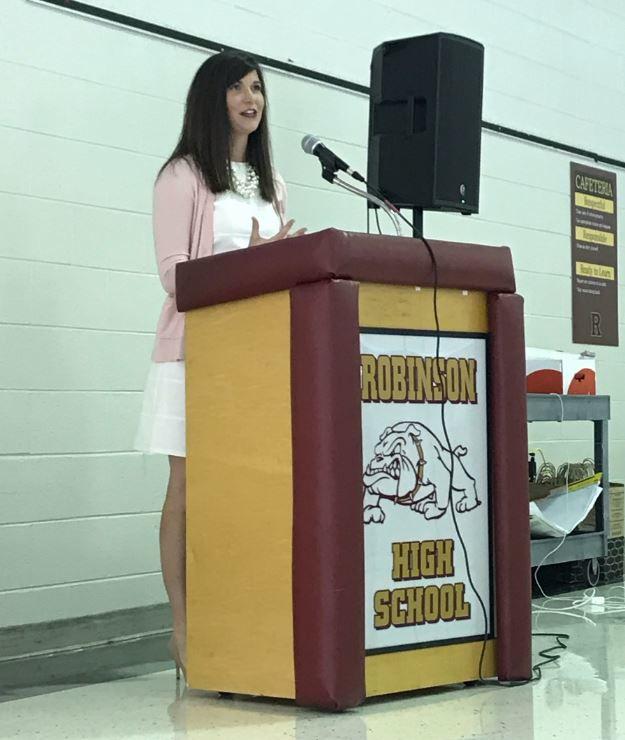 "Sometimes speeches like this can be a little bit one-sided. I'm supposed to stand up here and impart all of this wisdom and knowledge at the beginning of the school year. But today is going to be a little bit different because I'm not going to talk about something that I know that you don't. I'm going to talk to you about something that I know each of you know really well, and that's resilience," Culbreth said. "I know that each of you know what resilience is and I know that each of you have resilience because you're in education and if you work in education, you know a thing or two about resilience."
Referencing a book titled "Onward: Cultivating Emotional Resilience in Educators," Culbreth said that if teachers can cultivate resilience they can create more stability in their classrooms and for their students and be role models for managing the unpredictability of life.
"One of the best things about resilience is that you are not born with a set amount of it. You can frame yourself to be resilient and you can build more resilience as you go through events in your life," she said. "I think a lot of times you don't really realize that you are until after the fact."
To illustrate resilience, Culbreth told the group about her first year of teaching. After graduating from college she moved back to North Carolina and said she spent more days at the pool than applying for jobs. So she was hired at W.M. Irvin Elementary the day before new teacher orientation and had almost no time to work in her classroom.
But she was determined to be the best teacher she could be.
"So needless to say, I was just really crushed when I quickly realized that my classroom wasn't exactly what I dreamed it would be. As a new teacher I was overwhelmed. I was working a lot of hours. I brought home work on the weekends and still never really felt prepared for Monday morning," Culbreth said. "I felt like I was on that ride at the fair where you get buckled in and spin around and around in circles really fast, and I felt like a total failure. I found myself beginning to wonder had I even chosen the right profession. I had literally wanted to be a teacher my entire life, but this was just not really what I thought it would be."
Putting a disclaimer on the story, Culbreth said that was 10 years ago and she is still a teacher at Wolf Meadow Elementary School. It was resilience and the leadership in the district that got her through that year and every one after that, she said.
When she tells that story, Culbreth said she leaves out that she signed up for a behavior management workshop, got her masters in reading from UNC Charlotte and that she came back day after day, week after week and month after month to be there for her students.
"When I add those details into the story, the narrative really starts to change. It's really how we interpret these challenging times in our lives and careers, that's really the pinnacle of where our resilience increases or depletes. We have this choice of the story we tell ourselves," she said. "We make the choice to take the details of the a day, a week, a month or a year and craft them into a story that says I'm new at this, I'm still learning and I'm getting better every day or I'm new at this, my students are terrible and I'm never going to make it. I encourage you to keep that in mind as you go through this year."
Some of the best advice Culbreth said she got about being a teacher was when someone told her she had to "find her people." She said that is illustrated by Jennifer Gonzalez, editor and chief of Cult of Pedagogy, a blog that offers a variety of resources for teachers.
Gonzalez wrote about companion planting, or planting different crops in proximity of each other to help them grow. The best companion plant is a marigold.
"So when I read that, I thought about schools. Schools are filled with marigolds and marigolds are people who are going to help you build resilience this year in your classrooms and your schools," Culbreth said. "I want to tell you about a more recent time in my career when I found some marigolds that literally changed my life."
After moving out of the classroom to take an instructional coach role for about four years, Culbreth felt it was time to come back to the classroom so she was placed on a 5th grade team. Last year one of the teachers that was on that team decided to take a job outside of education, so Culbreth said the group got back together to reminisce about its time together.
Culbreth said the team had amazing growth with its students, and the members were mulling over what made it so different.
"What we started realizing is we had been through some major life stuff throughout this time together," Culbreth said.
When the team worked together, one member found out she was going to be a mom at school after two failed adoptions, some teammates suffered miscarriages, one went through a divorce and Culbreth's father was diagnosed with brain cancer and she became his primary caregiver until he passed away.
"Needless to say on that team we had a lot of highs and lows, but despite all of these struggles our students exceled. Our growth was off the charts. Without saying it, it was collective resilience," she said. "It was the idea that when one of us was weathering a storm, the rest of the team stepped up and we were there for each other not just as a team, but as a family."
Without that team, Culbreth said she would have never been Teacher of the Year because the members lifted her up when she was down, showed her the way when she was lost and motivated her to be the best teacher she could be.
"They are my marigolds and that is collective resilience. So when you go off into your new school this year, you have to find your marigolds. You have to find the people who are going to help you feel calmer, more hopeful, more excited, more positive," Culbreth said. "Find the marigolds that are going to help you build a community of hope and resilience within your classrooms and within your schools, and then build that community so you can continue and we can all continue to answer the call to this wonderful profession and we can all continue changing the lives of kids in Cabarrus County Schools."