Throughout the school year, employees with Atrium Health NorthEast volunteer to mentor local middle school students in a program called "Beyond School Walls."
They meet for an hour 15 times per year. However, some of the relationships blossom away from the school grounds.
For the past two years, Atrium Health NorthEast has teamed up with the Big Brothers Big Sisters of Cabarrus County to provide influential people in the lives of 25 students from Northwest Cabarrus Middle School.
"It's been amazing," said Connie Rheinecker, the Area Director of Big Brothers Big Sisters of Cabarrus County. "They've grown a lot, physically, emotionally, mentally, academically. Their relationship with the mentors has deepened."
The program runs from October until May.
An end-of-the-school-year celebration took place Tuesday in the Northeast Plaza at Atrium Health NorthEast.
"The bigs are not just supportive twice a month for that hour, but throughout the times they see them," Rheinecker said. "There's a lot of time for them to grow and be more informed."
Rheinecker said most of the bigs (mentors) attend their little's after-school programs or write them encouraging letters.
However, twice a month, the students are released from school and taken on a bus to Atrium Health where they meet and spend time with their big.
Rheinecker said most of the students are quiet at first, but open up over time.
"Most middle school students are generally timid or shy talking with adults but in our program, you are going to see them highly engaged, having very enthusiastic conversations and having fun," she said. "They are getting support from someone in the community and that makes them feel good."
Danny had an interest in volunteering, and then learned more about the Big Brothers Big Sisters program from a coworker.
"I knew a little bit about what to expect, but it far exceeded my expectations," he said. "Just getting to know my little, Elijah, has been a lot of fun, just getting to know how he does, what he's interested in and talking about things we have in common."
The coordinator selects the volunteers and matches them up with the students based on the right connection.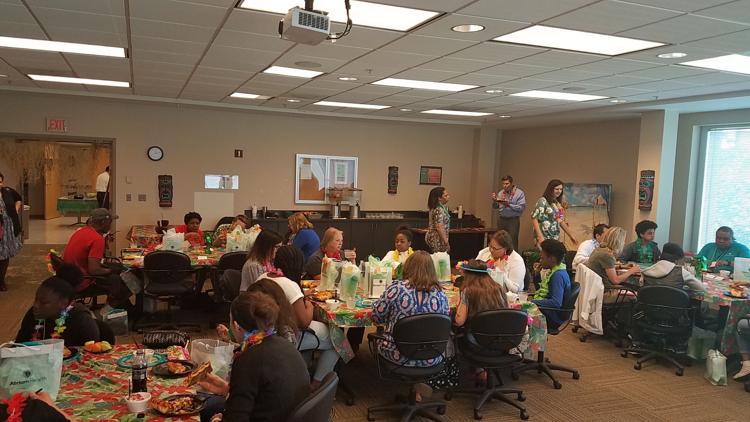 Fu said his experience has been rewarding.
"I think seeing from where he was Day 1, he's opened up a lot," Fu said. "I think naturally he was really shy. I feel like we are on that next level with our relationship and I'm hoping to continue to build on that."
Cathy Person said she adopted her daughter at 11 years old.
Knowing that her daughter has had mentors in her life, Person couldn't pass up the opportunity to be a big herself.
"I think it's important, in this society, to have role models and make connections with kids," Person said. "I know how important it was for (my daughter), so I wanted to be able to do that for another child, be able to support them and help nourish their personal growth."
Lynette Gregory also wanted to make a difference in a child's life. She was once a big sister for a youth in Forsyth County.
"I like young people. I like interacting when them and make a difference in somebody's life," Gregory said. "She's more confident. We get along great. We have a lot of common. It's really neat to see her grow and change."