CONCORD – Rachel Dickey and her husband Austin were expecting their third son, a baby named Asher James.
On July 16, the couple went to CMC NorthEast, now known as Atrium Health Cabarrus, for their 18-week ultrasound when they learned there was no longer a heartbeat.
Through support groups and events like Wednesday's "Wave of Light" ceremony, they realize that they aren't alone in grieving. 
More than 24,000 babies are stillborn in the United States and about 10 to 15 percent of pregnancies end in miscarriage, according to hospital data.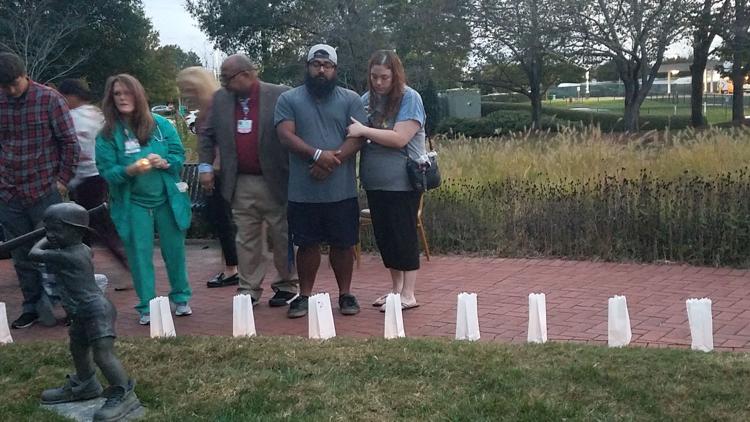 'Wave of Light' for 'Pregnancy and Infant Loss Remembrance Day'
On Wednesday evening, hundreds of parents around the globe who are suffering from the same pain as the Dickeys lit candles during an internationally "Wave of Light" ceremony.
Oct. 15 is considered to be "Pregnancy and Infant Loss Remembrance Day" across the world, and at 7 p.m., everyone participating in the ceremony lit up a candle and kept it burning for an hour.
"The International Wave of Light was created to have a full 24 hours, around the world, of a candle burning in remembrance of babies gone too soon," according to the website October15th.com. "In October of 1988, President Ronald Reagan deemed the entire month of October as National Pregnancy and Infant Loss Awareness Month. On September 28, 2006, House Resolution #222 was passed in the House of Representatives supporting the goals and ideas behind Pregnancy and Infant Loss Remembrance Day. Everyone all over the world lights a candle for an hour, starting at 7 p.m. in their time zone. When this occurs, there is a continuous light shining for the babies for a full 24 hours."
Atrium Health Cabarrus participated in the "Wave of Light" ceremony for the second year, conducting its homage in the Jeff Gordon's Children's Center Garden.
The Dickeys attended the ceremony, knowing they might be overcome with many emotions.
"It's always kind of hard stepping into places where you are most vulnerable, and that I think happens surrounding a death," Rachel Dickey said. "So stepping into an event that will be focusing on that death and that hard vulnerable space in your life, it can be intimidating, but at the same time, it can be so incredibly rewarding in allowing yourself to go to those really vulnerable and hard places."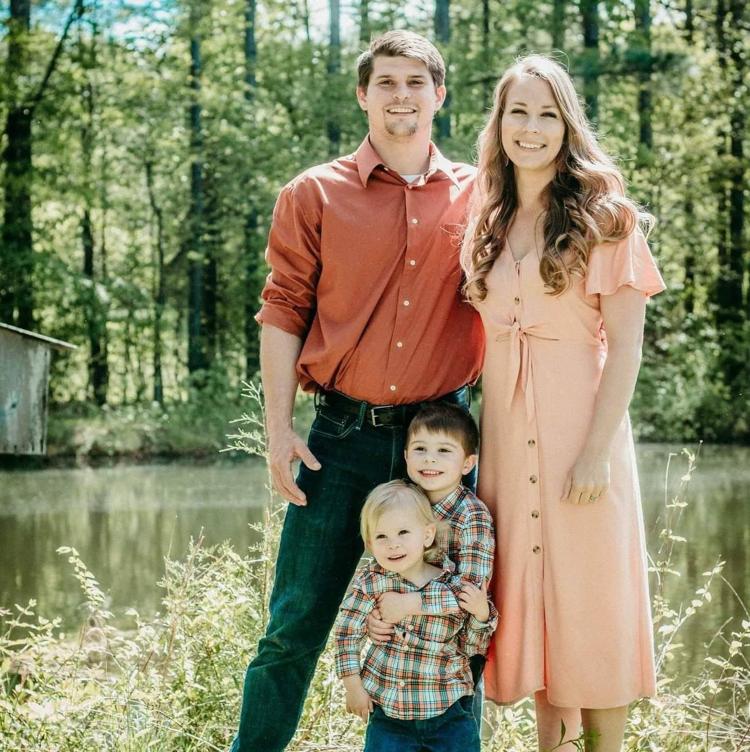 Dickey says she takes solace in going to a gathering where other parents understand the pain that she feels after losing her child.
"It's just going to be so humbling to be in a group of people and know that people from all around the world are taking this one day out of the year to be able to remember and celebrate their babies and be able to light a candle, and be in a community with other families and other parents who have gone through that same thing you have gone through," she said.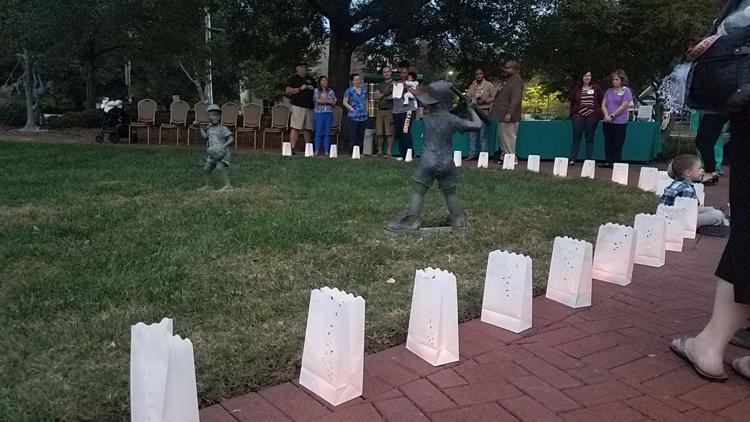 'We got a few hours in the hospital to just hold him'
The Dickeys are raising two sons, 4-year-old Liam and 2-year-old Graham, and were looking forward to adding another to the team.
At that July doctor's appointment, the family learned that Asher James' heartbeat stopped.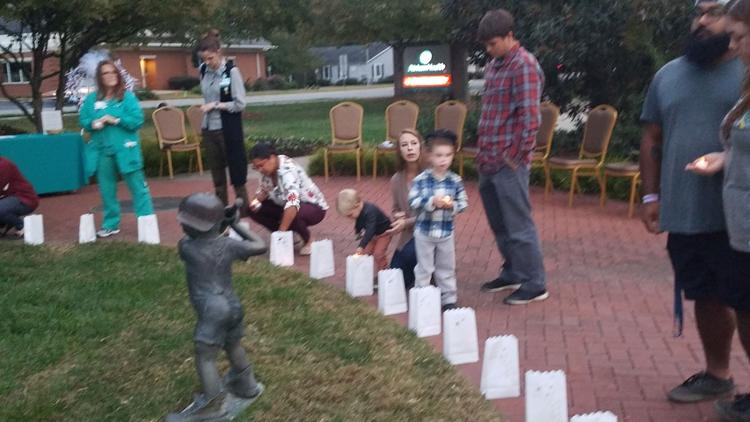 Two days later, the baby was induced and it was determined that there was a blood clot in the umbilical cord.
"We got a few hours in the hospital to just hold him and love on him and learn about him," Rachel Dickey said. "It was incredible to see that, within not even halfway through the pregnancy, to see he already looked like our oldest son, Liam, who had the same facial features."
A few days later, the Dickeys held a small memorial in their backyard with their family and pastor in attendance.
They planted a tree in Asher's honor.
"It is a wonderful way to be able to look at that and remember him and see him," Rachel Dickey said. "We will watch it grow as we would have watched him grow."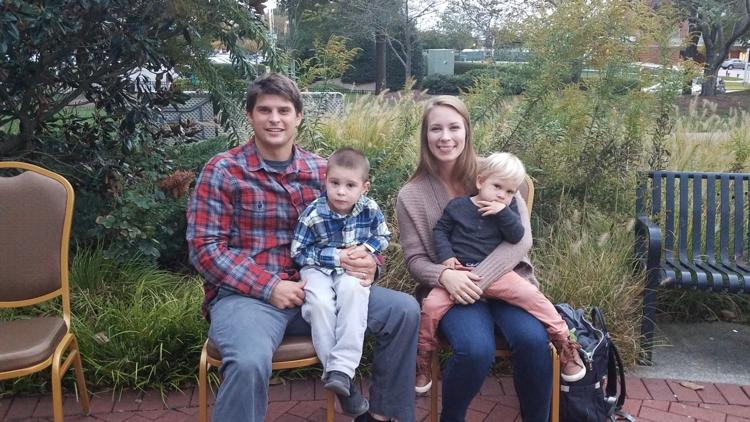 Coping with loss
Still, it took time, a lot of grieving and coping before gaining strength to share their story.
The Dickeys are never going to forget about Asher, but they are more open to talking about their loss, especially in a mothers of loss group.
"I feel like miscarriage and stillbirth and newborn loss is something that's not talked about a lot, so I feel like it is hard for people to know what to say and even talk about it because it's kind of something that gets brushed under the rug a little bit," Rachel Dickey said. "It's kind of been a journey. I think we learned this will continue to be a journey."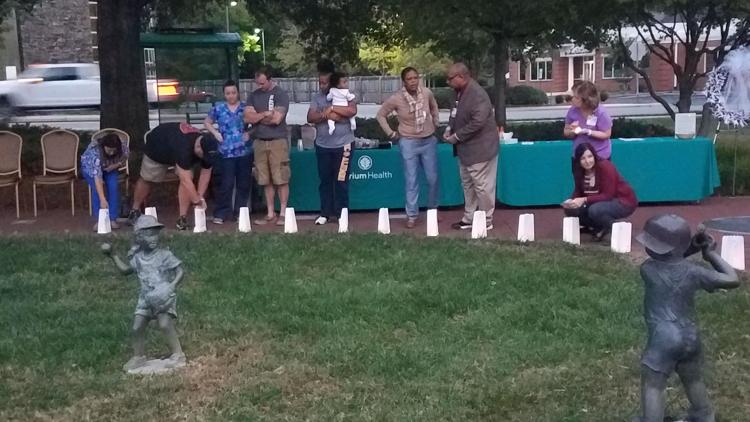 Rachel Dickey can't put a timetable on how long it actually took her to grieve, but she sought support from her family and friends, a support group going through similar struggles and their faith.
"The biggest things that have helped us, my husband and I are Christians, so the fact that we know we will get to see our son one day again," Rachel Dickey said. "We are so incredibly blessed to know that."
Rachel Dickey said others ways that helped her cope and grieve with the loss of her son was through detailed journaling and being outside with nature.
"I really love to write so that just really helped me to express my feelings and put it out there," Dickey said.
Rachel Dickey said Atrium Health Cabarrus provided some thorough information and resources on how to cope through loss of a child through stillbirth.
"They knew this wasn't going to end as soon as we left the hospital," Rachel Dickey said. "They gave us a great packet of information that had great resources in it and ways to kind of help you cope and work through some things that you don't necessarily think about."