CONCORD – According to the NBA G League schedule, Wednesday was a scheduled day off for Matt Morgan.
Under normal circumstances, Morgan and his Raptors 905 teammates might've had practice and then returned to relax at their apartments in Mississauga, Ontario, before returning to Paramount Fine Foods Centre the next day for a game against the Canton Charge.
Instead, the former Cox Mill High School star was riding shotgun in a car freshly packed with his personal belongings alongside his girlfriend, Sofia Ellam, heading back to the United States, not knowing when he'll be able to slip on that cherished 905 uniform again.
Raptors 905 is the G League affiliate of the Toronto Raptors, the reigning champions of the NBA. But in response to the coronavirus pandemic, along with the fact that some of the top league's players have tested positive for the illness, the NBA suspended game play last week. As a result, the G League, too, is on hiatus.
No one knows how long the stoppage in play will be.
"Right now, all we're hearing is that it's still up in the air," Morgan told the Independent Tribune during a phone call as he and Ellam headed for the U.S. border Wednesday afternoon.
"They've considered a whole bunch of different options to continue the season. But once we figured out that we really haven't come in contact with anyone who tested positive from the Raptors side and the NBA said the players could leave their team market and travel back home and things like that, with the uncertainty of our season, (the organization) just told everybody, 'You can go home for now' and 'if we need to bring you back, we will.'"
Morgan, who graduated from Cox Mill in 2015 before going on to a star-studded career at Cornell University, sympathizes with people across the world who are struggling as a result of the coronavirus outbreak. He said he was rocked when Utah Jazz All-Star Rudy Gobert became the first NBA player to test positive, and the shockwaves have continued as he's learned more about non-sports tragedies in recent days.
Morgan said he and his teammates haven't been tested for the coronavirus.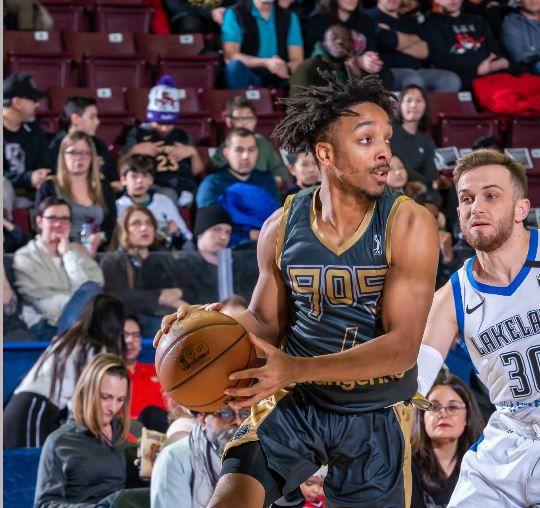 "They didn't test us because the only people that we came in contact with who could've been positive was Stanley Johnson with the Raptors," Morgan said. "He played with us a night or two after they played the Jazz, but he came back negative, so there was no need to test any of us."
That relief aside, the stoppage in play couldn't have come at a worse time for Morgan, a 6-foot-2 guard who ranks second in Ivy League scoring history but went unselected in the 2019 NBA Draft.
Morgan had made an impression on the Raptors during pre-draft workouts and was invited to play on their summer league team in Las Vegas. He averaged a modest 4.3 points, two rebounds and one assist per game over the summer. But he gave the Raptors a glimpse of what he could do when he came off the bench to score 11 points in just 18 minutes in a game against the San Antonio Spurs. The big-league club saw something in him and extended an invitation to training camp.
Despite being cut during training camp in October, Toronto brass later called Morgan to play for Raptors 905.
It would take a lot to earn playing time on the guard-heavy G League squad, but Morgan was determined, even if he took his share of lumps while trying to get accustomed to a new style of play with bigger bodies banging against his 174-pound frame.
"The beginning of season was kind of up and down for me with all the talent we had on our team," Morgan said. "So trying to find my role at the beginning of the season was tough. I got settled into being a shooter for the team and (filling in) for guys like Tyler (Ennis), Jawun (Evans), Sharmorie Ponds and Justin Anderson, when he was with us. I was just that floor spacer.
"Jawun went out with a season-ending injury. Duane Notice was with Team Canada for a little while. So I had to play that backup-guard role to Tyler – being a playmaker and also being an aggressive scorer."
After finally winning a bout with injuries and putting in some extra work, Morgan found his niche. And in the days leading up to the suspension of play, he'd been playing the best basketball of his life.
Over the past few games, Morgan was averaging about 15 points per game while shooting better than 60 percent from the field and making more than 50 percent of his 3-pointers.
"And we had been winning," Morgan said, "so you could kind of see my impact on the game but also on the team as well with the role change."
Raptors 905, in fact, had won its last four games. The team's last outing was against the College Park Skyhawks, with Morgan and his cohorts winning, 129-116, on March 11.
That's when their worlds stopped.
"Not even two minutes after we walked into the locker room, there were all kinds of rumors that the season got postponed because people from the Jazz tested positive," Morgan recalled. "Then our coach came in and gave us our postgame talk and brought that up. That's how we found out.
"We were just starting to play well, starting to really click, winning some games and getting above .500 and all that. From a team perspective, you get very close to your teammates. And when something like this happens and your season ends out of nowhere, it's tough."
The hiatus was especially tough for the former Charger, whose jersey was the first to be hung on the Cox Mill gymnasium walls, right before he graduated as the school's all-time leading scorer. Wendell Moore Jr. went on to break most of his records, but Morgan laid the groundwork for what eventually became one of the nation's best high school programs.
Morgan had been under-recruited before going on to show he could be one of the nation's best college players. He was overlooked by so many NBA clubs. But he found a team that saw his potential and gave him a shot. He was playing well, finding his niche in the pro game.
Then, without notice, the ball stopped bouncing. And while he's healthy, happy and hungry, he doesn't know when he'll get his chance again.
"Individually, it's very tough," Morgan said. "I was starting to find my rhythm with the team a little bit. Due to some injuries and things like that, I was put into a little bit of a different role and was just starting to get comfortable scoring the ball, being a playmaker. And defensively, I was starting to play better.
"It's just tough, especially when you're working toward that goal and that dream, and you kind of start seeing the hard work pay off a little bit. And to have something like this happen out of nowhere … it's unfortunate, but it's out of our control. So I've just got to hopefully get ready for summer league, if that still happens; stay ready for the season, if it continues; but. Ultimately, get ready for next year."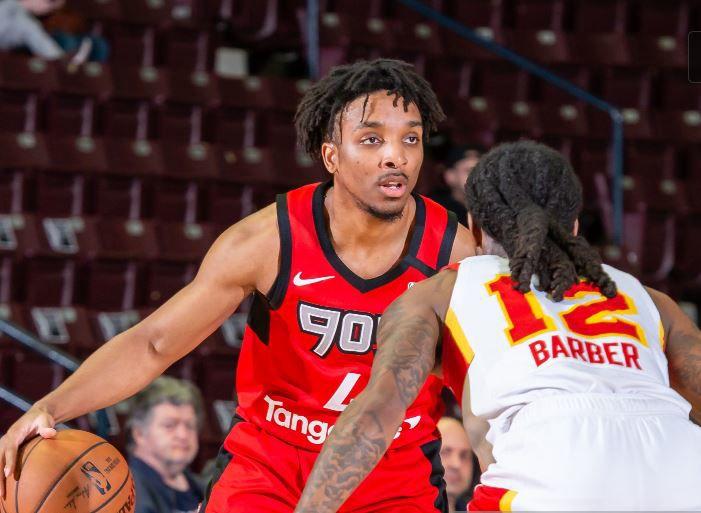 As good as Morgan was at Cox Mill and later Cornell, where he put together of string of 80 consecutive games scoring in double figures to set an Ivy League record and rank 12th in NCAA history – Morgan's game is scary-good now.
His deadly shooting range has extended even farther. His body has gotten stronger. He's better off the dribble. And he's a deceptive passer.
"I think I'm exponentially better," he explained. "College is a completely different game from professional – bigger bodies, faster pace, more athleticism. Especially coming out of the Ivy League, because you don't get to see that every night like an ACC player or a player out of the SEC does. Being able to adapt my game to the NBA game has been a learning experience. I definitely see the improvement, on and off the court. It's been a great learning year for me."
But now, things have slowed down dramatically. For about the past week, Morgan and his 905 teammates have been advised to self-isolate. So he's been playing a lot of video games and watching even more Netflix.
"We've been staying in shape, of course, just in case," Morgan said. "But there's not really much we can do. We have a weight room in our apartment building. Our strength and conditioning coach sent us a list to do. We have treadmills. But we can't really go to the gym and play, because I think that's been shut down. The NBA said 'no practices, no workouts.' We're just trying to do the best that we can."
And as happy as he is to be a pro ball player, Morgan isn't going to break any NBA rules.
So on Tuesday, Morgan and Sofia were on the road with their car loaded down. The first stop, Morgan said, would be Connecticut, a six- or seven-hour drive from Mississauga. He'll stay in Connecticut for a week or two and then head to North Carolina for the rest of the summer. Or, as Morgan put it, "until I hear that we're coming back to finish the season."
It's his greatest wish right now. He's getting closer and closer to fulfilling his dream of playing in the NBA, and he doesn't want to stop this train from rolling now. He is on the precipice.
"It's a surreal feeling, being around guys who have been in the league," Morgan said, before mentioning several of his 905 teammates. "Just seeing those guys' paths and how they got to where they are is special. Not comparing their paths to mine, but seeing that guys like them have been successful doing what they do, really inspires me.
"And it's definitely a surreal feeling playing with an organization like this. You see guys like Fred Van Vleet, Norman Powell, Paschal (Siakam) – all those guys have been impact players, All-Stars and champions coming from the 905. So you definitely start to feel that energy and that confidence with the organization, especially when they have belief in you that you can be a talented player in this system."
Added Morgan, "I think I'd started to show that I can be that type of player toward the end of the year. Being this close to hopefully fulfilling my dream one day is great. Hopefully, it happens sooner rather than later, but everyone's path is different. I've just got to keep working and see where this season goes."