CONCORD – Marcus Jackson is a hugger.
As in a "you better take go ahead and exhale before he comes in because he'll squeeze the life out of you anyway" type of hugger.
At least the Central Cabarrus High School sophomore is like that when he's really excited. And he certainly had reason to feel that way when he won the Class 3A N.C. High School Athletic Association 106-pound wrestling title at the Greensboro Coliseum last Saturday.
Jackson was one of two Cabarrus County wrestlers to claim a state championship over the weekend, joining Mount Pleasant 220-pounder Chase Crayton.
This time a year ago, Jackson didn't have this kind of elation at the state meet. He'd done well – extremely well, in fact, finishing as state runner-up. But it wasn't a state championship.
And, well, winning state championships is just what wrestlers in Jackson's family do.
His father, Ocie Jackson, won a state title back when he was a standout at Northern Durham High School. His cousin, Kevin Jackson, was a three-time Michigan state champion who actually went on to win gold at the 1992 Summer Olympics. And there have been other state champs in the Jackson clan.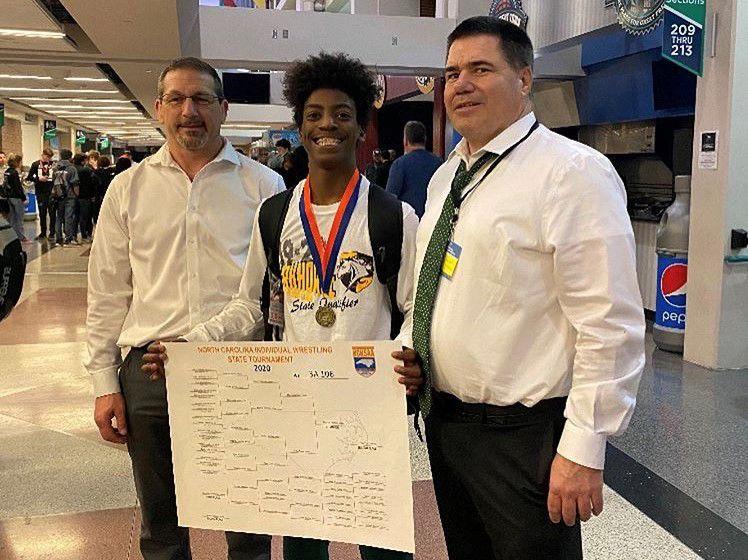 On Saturday, Marcus took his place beside them all, earning his own state crown and making his earliest wrestling dreams come true.
When Jackson's arm was raised as champion and reality began to set in, the emotions came pouring out.
"I was just happy," Jackson said. "So, so happy. I just thought, 'I'm the seventh state champion in my family. I was thinking about my dad and my cousins who all won state championships. It meant so much to me."
That's when Jackson's hug run began.
First came Central Cabarrus coach Ed Masterton, a man who saw Jackson's promise when he joined the program as a freshman and let him flourish into the young leader of a strong group of wrestlers on the team.
Jackson jumped into Masterton's arms and nearly wrapped his legs around the coach.
"I gave him a BIG hug," Jackson said, flashing a broad smile that glistened even more in the light because of his braces. "It was a very special moment. Then I hugged Coach Butler, because everyone has been so helpful to me at Central."
A few minutes later, Jackson made his way into the Greensboro Coliseum stands, where about 10 members of his family was sitting. He got to hug on his grandmother and some cousins, and there was an added bonus.
"My family was giving me money and stuff," Jackson said, "because it was my birthday, but I couldn't celebrate because I was trying to make weight (before the tournament)."
And then, finally, there was the man whose path made Jackson fall in love with the mat. It was the man who made him want to be better, as a young man, as wrestler. It was his inspiration in so many facets of life.
And that's when the real hugging began.
The Jackson men embraced, and neither one was going to let go for a while. They squeezed tighter. They cried. And as the moment went longer and longer, Marcus' mom, Stacia, looked on and cried happy tears of her own.
Asked how long he and his dad hugged, Jackson smiled and said, "It was at least four minutes."
"It was special," Jackson added, still grinning. "I think we both cried. It just means a lot to both of us. My dad's been talking about this since I was 8 years old.
"He would always joke with me and say. 'You know you're not better than me, because I've won a state championship, and you haven't. I really hope you win. You could be the seventh state champion in our family.'"
Added Jackson, "And when I won and we were hugging, he was telling me, 'You worked hard for this. You did it.'"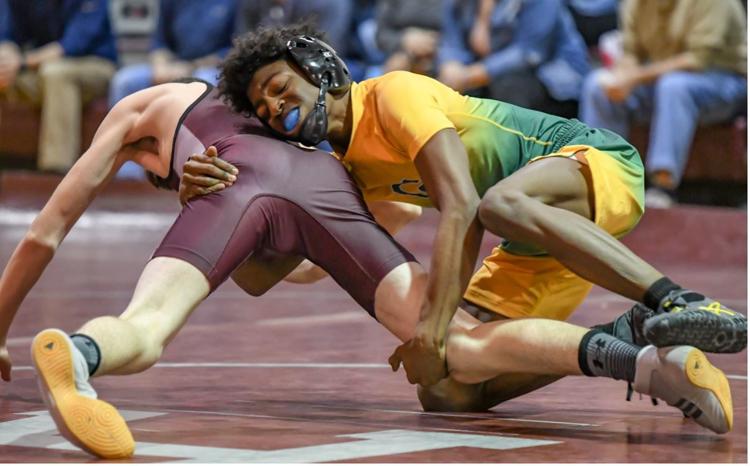 For years, Jackson has gotten up at 6 a.m. during the summer and began a day of workouts, taking the advice of his father and applying it as he honed his skills at wrestling camps, Darkhouse Wrestling Club or in matches across the country on the AACU circuit.
The hard work paid off, and by the time he got to Central Cabarrus as a freshman, he was a real threat to win a state championship.
Last year, he won the South Piedmont 3A Conference championship and lost in the regional finals before the state meet. Nonetheless, he still did well at the 2019 state competition, taking second place.
But of course, that wasn't good enough for Jackson.
"I didn't go with the right mindset into the finals last year," he said. "I was just kind of happy to be there.
"But this year, I was planning to win."
He returned his sophomore season and won another SPC championship, taking each match by pinning his opponent.
At this year's regional meet, he made up for last year's shortcoming, winning that title and going into last weekend's state meet as a No. 1 seed at 106 pounds.
But the Monday before the competition, the 5-foot-7 Jackson was weighing closer to 119 pounds. He'd have to hustle to lose the pounds.
"I wasn't concerned," Jackson said. "I always make weight."
He put on extra layers of clothing to induce sweat and weight loss as he wrestled in practices leading up to Greensboro. He watched his diet, even as his birthday arrived. And, as usual, he made the weight.
And he was on his game, using his trademark speed, quickness and toughness to pin his opening-round opponent in just 20 seconds.
Two wins later, he was in the finals, oh so close to a family tradition. And he wasn't going to be denied.
He put on a clinic while beating Northwood's Tyler Tracy in the finals, 15-0. It wasn't even close.
"I wanted it real bad," Jackson said. "I waited too long. I needed it real bad."
Jackson became the first Central Cabarrus wrestler to win a state title since Heath Gleaton went back-to-back in 2013 and 2014. And this year's meet was a good overall weekend of wrestling for the program.
The Vikings' Luke Masterton was the state runner-up at 138 pounds. Jackson Baglio finished third at 113, and Noah Kiser was fourth. They all celebrated together, as the four Vikings are close friends as well as the leaders of the team.
It was a great moment for the program.
And when Jackson got his championship, he jumped into his coach's arms and went on his hugging spree that ended with his father.
"It was such a great moment," Ed Masterton recalled. "Coming off his first year when he finished second and it was such a great disappointment, and this year he had worked so hard and wrestled so hard. He's such a great young man, and the fact that he achieved it meant so much to him.
"His work ethic does reflect (his goal of joining his family members as state champions)," the coached added, "because he wrestles in practice like he wants to win it. And you can tell he has been driven. I knew about his dad and his family, but it's not just something he wants; he goes out to work and get it."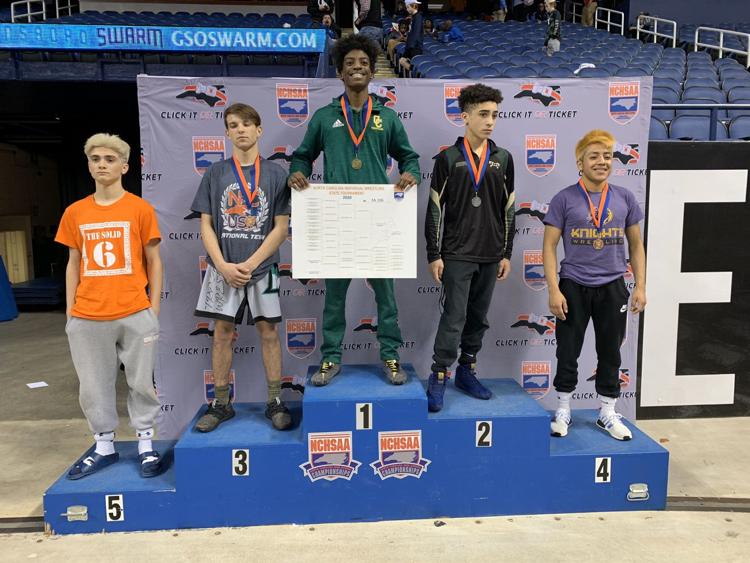 Jackson was the toast of the Central Cabarrus campus when he returned to school this past Monday. He said he was a little late to school that day, but when he finally arrived and walked into his first-period Spanish class, he received an ovation.
"People were going crazy," Jackson said. "People were clapping as soon as I walked in there. They were saying, 'Here goes the state champion!' It made me feel really good."
The ovations took place in each of Jackson's classes that day, and he certainly hadn't stopped celebrating internally.
He was proud of what he'd done – set a goal that many might consider unattainable and achieved it. What's more, he'd gotten to spend days reminiscing with his father about being a state champion, and he said it seems the two of them have gotten even closer because of their special bond.
But still, even now, Jackson has trouble believing his lifelong goal has actually been fulfilled. At times, he catches himself in moments of incredulity.
"I think last night, I woke up and said, 'Am I dreaming or something? I'm a state champion,'" he said.
Yes, he's indeed a state champion.
And all the people he squeezed so tightly last Saturday probably still have the sore body parts to prove it.