CONCORD – He moved to Cabarrus County back in 2012, fresh off a solid college playing career, with hopes of leaving his footprint in the high school football coaching ranks like his two big brothers.
Eric Morman jumped into the craft with both feet that year as a wide-eyed assistant at A.L. Brown High School, although his gridiron journey would take him from assistant coach to head man in small towns like Oakboro and Huntersville.
All the while, though, he lived right here in Cabarrus County, getting up earlier than humans are supposed to in order to get to work and getting back home at ungodly hours on football Friday nights.
But nine years later, Morman has come full circle.
Last month, Morman was hired as the 13th head football coach in Northwest Cabarrus history.
He replaces a man, Brandon Gentry, who became one of the most successful and beloved coaches in Northwest history, but Eric Morman has never been daunted.
We're talking about a guy who's married to – cover your eyes, Kannapolis fans! – an A.L. Brown graduate and is still bold enough to walk into the house with dreams of keeping the Black and Orange of one the Wonders' biggest rivals at the top of the SPC heap.
"It was a great opportunity for me and my family," said the 30-year-old Morman, who spent the previous three seasons at North Mecklenburg High.
"The impact that you're able to make on a community school is amazing. I have a lot of familiarity with that from where I grew up. I understand what a community school can do for your program, and I want that for Northwest Cabarrus."
Morman grew up in Rockingham, a high school football town if there ever was one.
In Rockingham, a one-high school town, every boy either plays for the Richmond Senior Raiders or wants to play for them. And Morman got to live the dream.
Playing both wide receiver and quarterback for coach Ed Emory, Morman played alongside athletes such as current Los Angeles Chargers defensive end Melvin Ingram and former NFL linebacker Dannell Ellerbe.
Morman also was a baseball star in high school, but he beams when talks about the lifelong memories he gained while playing football in front of the packed houses at Richmond Senior, helping the Raiders win conference championships and make deep playoff runs.
Like many former Raiders, Morman went on to play football at the next level, following his big brother, Charles, to Catawba College. But the setting of a high school football-crazed town laid the groundwork for what he's tried to replicate wherever he's gone as a coach.
"It was just that small-town football feel that everyone wants to play in," Morman said. "Every Friday night, it was one of those experiences where the whole community came and supported the program. My four years there, I felt it prepared me for the college experience I had at Catawba College and also the things that I've been doing in our programs today."
Morman said he first got the idea of getting into coaching after watching the way Emory and his Richmond Senior staff went about their business. But first, he still had a lot of football to play, and he left his mark on the Catawba College record books during his time in Salisbury.
Morman earned four letters at Catawba and is still ranked among the top five receivers in Indians history. He had the game of his life during his sophomore season, when he hauled in a school-record-tying 13 receptions against Division II powerhouse Carson-Newman.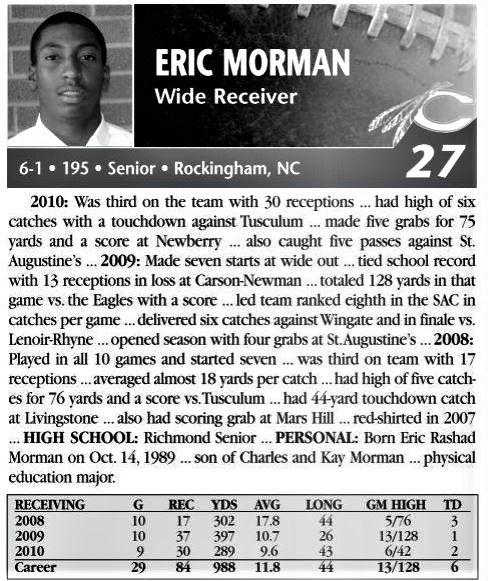 Besides the relationships he built with his teammates and coaches, it's the highlight of Morman's career as a player.
The feat was especially impressive because Morman had seriously injured his ankle in practice earlier in the week and wasn't a lock to play.
"It was just one of those games where the ball kept coming to me, and I had a lot of opportunities to make plays," recalled Morman, who also had 128 yards that day. "Carson-Newman was one of our rivals, and I just wanted to make every catch I could for our team."
Morman wrapped up his career at Catawba with 132 catches  and was just short of 1,400 yards (1,399).
With his two big brothers, Tiesuan Brown and Charles, already off to burgeoning coaching careers, Morman followed suit. And after graduating in 2012, he was headed down I-85 to Cabarrus County.
Morman's first job out of college was at A.L. Brown, where he mentored defensive backs under veteran head coach Mike Newsome, who was in his second season with the Wonders after winning back-to-back 4AA state titles at Matthews Butler.
"It was definitely a great opportunity there, working as (Newsome's) defensive backs coach," Morman said. "It was great. I had the opportunity to coach a lot of good players.
Just the structure of that program was what I was used to. It was very similar to where I grew up."
Morman, though, knew he needed to expand the breadth of his coaching experience, so in 2015, he moved on to West Stanly to become the wide receivers coach and passing game coordinator.
Located in Oakboro, which had a population of about 1,900 during his time there, West Stanly had a small-town feel similar to the one he grew up with in Rockingham.
Maintaining his residence in Cabarrus County while making the nearly hour-long commute to Oakboro each day was tough, but Morman was young, energetic and ambitious. He established a strong connection with players and others in the community, and a year later, he was chosen to replace James Johnson as the Colts' head coach.
His dream of leading a program had arrived, and he was barely 25 years old.
"I already knew the kids," Morman said. "I definitely learned a lot, but it was that small-town community that was definitely supportive. I'm just very thankful for that West Stanly community for giving me the opportunity at a very young age to become a head coach. We just made the best out of it.
We had a lot of community support, and the guys really played for that area of town.
"I definitely grew as a coach. There were a lot of things I learned because I had a lot of responsibilities."
But as was the case with his playing days, Morman had support from both his football family and his biological family.
He recalls how his parents, Charles Sr. and Kay, would be sitting in the stands giving him support, even on the coldest nights, when he played at Richmond. And they've been doing it ever since.
If Charles Sr. and Kay aren't at one of Morman's games, they're sitting in the bleachers watching his brothers coach, and it's cost them a lot of miles on their car. Tiesuan Brown currently is the head coach at Winston-Salem Mount Tabor, which made it to the third round of the state playoffs this past year. Charles Jr. most recently was the defensive coordinator at Lexington.
"Football's a family thing," Morman said. "My parents, they travel to games every Friday night. We were (multi)-sport athletes in high school, and both (my parents) were very supportive of us. And my dad is still a big Raider fan, so if somebody has a bye, he's going there."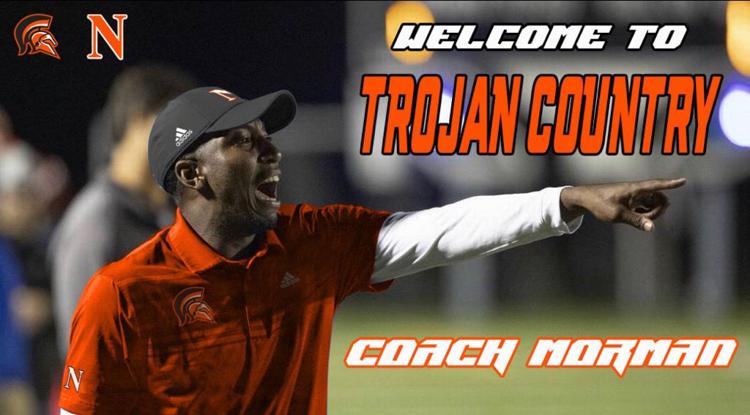 The Colts had their struggles in Morman's first season at the helm, finishing with a 3-8 mark. But by his second season, in 2016, he had transformed the program, guiding West Stanly to its best record (7-5) since 2011.
During that 2016 campaign, he also coached the Colts to a victory over rival North Stanly, which resulted in them winning the county's highly coveted Stanly Cup.
"When we first took over, the young men wanted to be successful, and they worked really, really hard," Morman said. "When we won the Stanly Cup, Just watching them and seeing the excitement within them was one of the greatest moments of my career."
Having quickly become a hot commodity, Morman wouldn't be around to lead the Colts another season.
Pretty soon, he'd be trading the small-town love for the bright lights of the big city, and he'd leave his footprint there, too.
Morman was just 27 in 2017 when he took the job at North Mecklenburg High School in Huntersville. It's a young age for any head coach, let alone someone leading one of the bigger schools in the state (roughly 2,300 students).
But Morman stepped into the job with verve, and his impact on the Vikings was felt immediately.
In his first season, Morman took North Meck from a 3-8 record before his arrival to 9-4. Sharing conference space with heavyweights like Mallard Creek, Hough and Vance, the Vikings finished fourth in the I-MECK 4A and reached the second round of the 4AA playoffs.
The 9-4 record was North Meck's best since former Concord coach Glen Padgett led the Vikings to 10 wins in 2006.
But before losing to state semifinalist Mallard Creek in the second round in his first season at North Meck, Morman led the Vikings to one of the biggest wins in program history.
North Meck's first-round opponent that year was none other than the Richmond Senior Raiders in a game in Morman's hometown, where his football dreams were born.
And the Vikings won, with so many of the fans who watched him score touchdowns on that very field still cheering for the Raiders but clearly proud of their hometown boy for showing his coaching chops.
"Having that game in the playoffs was a tough one for me, because I still pull for those guys," Morman said of the Raiders. "I couldn't believe it: our first playoff game at the 4A level, we go to Richmond County and win the game."
Morman was determined not to rest of his laurels, so he worked to improve the Vikings even more.
He started with the weight room.
Morman and William Fly, the Vikings' strength and conditioning coach, applied for a grant and eventually received $95,000. They used the funds to get all new equipment and flooring for their weight room, which he believed would make a difference on the field.
It was a mindset he saw pay off firsthand during his own high school playing days under Ed Emory.
"One thing I learned from Richmond is, if we're going to be successful, it's going to start in the weight room," said Morman, who is bringing the highly respected Fly over to Northwest Cabarrus with him.
"Our first year there, we were 9-4. The staff was great, and there were a lot of different things that we did within the program that was different from anywhere I've been. And there was tons of growth within the program."
In Morman's second season, North Meck won its first four games before finishing with a 6-6 record, although the Vikings did make a second consecutive appearance in the playoffs.
Then last season, after the graduation of numerous key seniors, North Meck's record fell to 1-10. But Morman's reputation as a coach didn't suffer.
Many in the coaching industry knew the odds he faced losing so many players the season before. They'd seen him build strong relationships with players, and they saw him send more than 20 Vikings to play at the college level during his three seasons on campus. And more impressive, on most Saturdays, he drives to see many of those athletes play in their college games.
"The last three years at North Meck were a lot of fun," Morman said. "I coached a great group of guys, and I'll always appreciate my time there."
But months later, after Gentry resigned to become the coach at newly built West Cabarrus, the Trojans came calling.
And it was time for Morman to return to the county where his coaching odyssey began nine years ago.
Morman, of course, was familiar with Northwest Cabarrus. Back in his days at Catawba, he was teammates with a few former Trojans. And in his time as an A.L. Brown assistant, he faced Northwest once, winning by 29 points. (The teams didn't play in 2013 and 2014 while the Wonders were out of the South Piedmont 3A Conference).
And there was this: The woman Morman married in 2016 was none other than a highly respected ex-A.L. Brown star athlete, the former Kelly DePompa, who shined in multiple sports before going on to play for the UNC Charlotte women's soccer team.
Kelly, a 2005 A.L. Brown graduate, had also once been the Wonders' girls soccer coach. But Morman didn't flinch when he got the chance to talk with Northwest administrators about the football job.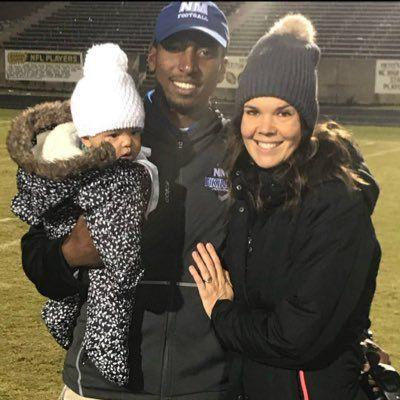 It was a rare chance to come back home, although he, Kelly and their 2-year-old daughter Kinsley – "who's full of energy," he says with a laugh – were already living in Concord, near the Cabarrus County Country Club.
But it was an opportunity to LIVE in the community where he was coaching. Yes, he'd taken the circuitous route, but accepting the job last month just seemed right.
"I'm excited about it," Morman said. "I just look forward to getting to know that whole community, to getting to know every athlete in the school and just continuing the success of the football program. And I'm really excited about being a little closer (to where I'm coaching), and it makes it a lot easier to support the other programs at the school as well.
"I know Coach Gentry's done a really good job over the last three years, and we're just looking to continue building off that."
Unfortunately, because of the coronavirus outbreak, which caused schools throughout the state to temporarily close over the past month, Morman hasn't had a chance to get to know his new players just yet.
Morman was hired on a Thursday, and the plan was to have a meet-and-great with parents and players at Northwest Cabarrus Middle School. But the schools shut down before that could happen.
That hasn't stopped Morman from trying to keep his future Trojans sharp.
"I'm trying to find as many opportunities as I can right now to communicate with some of the guys," he said. "Right now, we've been able to have a lot of them sign up for our at-home workouts. The biggest thing now is once I get my Cabarrus County email, we'll set up a Remind and communicate with players and parents through there.
"If we continue to stay in the situation we're in for a while, I'll start doing some meetings and things like that through Zoom. I'll plan to find other ways to communicate with the kids and get to know them, because we're very excited to get started there."
Morman's ready to look up into the stands before games and see his parents, Charles Sr. and Kay, supporting the team.
He's ready to have Kelly – yes, the former Wonder! – wearing Northwest Black and Orange.
He's ready to see Kinsley and her new baby brother – Kelly gave birth to their son, Kyler, last Saturday – aspiring to be Trojans one day.
And he's ready to feel the Friday night electricity that became the norm at Trojan Stadium over the past few seasons, the type of environment he grew up with back in his Richmond Senior days.
"I want the guys to understand that we're there to make a positive impact on them," Morman said. "We want to see the see the program be successful while we're there, but we also want to make an impact on our community, so that when those guys graduate, they can continue to make impacts.
"We're going to be involved in the community, we're going to be involved in our feeder programs," he added. "And any way that we can support the community, we're going to be a part of it.
"I can't wait to get started."