CONCORD – This story doesn't end with a championship.
At least not a state championship.
But for the Concord High School boys soccer team, the 2019 season had all the high achievements, emotions and bonding to stand up against any program – even Burlington Williams, which recently claimed the Class 3A state title the Spiders and every other team in North Carolina desired so badly.
The Spiders were the best team in Cabarrus County this season, and their 25-2-2 record and South Piedmont 3A Conference title are the proof. In addition, those 25 victories are a program record, and so was the march they made to the state semifinals, which took them deeper in the postseason than any of their previous squads had ever ventured.
So even though the Spiders ultimately lost to Charlotte Catholic, 3-0, in the semifinals last week, with eyes reddened with tears and hearts broken, they still were able to see just how special the season they put together really was.
And it wasn't just about the things that occurred out on the pitch.
"Out of all the soccer moments, it's the bond that we created," said senior midfielder Carson Trott, who put up a couple of hat tricks during the postseason run.
"Any ethnicity, any class, we just came together and we loved each other like brothers," added Trott. "You could see from the tears on the sidelines and the hugs. We're a true family, and we'll always be a family, and we'll always stay in touch with each other, even those of us that are graduating. We'll come back and watch the und1erclassmen play. We've created a great family here."
And they fought together like a family.
Late in last week's game, when one of the Spiders felt like Charlotte Catholic players were getting a little too physical with a teammate, the kids from Concord showed they wouldn't back down. Officials intervened before things got out of hand, and order finally was restored before Charlotte Catholic got a chance to execute a penalty kick to add to its lead.
The inevitable was near, and the Spider knew it, but they weren't about to stop giving their all.
Despite the loss, in many ways, the Spiders played some of their best soccer of the year that night in south Charlotte. But the Cougars were the West Region's top seed, and they matched the Spiders' intensity, handing Concord its only shutout defeat of the season.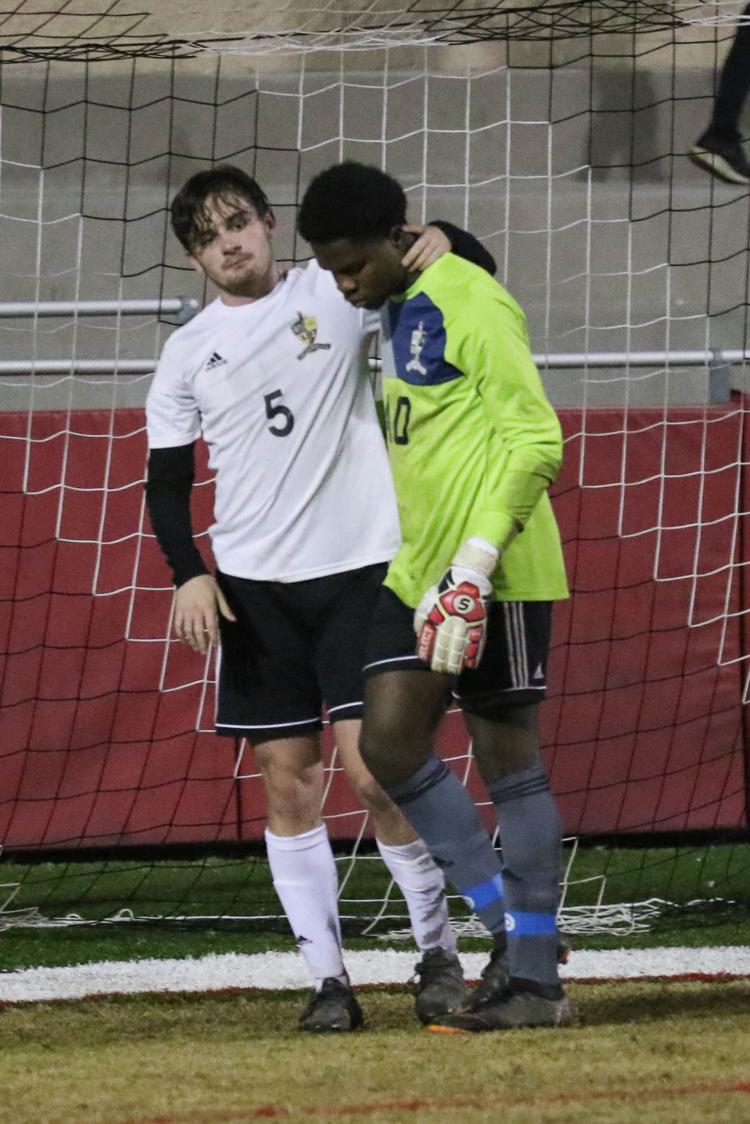 But the Spiders were able to walk out of Charlotte Catholic's Keffer Stadium with their heads held high, knowing they didn't just lie down against a team they believed many soccer observers thought was out of their league.
"We weren't just holding the ball, possessing the ball like we possess it normally," said Concord senior goalkeeper Emmanuel Konneh. "We were aggressive, we went after them. It just didn't work out. But we did a heck of a job this season. I'm just really proud to be on this team.
"I'll remember being with my brothers on this team," Konneh went on to say. "I love everyone on the team and the coaching staff, too. I just loved having fun with my brothers."
There was much more to the Spiders' dream season.
There was the season-opening tie with Ardrey Kell, a good 4A team with a rich tradition in a good league.
There were the two big wins over their fiercest rival, A.L. Brown, which ultimately clinched the SPC title for the Spiders.
And there was even the heart-melting loss on penalty kicks to A.L. Brown, which preceded those two wins over the Wonders.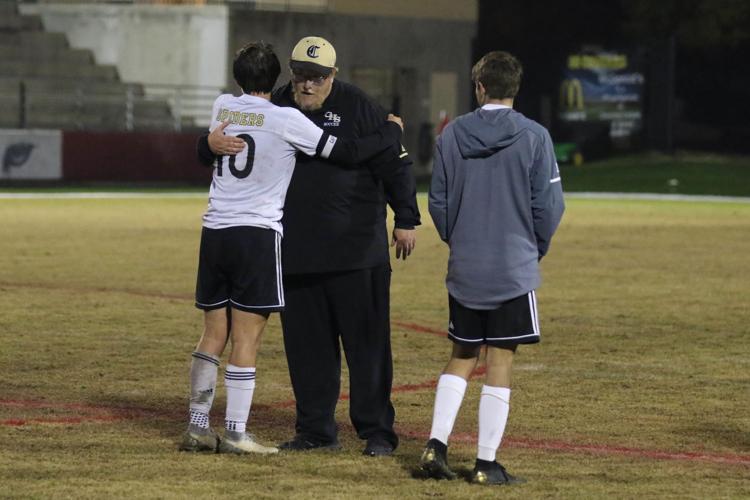 The Spiders had to recover from that, and they did, and it paid off with the league's ultimate prize.
It all contributed to a story of resilience and accomplishment for the Spiders that each one of them will remember for the rest of their lives.
"It's not often that you have a team where the kids play for each other more than they play for themselves," said Concord coach Todd Tinsley. "But that's what we had, and it showed."
The greatest example of what Tinsley was pointing out came late in the regular season, with individual accolades on the line.
"At the end of the year, at the end of conference (play), it was coming down to scoring titles and things like that," Tinsley explained. "Against Northwest (Cabarrus), Carlos (Alvarez) was coming down for a shot with the keeper and should've shot it. He stopped, held the ball and passed to Steven (Lozano), and Steven shot it. And Steven won the scoring title.
"That knowledge that things like that matter to them matter to us (as coaches)," Tinsley said, shaking his head.
Lozano, a junior midfielder, eventually finished with 22 goals to lead the SPC, while Alvarez, a senior forward, had 16. Alvarez's total actually wound up third-best on the team after Trott went on his postseason tear to finish with 17 goals.
No Spiders scored against Charlotte Catholic, but the impact they made that night – and this season – jumped out to the folks from Cabarrus County who drove over to watch them play. That group included head coaches from two of their biggest threats in the SPC – A.L. Brown's Sean Szakal and Central Cabarrus Kendall Jackson.
After the game, Jackson stepped into the Spiders' huddle of crushed players and told them they should feel good about themselves because they made the county and the SPC proud out there against a team favored to win the whole thing.
Concord's own coach definitely expressed his pride in his players.
"Every coach says they love their team and things like that, but I really love these guys," said Tinsley, who has coached the Spiders for six seasons following a stint in Florida, where he also led a team to the state semifinals.
"These guys, they play for each other," Tinsley continued. "You could see the passion when things went wrong (against Charlotte Catholic). They wanted to fight for each other. And I think that's what I'm going to remember the most – that unity."
"We've done things with this team that no other Concord team has done," he said. "But the love is the thing I'll remember the most about this team."