WEDDINGTON – The last-minute touchdown drive the Northwest Cabarrus football team constructed near the end of its 3AA state quarterfinal playoff game at Weddington Friday looked like many of the same we've seen over the last two years.
The Trojans had 80 yards to cover with the game clock winding down. On the first play, running back Tyrese "Shady" Blake took care of almost half that, bursting through a hole in the middle and bouncing left outside before being knocked out of bounds after a 35-yard gain.
Quarterback Nick Wilds-Lawing nearly matched it on the next play, quickly abandoning the pocket and darting ahead for 33 more yards to the Warriors' 12. Two plays later, receiver Marquan Williams ran a fade route toward the right side of the end zone and leaped over a defender to grab Wilds-Lawing's touchdown pass.
Unfortunately, the scoring drive accomplished just one thing: It prevented Northwest Cabarrus from being shut out in its 49-7 loss to Weddington, the state's No. 1-ranked 3A team.
But since the game's outcome had already long been decided, the final points the Trojans scored seemed as much a going-away party for a group of seniors that may be the most accomplished in program history.
Northwest Cabarrus finished the season with a 12-2 record, a co-conference championship, and a second straight run to the third round of the state playoffs. This year's Trojans nearly matched last season's team which won the South Piedmont 3A outright and won a total of 13 games.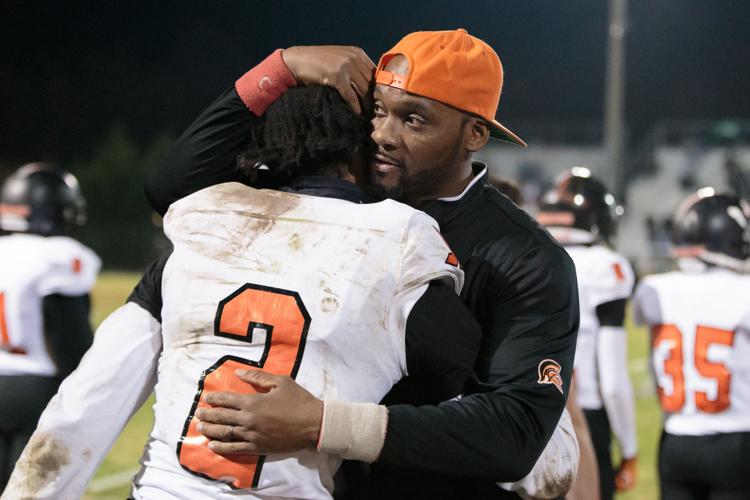 "It definitely hurts, losing in the third round two years in a row," said Wilds-Lawing, the senior who totaled more than 6,000 yards offense and more than 75 touchdowns in his three-year career. "But we (lost) to a great team that goes to states consistently. We gave all we had. I know we did something special here that hasn't been done in a while, so I'm glad we can leave that legacy."
In Weddington, Northwest Cabarrus faced the defending 3AA state champions. On their way to their current 14-0 record, the Warriors scored at least 35 points every game and held opponents to an average score of less than a touchdown.
The Trojans got a taste of those daunting statistics in the game's first seven minutes.
Weddington scored on the game's opening drive, covering 60 yards in seven plays in fewer than three minutes. Northwest Cabarrus responded responsibly with Wilds-Lawing completing his first four attempts for 49 yards as the Trojans reached inside the Warriors' 25-yard line.
But consecutive 5-yard losses on a sack and a procedure penalty pushed Northwest Cabarrus backward. Pass plays on third and fourth downs were incomplete, and Northwest Cabarrus wasn't a serious threat to score again until late in the third quarter.
As the ball changed hands, Weddington junior running back Will Shipley exploded through the line on the next play and raced 73 yards for a touchdown and a 14-0 lead. It was a deflating play for a Trojans defense that was fully aware of Shipley's abilities as a major college recruit.
"We had to focus on stopping the run and making sure we stay outside," said Andre Hill, a defensive leader as a senior linebacker. "We did a pretty good job stopping the ball. They got us a couple plays, but we were able to adjust. But by the time we did, it was getting too late in the game and they started getting points up."
Shipley was certainly a difference-maker, rushing for three touchdowns and 159 yards on 13 carries. But Northwest Cabarrus gave him and the rest of the Warriors plenty of help.
Three Trojans turnovers and an 11-yard punt were invitations for Weddington to score, which it did: 35 points worth in the game's first 25 minutes.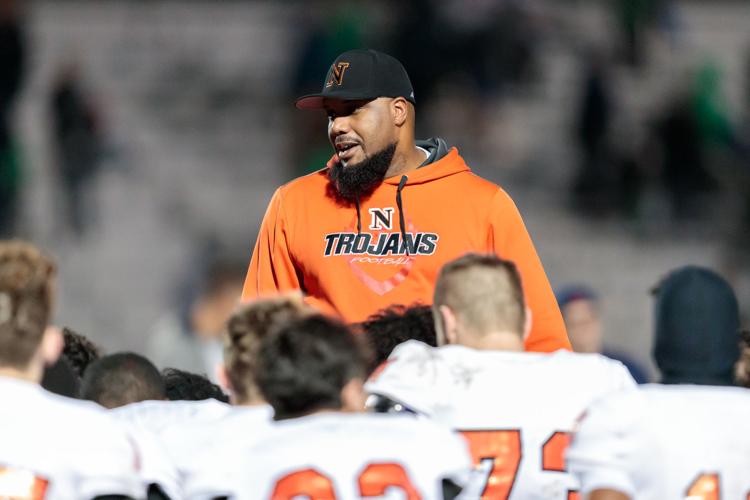 "We have to do the small things the right way so one day we can be a program like Weddington that just has it rolling," said Northwest Cabarrus fourth-year coach Brandon Gentry. "I feel like our guys can get there.
"These (seniors) laid the groundwork for the future. Any kids that come through Northwest after this group are going to know Tyrese, Nick, and Andre and what they did for the program to raise them out of the pits to a program that is respected around the state."
Northwest Cabarrus will graduate 19 seniors, most of them starters. The unknown for the program's future is how many players will be redistricted to West Cabarrus High School, which is set to open next fall. Gentry says Northwest Cabarrus is scheduled to lose around 300 students to the new school.
Although the team will lose seniors Wilds-Lawing, Blake (who rushed for more than 4,000 yards over three seasons), and speedy receiver/defensive back Cam Saunders, the Trojans will return a solid nucleus.
Williams, Shaun Browne, Avarion Cole and Bryson Mason are among a group of talented and fast underclassmen that will expect to keep the status quo.
"I'm thankful to be coming back next year and getting another opportunity to get back where we should have gone," said Browne, whose role as a receiver progressed throughout this season. "I'm sad we're losing our seniors, which is a big portion of our team. But I'm ready to get back in the off-season to get ready for next year."