CONCORD – The ball just kept on rolling.
Alex Heffner initially didn't know what to think as his Titleist Pro V1 began its roll on NorthStone Country Club's 17th green, but as the golf ball maintained its speed and stayed along the course he'd directed it, he began to feel better and better about it.
Finally, after what seemed like an eternity, the ball disappeared into the hole, and euphoria consumed the Hickory Ridge High School rising senior.
But this wasn't any old birdie.
This was a 60-footer, for goodness sake, the longest putt Heffner had ever sank in a golf tournament.
And what really made it special was that the stroke he'd saved on the improbable putt ultimately was what put Heffner into the tournament of his young golf dreams: the U.S. Amateur.
On July 9, Heffner finished with a 7-under-par 137 at the U.S. Amateur Championship Sectional Qualifying in Huntersville, helping him make the field of four qualifiers by a single stroke.
The other qualifiers are Jacob Bridgeman of Inman, South Carolina, and Blake Wagoner of nearby Cornelius (both with scores of 134), and John Eades of Charlotte (136).
Heffner's 137 allowed him to slip in just ahead of the first alternate, Kings Mountain's Alex Goff, who shot a 138. Asheville's Matthew Sharpstene (139) is the second alternate.
The top four golfers earned a trip to the 2019 United States Amateur Championship, scheduled for Pinehurst Country Club August 12-18, and Heffner was understandably ecstatic about making the prestigious tournament for the first time.
Days later, he was just as thrilled about the putt that put him there.
"I'm on the very edge of the green, and I've got a 60-foot putt," Heffner recalled. "I just so happened to make it. It's a putt that you're not supposed to make. I knew at that point that things were kind of going my way and that I might stand a chance."
The going had been tough all day, as some of the top teenage golfers in North and South Carolina fought for coveted spots in the tournament.
Actually, it had been two days of intense golf, with players surging up the leaderboard one moment, only to find themselves white-knuckling it the next.
On Day 1, Heffner shot a 3-under 69, certainly a good score, but one that also left him in a sixth-place tie with six other golfers.
The Harrisburg resident wasn't ready to panic, though. And on Day 2 of qualifying, he channeled the same poise he'd shown while winning the 4A Midwestern Regional title during the high school season and the subsequent strong performances he posted on the amateur circuit entering this tournament.
Back on June 3, Heffner and Concord High School graduate Walker Cress tied for medalist honors at the N.C. Amateur Qualifying at Cabarrus Country Club. On June 28, Heffner was the runner-up at the 52nd North Carolina Junior Boys Championship at Raleigh's Lonnie Poole Golf Course.
The second and final round of this U.S. Amateur Sectional Qualifying last week was a time to show his mettle once again.
"My mindset," Heffner recalled, "was just if I could just do slightly better, maybe there would be someone in front of me who doesn't play as good as they did the first day, and I'd be able to pass them or I'd have to play slightly better and just out-do them barely. I was pretty close, and I was still in contention, and I just had to go out there and improve."
Heffner played par golf on the first seven holes of Day 2 and then birdied No. 8. He hit a small hurdle when he bogied No. 9, but he made up for it with a birdie at 10 to start the turn.
As Heffner neared the end of his final round, he was unaware of his position on the leaderboard, as the Carolinas Golf Association doesn't make golfers' scores available until they complete their round. Heffner just knew he had to finish strongly as he stepped to the tee on No. 17, a 185-yard par 3 with a water hazard in front of it.
Heffner had parred the hole the day before, and he was confident as he chose which club to hit.
"I decided to pull a 5-iron, because it was into the wind quite a bit, so it was probably playing about 195 yards," he said.
But when Heffner made contact with the ball, his swing wasn't as pure as it had been most of the day, and it began to appear he hadn't chosen enough club.
"I barely cleared (the water)," he said. "It was not a very well-struck ball. It was kind of high and started floating in the air and barely got over."
It was a long way from the cup, but it was a dry ball. There was still hope, even as the ball sat 60 feet from the hole.
But Heffner is knowledgeable enough to know that one misstep can be crucial. So while he wasn't necessarily planning to play it safe on 17, he wasn't exactly looking to make a highlight-reel putt with so much on the line.
"Honestly, with putts from that distance, you just want to get within a 3-foot circle around the hole," he said. "I was just thinking, 'If I can get it up there close and two-putt …'"
So Heffner sized up his shot, went through his pre-putt routine, and sent the ball on its way.
A two-putt wasn't going to be necessary.
"I really got away with a bad tee shot," he said. "But when I saw it go in, I couldn't believe it. I never thought for one second that I could actually make it, so when I saw it go in, I was excited.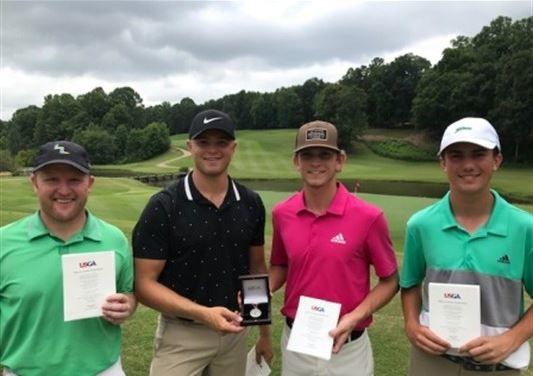 The birdie on 17 put Heffner at 7-under for the tournament. He parred his remaining hole and headed to the clubhouse. Once there, he learned he had the second-best score of the two-day event – for the moment. One group was behind his, so he still wasn't sure if he'd need to make travel plans to Pinehurst next month.
"I knew I had three players behind me who could easily post better than me, because they had a head start going into that day," Heffner said. "I had to wait for them to come in. (Tournament officials) sat down, they did the scores, and then they announced that one of the guys had not played that well and that I was now in fourth and that I had qualified."
"It was just excitement," Heffner said. "I had been waiting for that event all year, so when they told me I qualified and they handed me that little piece of paper and said, 'We're going to go take your picture with the other guys,' I was just honestly thrilled. I didn't know what to think. I was just looking forward to playing in the actual event."
In many ways, it was sweet redemption for Heffner.
For the past two years, he'd attempted to qualify for the U.S. Junior Amateur, a prestigious event in its own right. And twice he'd come up short. This year, in fact, he'd missed qualifying for the Junior Amateur by just two strokes while competing at nearby Salisbury Country Club.
"I was a little disappointed in that one because that's the one with all the guys I already know, and it's the best juniors in the world," Heffner said. "That would've been a good one to get into. But I'm still happy I made it into the real amateur, the U.S. Amateur."
It was the start of one the best stretches of Heffner's career. Five days after qualifying for the U.S. Amateur, he committed to continue his career at Davidson College. He'd also had conversations with East Carolina, Western Carolina, Greensboro College, High Point College and the Charlotte 49ers, but it was in his heart to become a Wildcat.
"Davidson's just great on the golf course, and as far as academics, it's an awesome school," Heffner said. "Their golf team made it to the NCAAs a year ago and then missed it by two last year."
And pretty soon, they'll have a U.S. Amateur qualifier roaming the campus.