CONCORD – He is here again – on the cusp of being on the cusp.
During his basketball journey, Codi Miller-McIntyre has been in the NBA Summer League before, working to show big-league teams his worth while battling with fellow lifelong pursuers of the dream and the latest batch of teenage draft picks.
A year ago, that sweat equity earned Miller-McIntyre an invitation to training camp with one of the big clubs, putting him just one step from being on an NBA roster. But in a few short months, he had to go back to a foreign country, grinding to get better until the next opportunity came along.
But what makes Miller-McIntyre so rare is that's just fine with him.
Maybe the former cfa Academy star would've liked for the early part of his professional story to have been different.
Maybe he would've preferred to have been standing on the podium shaking hands with NBA commissioner Adam Silver three years ago instead of watching portions of the draft, knowing full well that his name wasn't going to be mentioned.
And there's no doubt that the league minimum of nearly $850,000 a year would've made a difference in his life right out of college -- or even now, at age 25.
But Miller-McIntyre doesn't regret where he is now.
Truth be told, he's right on course. When he graduated from Wake Forest University in 2016, he and his agent developed a plan of spending time overseas, getting better while putting some money in his pocket and gaining life experience before making it to The Show soon after.
He's done that, with stops in China, Belgium and Russia, and a cup of coffee with the Dallas Mavericks and the G League mixed in.
But this week, Miller-McIntyre will be back on the summer league stage – on the cusp of being on the cusp of achieving his NBA dreams. This time, it's with one of the two most famous franchises in the league's history, the Los Angeles Lakers.
How could it not feel good?
But Miller-McIntyre, wise beyond his years, isn't getting too high about this opportunity, even though the salary cap-strapped Lakers will desperately need players to fill their roster built around Lebron James and Anthony Davis this season.
Miller-McIntyre leans on his overseas experience to make his point.
"In Russia, there's a phrase," he begins.
Miller-McIntyre delivers some verbiage that I not only don't understand but certainly can't come close to spelling.
"Basically, it means, 'What will be will be,'" Miller-McIntyre said. "And after this year, especially going to training camp and being so close to the NBA – like tasting the NBA, flying on a charter plane while going to China with an NBA team – and stuff still not happening the way you want it to, I've just realized that the best way to go about these situations is don't try to get too excited about the possibilities.
"You should definitely notice the possibilities," he added, "but at the end of the day, all you can do is control what you can control."
His current stops are Sacramento, California, and Las Vegas, homes of the two summer leagues the Lakers will be in over the next few weeks. But so much has happened along Miller-McIntyre's journey, that it's actually pretty remarkable that he still possesses the patience to handle things with such aplomb.
Miller-McIntyre always loved the game of basketball, and he had the skills to match. He showed flashes of things to come in the 2010-11 campaign when he averaged 14.5 points, five assists and three steals per game in his only season at Concord's First Assembly Christian School, which later changed its brand to cfa Academy.
Miller-McIntyre moved on to Hargrave Military Academy, which gave him a chance to improve his national ranking. And he did, helping Hargrave to No. 2 in the country and making himself a four-star recruit worthy of Atlantic Coast Conference offers.
He went to Wake Forest and left his mark, scoring more than 1,300 points. But a senior year filled with hope was marred by a broken foot that certainly caused his NBA draft stock to plummet. But it didn't dissuade Miller-McIntyre. It actually made him more determined.
He still believed in himself as a pro, and he knew he needed a sports agency that believed in him just as much. So he chose Jamie Knox of JCK Sports Group. And together, they began his professional odyssey.
"I didn't expect to get drafted at all, based on the type of season I had my senior year," Miller-McIntyre said. "That weighed a lot with deciding what agent I decided to go with. I had a lot of (agents) who just said, 'You know what, you're going straight overseas.' We all knew that I was going overseas the first year, for sure, but (JCK Sports) did what they had to do to get me the opportunity to at least experience (NBA) workouts."
That spring, Miller-McIntyre got to show his wares in workouts with the Golden State Warriors, Utah Jazz, Sacramento Kings, Phoenix Suns and the Charlotte Hornets. But despite going undrafted, he was emboldened after getting to see what NBA teams expected of their players.
Shortly after the 2016 draft, Miller-McIntyre went to Atlanta, where JCK Sports is based, and worked out at a hotspot called The Skill Factory. It was there that officials from a team in the highly regarded Chinese Basketball Association, the Shenzhen Leopards, noticed him and invited him to their training camp.
"They invited me to just come to China and train for three months, and get paid to do it," Miller-McIntyre recalled. "I just figured, 'I'm fresh out of college, I don't have money, and I don't want to be spending money training, so I might as well take this trip to China. They're paying for me to come and get better.'"
Miller-McIntyre trained in China for about a month before another professional team began courting him. Pretty soon, after a quick flight back to Concord to see parents Sherkica and Gary for a few days, he was off to Belgium.
In his rookie season as a pro, Miller-McIntyre made his presence known. He starred for the Leuven Bears and led the Pro Basketball League, the highest tier in Belgian hoops, in scoring (17 points) and assists (six per game).
Miller-McIntyre was 4,000 miles from Concord, and the living wasn't easy. But he was happy that his professional dreams were finally taking shape.
"Belgium is a well-respected league, and I had a great year," he said. "It was a good team for me to go to after my foot being broke my senior year, so it was a great opportunity to go somewhere and rebuild my confidence."
That spring, Miller-McIntyre returned to the States and was invited to minicamp with the Dallas Mavericks. It didn't result in any other opportunities with the NBA, but he didn't panic.
"That was our goal," Miller-McIntyre said. "Going into my rookie year, my agent said, 'The goal this year is to get invited to minicamp to try to make it to summer league. And then if that doesn't work, then the goal is to make it to summer league next year without having to go to minicamp.'
"After that, I just worked out all summer and got a call from Russia from a team called Parma Basket. I decided to go to Russia. I had another really good year that year."
Yes, one could say it was a really good year.
Playing in Russia's VTB United League, Miller-McIntyre averaged 16 points, 7.9 assists and five rebounds per game, en route to being named an All-Star. When he wasn't on the court, he found time to teach English to students in Russian schools.
When he came back to America last spring, he was excited. And ready.
Miller-McIntyre basically went on a tour of NBA minicamps, but he had invites to join summer league teams before that. His reputation in Russia had preceded him, and NBA teams wanted to see how his game had improved. He ultimately chose to hook up with the Toronto Raptors.
Miller-McIntyre had a solid showing in the Las Vegas summer league with the Raptors. He started four of six games and averaged six assists, 5.5 points, 4.5 rebounds and nearly two steals per outing.
"I didn't play as well as I wanted to, but that gave me a lot of confidence, because after summer league, I think I had maybe two or three training camp invites," he said.
Oklahoma City and the Mavericks were among the suitors. Miller-McIntyre was happy, but he also was torn.
Over the Russian winter, the VTB United All-Star Game was held in Saint Petersburg, and Miller-McIntyre fell in love with the city and its pro team. Over the summer, Zenit Saint Petersburg had also contacted Miller-McIntyre and his agent, offering a contract.
"After summer league, I had a big decision to make," he said. "I had been guaranteed money in the city I wanted to play in and the country that I really loved, or I could take that shot at my dream, which is being in the NBA. I decided to go to Mavs training camp, just because I knew that if I took the money over the opportunity, I would always have in the back of my mind 'what if.'"
So on Aug. 1, 2018, Miller-McIntyre signed his first NBA contract, although it was a non-guaranteed deal to be in the Mavericks' training camp.
Looking back, Miller-McIntyre doesn't regret going to training camp with Dallas. But he clearly wasn't pleased with the way things worked out.
On Oct. 8, 2018, the Mavericks waived Miller-McIntyre, and he didn't feel he really got a chance to show what he could do. In just two preseason appearances, he played a total of 5.8 minutes. He managed two assists, but he had no field goal attempts.
"Training camp didn't go as expected," he said simply. "It didn't go the way it was told to me and my agency."
Miller-McIntyre, of course, didn't sit around wallowing in self-pity. After the Dallas experiment last summer, he signed with the G League's Texas Legends.
Again, he was solid, posting averages of 10.6 points, 6.3 assists and 6.1 rebounds. Good numbers for a 6-foot-2 point guard in the league just below the NBA.
But he wasn't fulfilled, and the voices in his head told him to do something about it. And those voices weren't exactly speaking English.
"After a month of being in the G League and being disappointed with how things went, in terms of miscommunication or whatever may have been the problem (with the Mavericks), I just kept thinking, 'Gotta get back to Russia. Gotta get back to Russia,'" Miller-McIntyre said. "I was building something (overseas). I had two great years, so my name started building in Europe for bigger European teams. So that's all my mind was focused on, was going somewhere where people wanted me.
"I think basketball or dreams or anything like that are very similar to relationships. You know when a boy really likes a girl but the girl's like, 'Nah, I don't want him. Oh, he'll be around'? I kind of felt the same thing was going on with the NBA. I felt like I was chasing the NBA too much when I had great opportunities overseas from people that wanted me. There's no better feeling than being wanted."
By November, Miller-McIntyre was back in Russia, playing for Zenit Saint Petersburg. The team went through a coaching change, and his statistics went down from the previous season.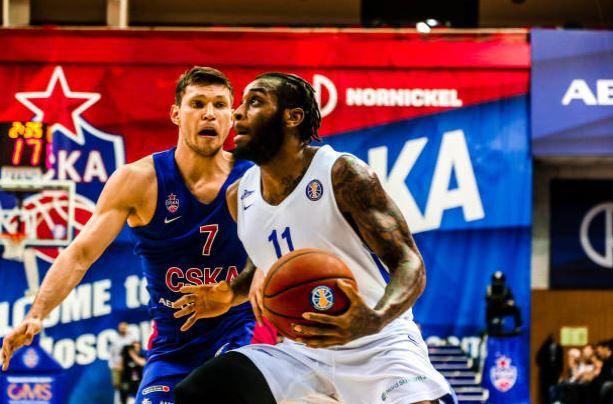 "But ultimately I felt like I made the right decision," he said. "I was able to sleep fine at night and wake up in the morning without questioning, 'Why am I here?'"
Miller-McIntyre returned to Concord this month with a renewed spirit. He worked hard, more determined than ever. He even flew in his personal basketball trainer from Belgium, Joerik Michiels, to make sure he was practicing at his peak. The two men trained in the New Life Baptist Church gym for 10 days.
Things got even better when Miller-McIntyre's agent called last week and told him the Lakers wanted him to play for their summer league team.
Again, he's not putting any pressure on himself.
"For me, I have nothing to lose," he said. "I feel like after I broke my foot, a lot of people wrote me off, so for me, it's just about going out and just playing hard, showcasing what I've been working on the past few years, showing them my development as a point guard. My game has matured. And honestly I just want to have fun.
"I think last year (with the Raptors) maybe I was a little too tense. And even with that said, I played decently, but I played nowhere near the way I know I'm capable of playing. If I go out there and play extremely hard every game, and I know I tried my best but that doesn't result into something more because I know (the Lakers) have open spots, then I can walk away from that situation smiling, knowing I did what I could. It just wasn't for me."
Miller-McIntyre said he'll be able to walk away from the summer with such contentment because he knows the path he's travelled over the past three years.
Yes, he knows a lot of people would love to be in his Nikes, playing basketball for a paycheck and traveling the globe. But he hasn't exactly been away sightseeing, and the lifestyle commands you to get better or get lost.
How hard is it to make a pro career a reality?
That first year in Belgium, on "off days" Miller-McIntyre would wake up at 4:15 a.m. and be on the road by 5:15, driving an hour in the darkness from Leuven to Antwerp to train with Michiels for two hours. His team had practices around 9:30 a.m., so he'd hustle back to make it in time. After the team's morning practices, he'd go grab a nap and then head back for the evening practices.
"There's definitely been a lot of bumps in the road," Miller-McIntyre said. "When people hear about you playing overseas, a lot of them say, 'Oh, you're living the dream! Your life is so perfect! You're so lucky!' But a lot of people don't understand how hard it is.
"When you're thinking about trying to compete to make it to EuroLeague, the biggest league in Europe, or trying to fight to come back home to play in the NBA, you have to go above and beyond – almost become insane – with your work ethic. And you have to be smart with it. Because if you only do what you do in practices, it's not enough and you will never get there."
So when Miller-McIntyre is on the West Coast in the coming weeks, trying to earn a spot with the Lakers or any other team that might be watching, he'll be doing so with the patient mindset he's developed throughout the years.
He knows being on the cusp of being on the cusp is both a blessing and a curse, because some players get to this point and become too anxious, not playing their games and killing their chances in the end.
"The most important thing to me is patience," Miller-McIntyre explained. "My life is built upon patience. My mindset comes from patience. The way I handle situations, its origin comes from patience. Because I believe whatever is meant for you will be yours if you're willing to work extremely hard and wait for it. That's what I want to show people from Concord.
"Even though I'm still not in the NBA yet, or maybe it will never happen, I've kept the mindset of what will be mine will be mine, and I'm working daily. And over time, I start to see more things come true.
"Every year, something else comes true for me with basketball. Something else isn't a dream anymore. It's a reality."