CONCORD – It was Darius Robinson's first day on the job, and the newest Jay M. Robinson head football coach was strolling through the hallways with the school's principal, Dennis Hobbs, and athletics director, Wes Harrington.
Suddenly, Robinson stopped and called across the way when he saw a familiar face.
Robinson's wide grin grew even more, and so did those of the two men walking beside him as they watched what took place next.
Harrington recalls the late January day as one of many moments over the past few months that have reminded Jay M. Robinson administrators they hired the right man for the job.
"It was one of his former students at Central (Cabarrus), and she came running across the commons and just gave him one of the biggest hugs I've seen a student give a teacher," Harrington said. "The kids just love him. That just happened to happen in front of me and Mr. Hobbs, and we just kind of looked at one another like, 'Yep!' It was that a-ha moment.
"(Robinson's) just got that infectious personality that gets everybody motivated. That (moment) was just icing on the cake, is what it was. We knew we had the right guy."
And just like that, Robinson's impact at the school with which he shares a name was front and center.
Robinson comes to his new job after being the defensive coordinator at Central Cabarrus for one season. He replaces Rich Williams, who stepped down after coaching the Bulldogs for two years.
Just 28 years old, Robinson will be the youngest head man among Cabarrus County football coaches. But he comes in with a great deal of experience and a supreme reputation as an X's and O's strategist and, what's more, as a person.
And that's why Jay M. Robinson officials chose him from a field of "50 to 60" applicants.
"I've been blessed to learn from some of the best, not only from my playing but also in my coaching experience," the new Bulldogs coach said. "It's kind of set me up for what's about to take place here at Robinson."
And if what's happened in the years before he got here is any indication, Bulldogs fans are in store for something very special.
Robinson grew up just across the border in Lancaster, South Carolina. He was typically one of the biggest boys in his grade, but as a self-described "introvert," he didn't play organized football right away. He left that stuff to his big brother, Robert Fletcher, who took up the sport at age 4 and became good enough to make Lancaster High's varsity squad as a ninth-grader.
But when Robinson was about to start eighth grade, his mom asked him a question.
"Are you going to try out this year?" Deborah Robinson said
He surprised her when he said that he was.
He was excited, but Robinson admits he was lost when he reported for the first day of workouts for the South Middle School Mustangs.
"I didn't even know what position to go to," Robinson recalled. "The first day, (coaches) said, 'Go to your position group.' The first position group I just wandered on over to was quarterbacks."
Robinson belts out a hearty laugh.
"They didn't even give me a football," he cracked. "They took one look at my size and said, 'Nah, you need to go over to the (offensive) line, (defensive) line group, Big Guy.'
"So I might've been able to be a quarterback, but they crushed my dreams early."
Robinson played pretty well that first season, mostly as a lineman, and was smitten enough with the sport to stick with it going into high school. He gave up basketball, the one organized sport he'd actually played before. He knew where his future lay.
"I was more of an enforcer when I played basketball," Robinson said. "I figured I could better use my time investing in my football future, so I just lived in the weight room after that. I spent countless times in that weight room by myself, and it helped me get to where I am today."
The year Robinson dedicated himself to the gridiron also was around the time he learned he wanted to be a football coach one day.
It wasn't part of any plan. Like most kids playing the game at his age, Robinson simply wanted to play at a high level and win games.
But then he met Bennie McMurray, and he learned there was much more to football. And life.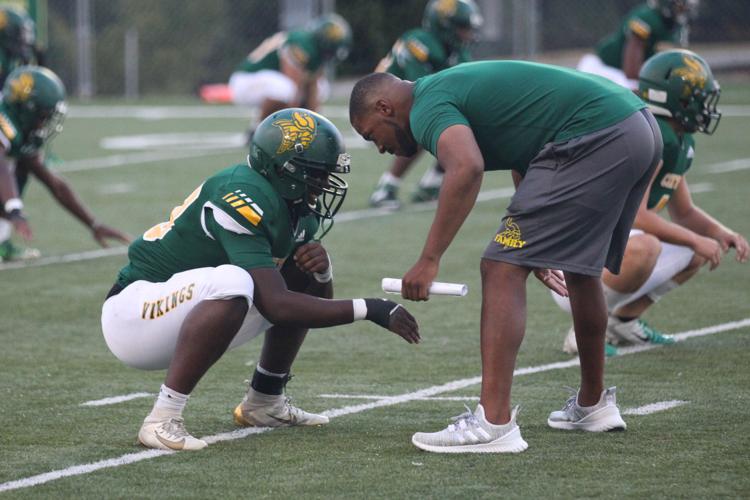 McMurray became Lancaster High's coach as Robinson was preparing for ninth-grade. The Bruins were coming off an 0-11 season, and McMurray was in the process of trying to establish a new culture.
He met with the eighth-graders coming up to the high school that year and gave them his plan, telling them what would be required of them. He told they'd work to get stronger, A biology and physical science teacher, McMurray also stressed the importance of hard work in the classroom.
More important, McMurray treated them like men, not like a bunch of faceless middle-school boys coming into a losing program.
One player who was closely paying attention was Darius Robinson.
"The way he carried himself and conducted himself, and the way he wanted to invoke change in others, that stood out to me," Robinson said. "That light bulb went off in my head. It was that calling from the Lord, per se, that said, 'This is what I want you to do.' And ever since then, I've been that player. But also in the back of my mind, I've always made sure that I paid attention to the coaching side of things. I wanted to make sure that when it was my turn, I was ready to take that thing full throttle."
Lancaster High did improve on the football field. During the time Robinson and his big brother were on the squad under McMurray, the Bruins went from an 0-11 program to a group that got one game short of the state championship.
But for Robinson, it wasn't about the wins and losses. Not totally. And it left an indelible mark on the way he would go about the rest of his life, with or without football.
"Coach Mac came in and transformed things, and that really made me watch how he transformed lives," Robinson said. "How he gave different people hope made me want to get into the coaching field. I learned the key for success: doing things the right way, holding people accountable and changing the man before you change the game – and challenging the man first.
"Folks get so caught up in developing players. But developing young men as husbands and fathers and community members is what's most important before we do anything else. That's what (McMurray) brought back to Lancaster. That's when everything else, as far as the football aspect, came easy. Because he challenged us as young men before he challenged us as football players. And that still holds true to this day."
Robinson's brother, Robert, had a stellar high school career and went on to play defensive back and outside linebacker at Wingate University, where he became an All-American.
Robinson, too, was productive at Lancaster and was named the county's most valuable player and the Bruins' defensive MVP his senior season before going on to play in the NC/SC North-South All-Star Game.
Still, major programs didn't come pounding on his door, but plenty of schools did for other reasons – like his grades.
Being a strong student, Robinson got his college education fully funded when he decided to sign with the Johnson C. Smith University football team. The west Charlotte college gave Robinson a partial athletic and partial academic scholarship that took care of everything, making becoming a Golden Bull, he said, "a no-brainer."
"I always tell my players, 'You have to always challenge yourself academically as much as you challenge yourself athletically,'" Robinson said. "I tell them the story that I had. A lot of schools don't have full-ride scholarships, for the most part. The way I was able to get a full ride was I graduated high school with a 3.89 GPA. I challenged myself. I put myself in honors classes, AP classes. I made sure that I was on top of my work at all costs. That was a big thing with me and my mother and my family.
"When I was I was coming up, there wasn't a situation where, 'Oh, we've got a little college fund' or whatever. If you wanted it, you had to work for it. You had to go get it. That's the mentality that I have every day."
But Robinson also wanted to make a difference on the field when he got to Johnson C. Smith as a defensive lineman. He'd seen his high school coach change a culture, and he was hoping for the same with his once-struggling college team.
"When I went there, I wasn't that typical recruit that just wanted to go out there and have fun and see what was going on; I wanted to be a part of a winning tradition," Robinson said. "I knew their record before, and I sat down with some of the guys who were about to be seniors and said, 'So, man, what are we going to do to change this thing around?'
"Talking to those guys, they really wanted to invoke some change. Even though they didn't get to experience the success that I got to experience while I was at Johnson C. Smith, we were able to lay down that foundation."
After winning just two games during Robinson's freshman season, Johnson C. Smith didn't suffer a losing season until after he graduated in 2014.
While he was in college, Robinson did some coaching in speed and agility/strength and conditioning, including a stint at Hickory Ridge High.
But when he graduated from Johnson C. Smith, he admits that he "tried to run from" coaching at first.
He got a job working at Charlotte Douglas International Airport, and there were some pretty good fringe benefits, including being able to fly anywhere in the country free of charge.
But each day he went to work, coaching remained in the back of his mind.
"Two or three months into it, I hadn't event taken a flight yet," Robinson said. "I felt convicted and prayed and asked the Lord. I said, 'If I need to be coaching, just send me a sign.'"
The very next day, he got it.
Phillip O. Berry head coach Andrew Howard called Robinson and said he needed someone to coach the offensive line. Howard offered Robinson the job on the spot.
Robinson decided to give it some thought.
"I quit the airport that day and was offensive line coach at Phillip O. Berry," Robinson said.
At Phillip O. Berry, Robinson became friends with another assistant coach, Jason Seidel. The two enjoyed each other's company and often brainstormed about coaching philosophy.
After a year at Berry, Seidel went to Gastonia Ashbrook as an assistant under head coach Greg Hill. Seidel quickly told Hill about Robinson, and soon he, too, was headed for Ashbrook as the defensive backs coach.
In 2016, Seidel became the head coach at Hickory Ridge, and one of the first people he reached out to was his old pal Robinson. He became the defensive coordinator for a Ragin' Bulls squad that went 23-6 over two seasons and reached the Class 3AA reginal finals. During that 2016 campaign, Hickory Ridge gave up what was then a school record of just 16.13 points per game.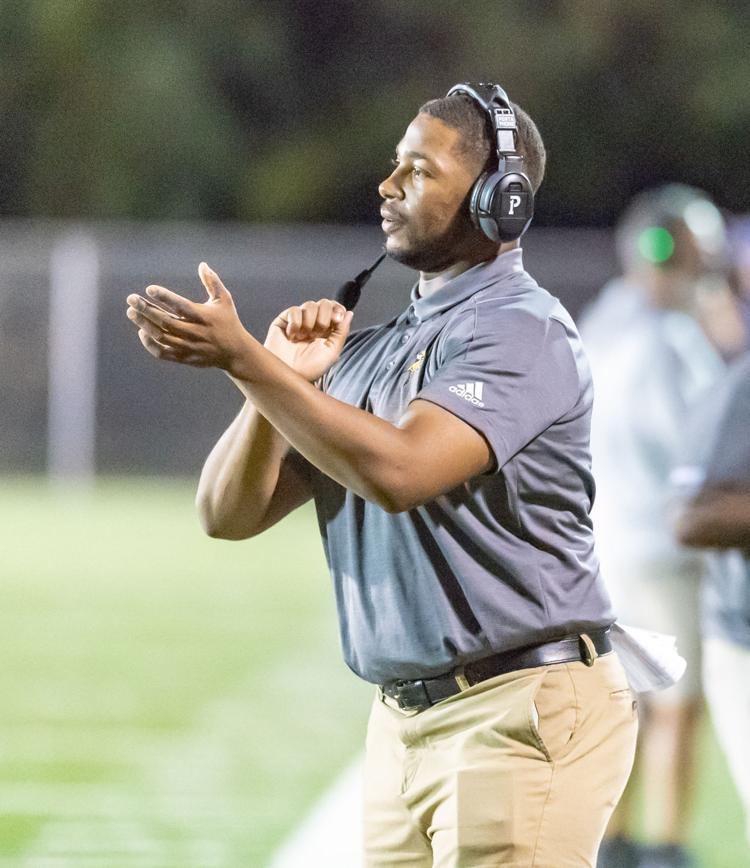 In 2018, though, Seidel accepted a job in South Carolina. Robinson went, too, but his stay wasn't long.
"I went down to South Carolina with him to get things kicked off," Robinson said. "Then, I came back here and worked for a phenomenal coach in Coach (Kenneth) McClamrock (at Central Cabarrus)."
With Robinson leading the defense, Central Cabarrus gave up just 16.83 points per game. It was the Vikings' lowest points-allowed total since 1994.
"I had a great time there working with Coach McClamrock," Robinson. "It was just a really great experience, and I learned a lot.
"After that, Robinson came a calling," he said in his Palmetto State twang.
Robinson said Jay M. Robinson officials impressed him with the way they made him a priority during its head coaching search. He said it reminded him of the way his old Johnson C. Smith recruiting coordinator, Greg Richardson, was with him when he was coming out of high school.
Robinson had been considered a hot head-coaching commodity at many schools, Jay M. Robinson slowed began to look like the perfect destination for him.
"Their vision aligned with my vision, as far as having football at the focal point of the school and the community," Robinson said. "They're ready to get that thing back on the top shelf of things. With all of us being aligned and having the same vision, the same philosophy moving forward, when like minds come together, there tends to be success."
Still, Robinson said there was a period of disbelief when he was officially named the new Bulldogs head coach in January. It's not often that 28-year-olds get a chance to lead an entire program. Football coaching is a dues-paying craft, and many school administrators are hesitant to put someone the top role until they've gotten years and years of experience.
Robinson, though, had clearly separated himself.
"It was surreal," Robinson said. "That was a childhood dream of mine. And to see that thing come true was awesome. But then at the same time, you get that half-second of bliss and then it's like, 'Oh, crap, you have to get ready for this, because it's real now.' My mind instantly went from 'Thank you, Lord' to 'Let's get back to work.'
"I was extremely grateful and thankful and honored," he added. "People don't realize that when people ask you to be the head football coach, it's not just things that are going on on Friday night; you are counted on to be the face of an entire school and community. And for someone to see fit for me to be that light for everybody else is an honor. But with honor and privilege comes responsibility. And that's a responsibility I expected myself to hold to the highest regard."
Robinson makes it clear: He's not intimidated by his new role. This is a moment he's been looking for since he was in eighth grade.
He believes he's earned it.
He believes he's ready for it.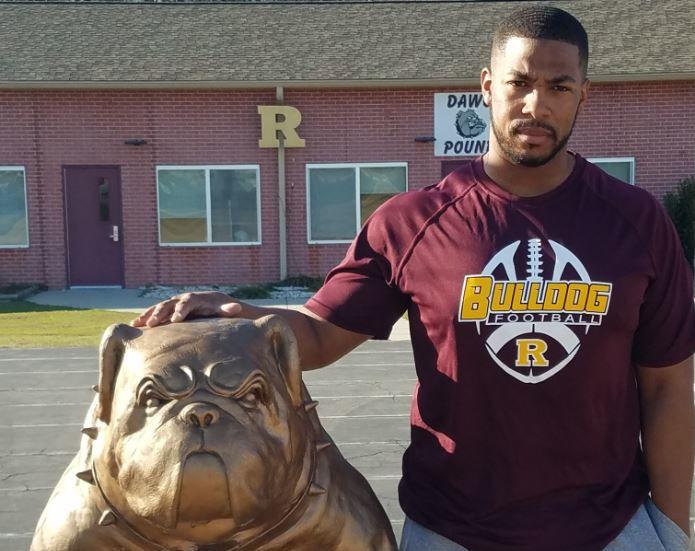 Age simply doesn't matter, not when you're as prepared and mature as Robinson. While Bennie McMurray was handling things in a football capacity, Robinson's mother, Deborah, and grandmother, Rosie Gray, made sure they were raising a young man of respect, dignity and responsibility.
Those are traits he makes sure to put at the forefront of his life, along with his spirituality.
"Watching and being observant, being raised in the church, that all made a difference for me," Robinson said. "Being raised by a mother and grandmother who bestowed some great values within me was all the difference. That helped me become conscious of right of wrong – understanding that the way in which you go about doing things is just as important as what you're doing.
"And it's about me having an understanding of myself," he added. "People get lost – I like to say 'lost in the sauce' of this world – because they want to succumb to it. But I think my maturity comes from me understanding myself but then also understanding what I honor, understanding my core values, and then holding true to that. And not really wavering or caring otherwise."
Last season, Jay M. Robinson finished with a 1-10 record, but the team's new coach isn't worried about that.
He says he plans to build the Bulldogs from the inside out. And by the inside, he means their hearts and their minds.
What can people expect from the Darius Robinson Bulldogs?
"They can expect holistic development of their young men," he said. "It goes way beyond what goes on on Friday night. They can expect somebody who's going to develop their young men academically, socially, psychologically, spiritually, athletically and emotionally.
"It's tough right now, just because of the fact that you can't see anybody, you can't be around anybody," he said, referring to the recent suspension of school and sports because of the novel coronavirus.
But even before the pandemic took center stage, Robinson had a plan in place for his troops.
He identified 18 captains, all seniors, and assigned each player five or six teammates. The captains are responsible for checking in with the guys in their group each day, and Robinson, in turns, checks in with the captains to get updates.
"(It's about) seeing if they're connected emotionally and psychologically," Robinson said. "We have to be able to channel our emotions and have the right mindset when we go about doing things."
In many ways, Robinson's mindset is similar to that of his first coaching role model, Bennie McMurray, who retired in 2013 and was inducted into the both the South Carolina Football Coaches Hall of Fame and the South Carolina Baseball Coaches Hall of Fame.
He says he's also taken pieces from his time with Seidel and McClamrock and developed the Darius Robinson Coaching Philosophy.
It's an approach that's made opposing teams loathe facing him, compelled fellow coaches to respect him, and inspired players to revere him.
Harrington, the Jay M. Robinson athletics director, isn't worried about his new coach's age; he's more excited about where this energetic, smart, caring coach will take the Bulldog program in the coming years.
Harrington doesn't miss a beat when he's asked if he's ever hired such a young coach for such a big job.
"I have not," he said. "But personally, I don't think age was a determining factor. We saw that he was young, but we went right back to his personality. And in speaking with everybody that we talked to about him, they said that same thing. It doesn't matter if you're 50 years old or whether you're 29, 30 – if you've got it, you've got it.
"In that case, age is just a number. That doesn't define somebody's personality and character. And I think we hit a home run based on that."