HARRISBURG – Throughout sports history, every good tandem usually gets a nickname. It's kind of like an unofficial mandate.
Years ago, when running backs DeAngelo Williams and Jonathan Stewart were excelling for the Carolina Panthers, they became known as "Double Trouble."
Around that same time, the Tennessee Titans backfield duo of LenDale White and Chris Johnson were affectionately dubbed "Smash and Dash."
And if you want to go the movie route, who can forget "Shake n' Bake" from "Talladega Nights"?
Hickory Ridge football players Nolan Carey Jr. and Mookie McWilliams are perhaps the best pair of running backs in Cabarrus County, but they don't have a nickname, although some have tried to bestow one upon them.
And while the pair of Ragin' Bulls might be worthy of its own moniker, neither player is preoccupied with it.
"No, sir," McWilliams said. "It's simply Nolan Carey and Mookie."
And that's been more than enough for the Bulls, who open play in the Class 4A state playoffs tonight when they welcome Kernersville Glenn to The Ridge.
Carey and McWilliams have been a vital reason that Hickory Ridge (8-3) finished in third place in the Southwestern 4A Conference this season, giving them a first-round bye and a No. 4 seed in the West Region.
Both players could be No. 1 tailbacks for most teams in the area. Instead, they effectively share that role for the Bulls, using a combination of strength, speed and innate running skills to overwhelm defenses.
Carey is a senior who often lines up as a hard-charging tailback but also spends time moving all over the field, catching passes as a slotback or dashing around the edges with jet sweeps where his quick-twitch moves in the open field frequently results in touchdowns.
At 5 foot 10, 200 pounds, Hickory Ridge coach Jupiter Wilson said Carey is "probably, pound-for-pound, the strongest on the team" and references his bench press that's nearing 350 pounds.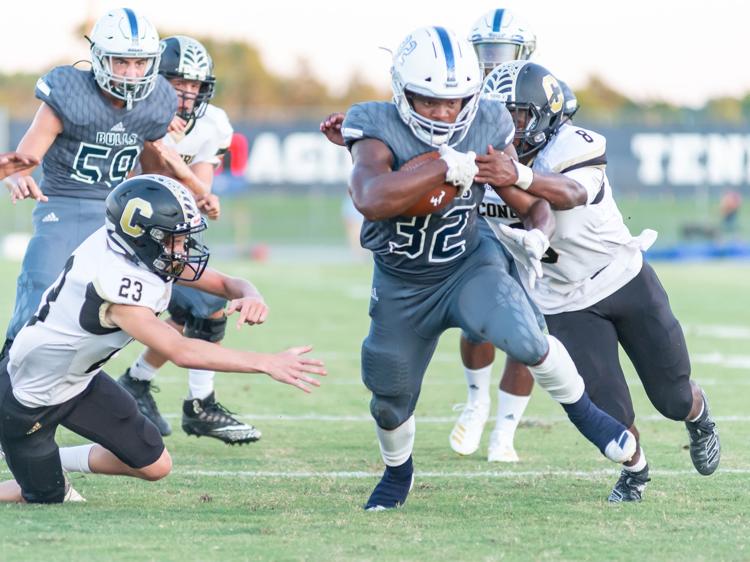 Those measurables, in addition to good grades and a knack for making the big play, are the reason Carey's received invitations to play at five colleges: Cornell, Lafayette, Charleston Southern, Air Force and (as of Wednesday) Colgate.
McWilliams is a junior who primarily plays the role of the power back, only he isn't your old-school, "3 yards and a cloud of dust" type of ball carrier. He's known for breaking through the first line of defenders and ending up in the end zone moments later.
McWilliams also is freakishly strong for his size. Standing about 5-7 and weighing 185 pounds, McWilliams squats 450 pounds, according to Wilson.
And the fact that both players are speedsters makes them even more dangerous.
"I'm not back there all the time, but when he's back there, I know Mookie can make those runs up the middle as well as outside," Carey said. "It goes both ways. I know when I'm leading the rush, it's going to be a big play.
"Mookie's a power back, definitely. He runs downhill, but he's also got some speed. And I come out of the backfield catching the ball. We both can still run downhill pretty fast and break away, and you just see us going to the house."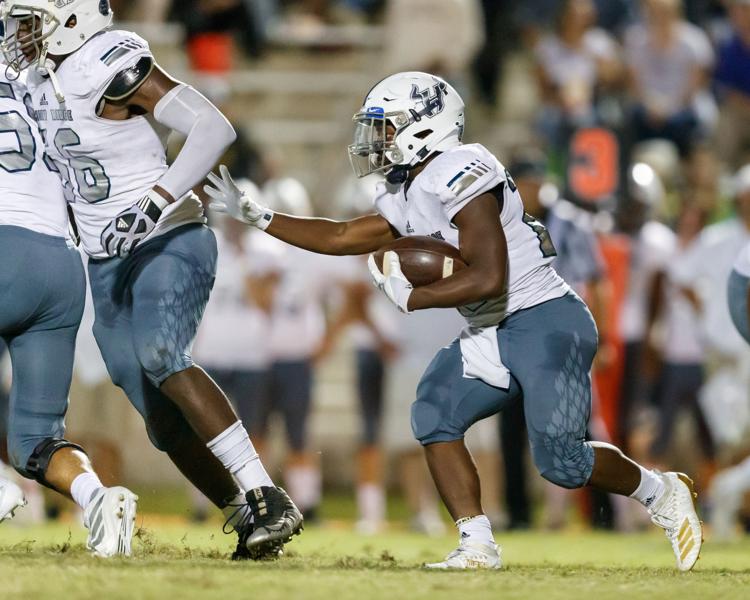 And for McWilliams and Carey, it actually doesn't matter who's designated as the main ball carrier at a certain time or who's scoring touchdowns. They've got a friendship that's been strong since their days at Hickory Ridge Middle School, and they cheer each other on during games.
All they care about is winning.
"The dynamic that we have is we both have each other's back," said McWilliams, who is cousins with former Central Cabarrus star Natrone Means, who went on to a successful college and NFL career.
"Every game, we come out and tell each other, 'We're going to take this game, and we're going to do it for each other.' We tell each other we're going to block for each other, catch every single ball and take the win."
It's been a successful approach, but Wilson admits it took a while before he truly knew how to use the tandem because the players both have such dynamic skills.
"I knew what I had in Mookie, but I didn't necessarily know what I had in Nolan," said Wilson. "And I didn't really figure out how I was going to use Nolan, in conjunction with keeping Mookie somewhat the same, until about the fourth or the fifth game of the season.
"I think the Rocky River game (in Week 7) kind of opened my eyes about what we could do with both of them on the field. I think our offense really took off with that. Just having both of those guys, they really complement each other with what we want to do offensively."
And making a choice on how to best use the two running backs didn't necessarily mean subbing them in and out of the game to split carries.
"I was going to have both of them in the backfield," Wilson said. "But as the offense kind of expanded, I realized I was forcing myself to do that to give Nolan a little more time at the running back. But as the season went on, I just realized we're probably better using Nolan as a screen guy and a jet-sweep guy to complement Mookie because Nolan's so fast. You look at their stats for the year, and Mookie's over 1,000 yards. But by the same regard, Nolan's got about 600 yards rushing and about 700 yards receiving.
"I've kind of found that perfect spot. If I had known what I wanted to do a little bit earlier, Mookie would have about 1,200 yards rushing, and Nolan would've had 1,500 or 1,600 rushing and receiving. They're starting to peak now."
And they'll be extremely important tonight against a Glenn squad known for its defense.
A big reason for that, literally, is 6-foot-4, 265-pound defensive end Jahvaree Ritzie. Only a junior, Ritzie has scholarship offers from about 20 high-major college programs, including Auburn, Florida, South Carolina and North Carolina.
And then there's junior linebacker Raneiria Dillworth, who also has offers from SEC, ACC and Big Ten schools. At 6-2, 190, Dillworth has been clocked at 10.7 seconds in the 100-meter dash.
McWilliams and Carey said they're prepared to play whatever roles are necessary tonight.
"I know when it's coming down to game time, crunch time, it's depending on me and Mookie," Carey said. "Everybody says the running game is going to be strong coming from Hickory Ridge."
Which is part of the reason the whole nickname thing has come into play.
"Some people call us '1-2 Punch,' but that's pretty much it," Carey said, adding that former Bulls coach Sam Greiner began doing that at times last season.
Wilson, a former offensive lineman at North Carolina, adds a time-tested moniker for his young running backs.
"I guess you could call them 'Thunder and Lightning,' Wilson said. "We've had some conversations as P.E. coaches, and you kind of go back to the old (Southern Cal) teams with LenDale White and Reggie Busch.
"Mookie's the power back – tough between the tackles. He's going to give you that 5 or 6 yards but still has the speed to break it. Nolan's more of the home-run hitter – not only on the (traditional) running plays, but on the speed-sweep screens he can do the same thing. But he still has the power to run you over as well. So it's a little bit of 'Thunder and Lightning,' as they say."
For now, Carey and McWilliams say, they're only focused on being called "champions." The journey toward making that happen begins tonight against Glenn, and both players are excited.
"We're going to be very confident and just play our game and keep everything simply like it's always been," McWilliams said. "We're just going to be great athletes out there."
"It's our first playoff game, and I know it's going to be a great game with packed-out stands, like always," Carey said. "We've got a great community. And I know when it comes time for it, it's going to be Mookie and me running the ball."