MOUNT PLEASANT – The Mount Pleasant football team is winless (0-2) heading into tonight's Battle of Highway 49 matchup with Cream of Cabarrus No. 4 Central Cabarrus (1-1).
The Tigers are coming off a 47-15 loss to No. 1 Northwest Cabarrus, but despite the wide margin of defeat, Mount Pleasant coach Mike Johns wasn't at all dismayed.
"I know when you lose 47-15, people go, 'Oh, there weren't a lot of positive things,'" Johns said. "But we did a lot of good things in that game. We made some stops, we were able to run the football, we controlled the clock – we had 38 minutes of possession.
"The big thing," he added, "is we weren't able to run the football in Week 1, and we were able to run it last week. That's a positive. That's what we do is run the football, and I was really pleased with how much improvement we made in one week. I feel like we're moving in the right direction."
The Mount Pleasant rushing attack was aided by Brent Reece, Dalton Miller and Anthony Eury. It was necessary for the trio to step up with starting quarterback Ryan Tyson sidelined with an injury, giving junior Shane Reigel his first varsity action at the position.
Johns said he was pleased with how Reigel handled the situation and expects an even better performance this week. Still, the Tigers have scored a total of 21 points so far this season, and Central Cabarrus has numerous playmakers on its defense, including defensive backs Devon Coley and Kevin Clerge.
A win tonight against the Class 3A Vikings would qualify as an upset for the 2A Tigers, although the home fans probably wouldn't see it that way. Last year, Central won this game, 42-0.
"We expect them to be fired up," Johns said of the Vikings. "It is a rivalry game. It has been for years, so we're expecting nothing less from them again."
"On defense, we have to be physical and make a statement. In order for us to be successful, (the defense is) going to have to play well this week."
Vikings look to keep winning
CONCORD – Don't expect Central Cabarrus to be taking tonight's game against 0-2 Mount Pleasant lightly.
This is, after all, the Battle of Highway 49.
"It's a huge rivalry game," Central Cabarrus coach Kenneth McClamrock said. "The alumni definitely still see it as a huge rivalry game, and our players see it as an important game."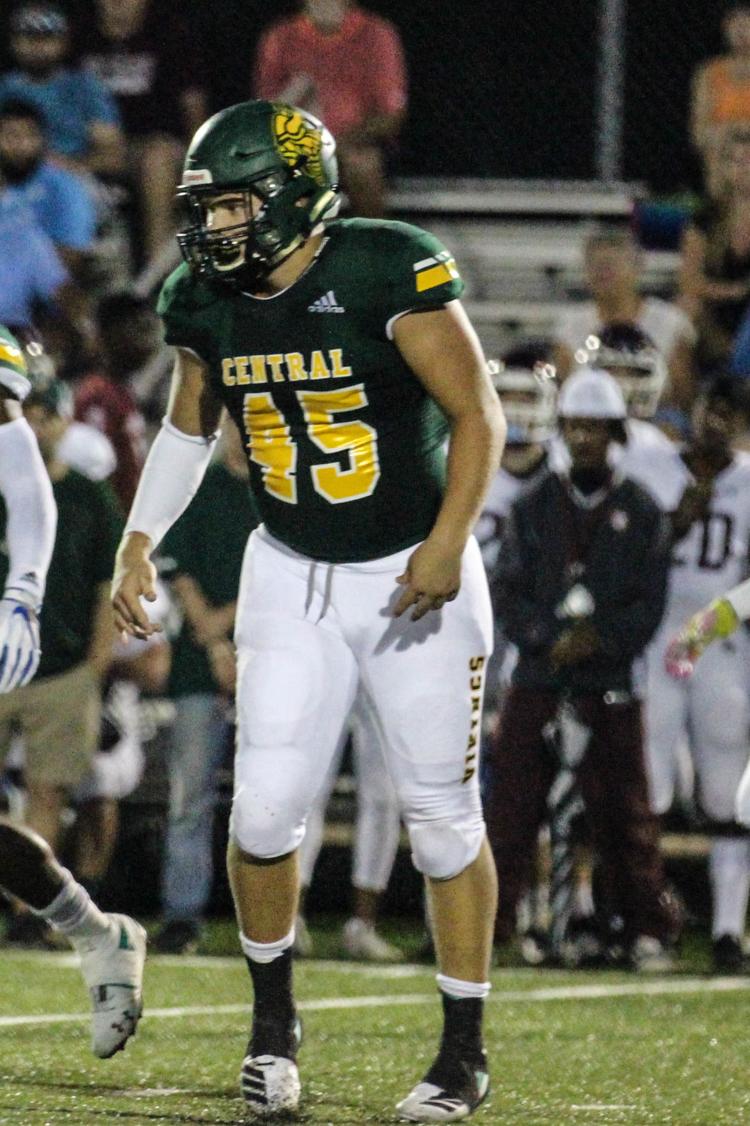 The Vikings are coming off a dominating 38-3 victory over Monroe Sun Valley last week, which followed an Opening Night loss to another rival, Hickory Ridge, after squandering a 20-0 lead at halftime.
McClamrock said last week's performance was the perfect salve for his team following the Hickory Ridge debacle.
"A win is always a good thing, and we needed it," McClamrock said. "We needed to win in convincing fashion. We came back and watched our film, and there were so many small things that we did against the team up the road – things that were able to get corrected."
McClamrock pointed to the strong play of defensive backs Devon Coley and Kevin Clerge, linebacker/receiver Nemo Williams on both sides of the ball, offensive lineman Lane Ratzloff, linebacker Brooks Lawing and quarterback Dajon Johnson as key factors in last week's victory.
McClamrock said he'll need those players, and many others, to stay at a high level tonight against the Tigers.
"As small as we are, this may be the one team on our schedule that we match up with size-wise," McClamrock said. "It's always a heck of a game.
"Last year, we played pretty well against them, and I'm sure they've got that in the back of their minds. They're a proud team that's won a couple Rocky River Conference titles in a row. It should be a good game."
Where the Andersons' heart is
The Central Cabarrus-Mount Pleasant game is always an emotional night for Vikings senior linebacker Logan Anderson. Both his father, Damon, and his uncle, Daren, are former Mount Pleasant football players.
Suffice it to say, the younger Anderson wants to win this one badly.
"I've had a rivalry with (Mount Pleasant) all my life," Anderson said with a smile. "I play rec basketball, too, just for fun, and we always get into it when we play them, because I hate them. Mount Pleasant is always a rivalry for me."
But when the football teams meet, who does his father pull for?
"When we play them, he's all Central," Anderson said. "He's my dad."
CONCORD – A few old foes will meet tonight, as the Cox Mill pays a visit to former South Piedmont 3A Conference opponent West Rowan.
The Falcons (1-1 overall) used to be a strong team during their days in the SPC, however, they moved on to the North Piedmont 3A two seasons ago as part of the N.C. High School Athletic Association's latest realignment.
"(Our players) know what to expect from the ride, they know what to expect from the opponent and the surroundings," Chargers coach Craig Stewart said.
The Chargers (1-1) last made the trip to Mount Ulla back in 2015, though, when they suffered a 41-0 loss to the Falcons. In order to have a different outcome this time around, Cox Mill will have to handle the Falcons' big front seven.
"They want to be a big, physical team," Stewart said. "We've got to match their physicality."
Trojans face a similar offense
CONCORD – Northwest Cabarrus is the Cream of Cabarrus No. 1 team for a reason.
The Trojans are big up front, skilled at every position and have speed all over the field. That's what everyone around sees from the Trojans on Friday nights, so keeping the team fundamentally strong and focused on their goals has been a main focus of the coaching staff.
"Anytime you've got a group of kids being told they're great, you just have to keep the main thing the main thing and keep them from getting big-headed," Trojans coach Brandon Gentry said.
This week's preparation will be showcased tonight against Carson, a team that runs a very similar scheme to the Trojans.
"They run a lot of the stuff that we do, so it helped us to prepare," said Gentry. "We could call the plays the same and simplify some things defensively."
The defense was at the forefront a week ago for the Trojans, with senior defensive lineman Andre Hill, who already has four tackles for loss, as their leader.
"Andre is kind of the heart and soul of our defense," Gentry said. "He's the energy guy. He makes super explosive plays and it gets everybody going. It gives our team a lot of confidence."
That confidence showed in the holding of the Mount Pleasant offense to a 15-point, minus-2-yards passing night.
Bulldog bounce-back brewing?
CONCORD – Jay M. Robinson didn't expect last Friday's game at Marvin Ridge to end in a 56-0 loss.
As a result, this week's home opener against Monroe Sun Valley has an even greater significance.
"We've just got to bounce back," Bulldogs coach Rich Williams said. "One bad week doesn't define us. We just have to eliminate mistakes and turnovers."
That has been the focus of the Bulldogs throughout the week. The Redhawks, a former 2A powerhouse, have a skilled offense with a big, athletic receiver outside in Shaleak Knotts.
With quarterback JJ Grant back this week, the Bulldogs are looking to go 2-1.