Entering its first-round playoff game at Gastonia Forestview Tuesday night, the Cox Mill girls basketball team wasn't concerned about past failures.
Three previous times, the Chargers had reached this stage of the season, and three times they'd been sent home with defeats by wide margins – 15, 44 and 33 points, to be specific.
But none of that mattered on this night.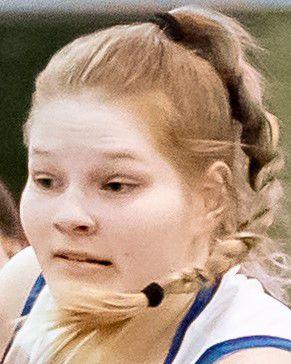 As they traveled down Interstate 85 for Tuesday's matchup, all that mattered to the Chargers were the possibilities.
And that mindset paid huge dividends, as 17th-seeded Cox Mill earned the first state playoff win in school history by defeating 16th-seeded Forestview, 55-54.
The Chargers will now face the West Region's No. 1 seed, Morganton Freedom, in a second-round road game on Thursday.
On Tuesday, though, Cox Mill, which finished second in the South Piedmont 3A Conference during the regular season and also was runner-up in last week's league tournament, was feeling good about making some program history.
"That was one of our goals the whole season, to get that playoff win," said Lin Smithson, who took over the Chargers midway through last season. "We felt like we could. Of course, we were a little disappointed (that we didn't achieve) some other goals we had, so this was huge.
"When I saw the pairings and I knew what was going on, I felt like this was a team that we could beat, if we played well. And we played well tonight."
As is usually the case for the Chargers, myriad players had a significant impact on the victory, but junior Addison Sedergren had one of the strongest performances of her career, putting up 19 points to lead Cox Mill.
Senior Nya Tillery added 11 points for the Chargers, who improved their record to 15-12 on the season for the second-highest win total in team history.
Cox Mill used a tough pressure defense against the Jaguars and held the lead for much of the night, at one point being in front by 12 points.
But the Chargers' ability to negate the impact of Forestview's 6-foot-4 Jimena Vazquez was pivotal, and the 5-11 Sedergren had a lot to do with that.
Sedergren helped limit Vazquez to just five points, roughly half her average as the Jaguars' third-leading scorer – and top rebounder at nearly 13 boards per game – this season.
"That was the key tonight," Smithson said. "Between Addison and Megan Gallegos and Kelsey Holmes, they made (Vazquez) a non-factor. They were boxing her out, they were knocking the ball down. And if she got a shot, she got one shot. But she didn't even get a lot of shots."
Still, Forestview fought back and gained a 39-33 lead going into the fourth quarter. But Sedergren scored eight of her points in that final period, which included going a perfect 4-for-4 from the free-throw line.
The Jaguars missed a late free throw, and Cox Mill advanced to its daunting second-round matchup with Freedom, which is 26-0 on the season.
The Patriots are a perennial powerhouse and their roster includes former Jay M. Robinson standout Jayda Glass, the daughter of ex-Bulldogs football coach Joe Glass, now the head man at Lincolnton.
Jayda Glass' elder sister, Jaelyn, played for Smithson when the coach led the Jay M. Robinson program to great success until her retirement in 2015, and Smithson said she recalls a middle-school aged Jayda hanging around the gym.
Now, it's a business meeting, but Smithson said she's excited about it.
"I get to see my old friend Jayda Glass," Smithson said with a smile. "I texted (Joe Glass) this week. I'm looking forward to seeing (Jayda). She's a good player."
And the Patriots have been dominant as a team, and they're a senior-laden squad features many players from last year's group that reached the state semifinals. In 2017, they beat Cox Mill 64-31 to hand the Chargers the first of their string of first-round playoff losses.
But as was the case on Tuesday, Cox Mill is focusing on the possibilities.
"(The Patriots) are undefeated, but anybody can beat anybody on any given night," Smithson said. "I believe that with all my heart. Always have. I've gone into games with that thought and gotten beaten by 40 points, but I've also gone into games with that thought and won them.
"And I know, if these girls bring it all on Thursday night, we will at least – at the very least – let them know we've been there."
Cox Mill             13     10     10     22 – 55
Forestview         5     18     16     15 – 54
COX MILL – Lewis 5, Perry 4, Gallegos 7, Nya Tillery 11, Holmes 9, Addison Sedergren 19
FORESTVIEW – Dajah Miller 14, Robinson 4, Kenzley Dunlap 26, Wilson 6, Vazquez 5