CHINA GROVE -- It was late in the third quarter, and the outcome of Northwest Cabarrus' 49-0 thrashing of Carson Friday already determined well before halftime. Per high school football rules, the game clock was running continuously because the Trojans held such an insurmountable lead.
It was the right time to put in the subs, and Northwest Cabarrus coach Brandon Gentry dispatched Bryson Mason and L.J. Currie to man the offensive backfield. The daring duo had already played superbly at their regular positions: Currie at middle linebacker and Mason at wide receiver.
Had they not transferred from their previous schools this season, Currie and Mason might have been featured running backs at Concord and Jay M. Robinson, respectively. But they're Trojans now, having joined Northwest Cabarrus' football program with a willingness to contribute in any way necessary and without any assumptions.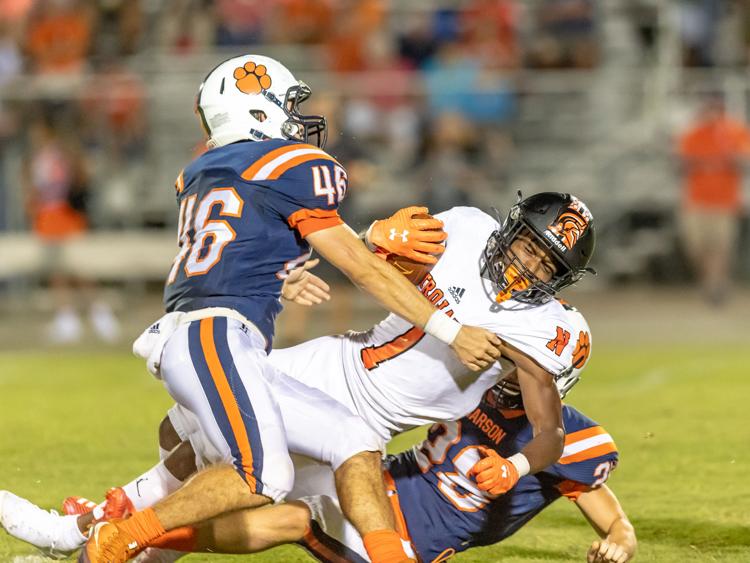 "They just came in and tried to fit in and work hard," said Gentry. "They didn't come in with any demands for what they wanted to do. They have done what we wanted them to do.
"Bryson is playing a lot of free safety for us. He's getting touches at wide receiver and also learning some stuff at running back. L.J.'s just learning stuff at linebacker. He played a different position before (at Concord), but that kid just wants to play. He's just excited about football."
Against Carson on Friday, Mason's first two receptions directly preceded Northwest Cabarrus touchdowns. On the Trojans' first offensive play, he made a 17-yard catch over the middle, and it was followed by quarterback Nick Wilds-Lawing's 28-yard scoring strike to Marquan Williams.
Mason's next catch, an 8-yarder later in the first quarter, reached the Cougars' 5-yard line and led to Cam Saunders' touchdown reception on the next play. Mason is obviously a member of a very talented receiving crew, but he played a vastly different role last season.
As a sophomore running back at Jay M. Robinson, Mason led the team with 917 rushing yards on 156 carries. Four times he ran for more than 100 yards in a game.
But there was a running back in Cabarrus County last year who rushed for more than twice as many yards as Mason, and that was Northwest Cabarrus' Tyrese Blake. Mason understood that a change of football teams probably meant a change in positions, something he was willing to accept.
"(I was looking forward to) getting the ball passing-wise, just getting other opportunities" said Mason. "I feel like it improved my game going forward and gave me other options because I don't know what (position) I'll be playing in college."
Last week leading up to the Carson game was Mason's first full week of practice since the start of the season. He took advantage of it by producing his finest game thus far.
His 15-yard touchdown reception in the third quarter gave the Trojans a 42-0 lead. Mason finished with five catches for 75 yards.
Currie, who had a Pick 6 in Northwest Cabarrus' season-opener at Gastonia Forestview, did his damage in the second quarter on Friday. He intercepted two passes on identical plays, according to Currie, one which set up Northwest Cabarrus' final touchdown of the first half. He also had six tackles over the course of the night.
"We've been getting it drilled around here all week," he said. "The tight end rolled out, and they tried to dump it in the flat. So I just did what my coach told me, which was drop, and (the quarterback) threw it right to me."
Playing defense isn't new to Currie. He played some as a junior at Concord last year, but it was one of the snapshots of a disappointing season which saw Currie's impact diminished because of his battle with Crohn's disease.
The season before, Currie was the Spiders' featured running back. He gained more than 1,300 yards and had a 300-yard game against Charlotte Phillip O. Berry Academy.
So when Gentry sent Currie and Mason into the same backfield late in the third quarter against Carson, and also inserted Blake as Wilds-Lawing's replacement at quarterback, it looked like Northwest Cabarrus had opened an all-star running backs fantasy camp.
It was a long-term strategic move by Gentry, not a gaudy attempt to run up the score.
"That's a package we've been trying to run for two years," said Gentry. "We talked about it at halftime. We're trying to get it on tape to see what it looks like."
On the trendy Trojans trio's only possession together, Northwest Cabarrus drove 43 yards over seven plays and scored on Blake's nifty juke-filled 2-yard run. Blake carried three times on the drive, and Mason and Currie, each ran it twice.
Maybe the potentially thrilling Blake-Mason-Currie look could be called the "B-M-C Package." It would also be a tip of the hat to what they've become at Northwest Cabarrus: Big Men on Campus.