MOUNT PLEASANT – Tailback Dalton Miller had many memorable moments in Mount Pleasant's 33-19 win over Montgomery Central on Friday night.
It could've been either of his two 8-yard touchdown runs. It could've been a 37-yard score that featured multiple broken tackles or his 35-yard touchdown run in the third quarter. It also could've been his 54-yard touchdown run that pulled the game out of reach.
But it also could've been the play before that 54-yard touchdown run -- a quick scamper for 6 yards. It didn't produce a touchdown, a first down or even feature a broken tackle, but the run eclipsed 1,000 rushing yards this season for the junior.
Miller ended the game with 226 yards on 20 carries, scoring four touchdowns. Although Miller has run for at least 226 yards and two touchdowns three times this season, he said Friday night's game was easily the best of his career.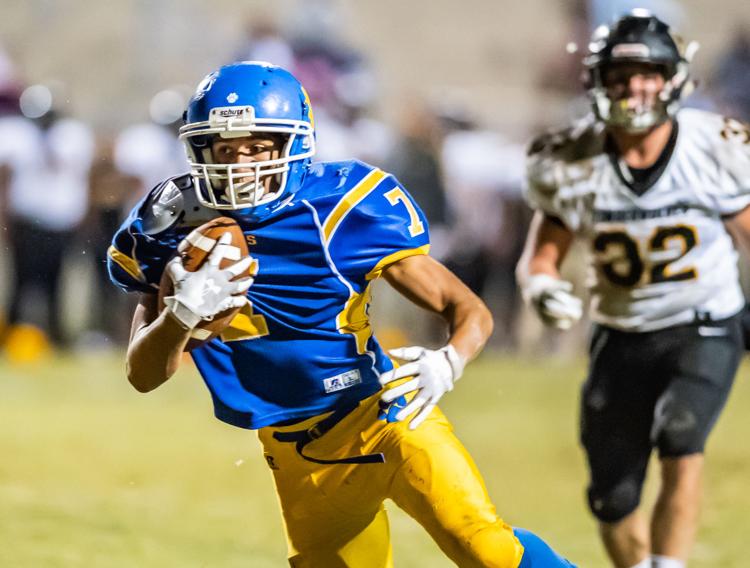 "I was reading blocks, running hard and didn't give up," Miller said. "I'm proud of myself, but I got to give it to my offensive line. I couldn't have done it without them."
Miller was used sparingly during his sophomore year, only rushing 25 times for 116 yards over nine games. But after a strong offseason, he's been the featured back for the Tigers' rushing attack.
"Over the summer, I put on a lot of weight," Miller said. "I've gotten faster and stronger, and the team pushed me this way to be as good as I am today."
His head coach, Mike Johns, agreed, calling Miller one of the strongest players on the team.
"He's really worked hard in the weight room," Johns said. "Pound for pound, he's the strongest on our team, and he's got power. He's high on the team power index, and if you work hard in the weight room, you're going to see the results transpire on the field."
Being in a run-first offense, Miller has thrived this season. This is the sixth straight season Johns has produced a 1,000-yard rusher, and it's the fifth different player in those six years.
"He's so competitive and that's what I love about Dalton," Johns said. "He's so competitive, he wants to succeed, and this running game really suits his skill set."
After a slow start to the season, Miller's offseason is finally starting to pay off in the last few games. He ran for at least 99 yards and one touchdown in three of his past four games. Last week, he ran for 241 yards and three touchdowns in a loss to Forest Hills.
Miller will be able to add to his season total with one more game against West Stanly, where the Tigers will have an opportunity to snag a second-place finish in the Rocky River 2A Conference.