CONCORD – When the Cox Mill football team needed a big play against Concord in the first half Friday night, Chargers quarterback Varney Farhnbullah looked toward wide receiver Christian Henry.
It has become a familiar scenario for Cox Mill this season, and for good reason.
"Every time I look down there, and I look at the coverage the defense is giving me, it's just the feeling that I trust my guy, and I think my guy is better than the guy you put on him," said Farhnbullah after Cox Mill's 45-0 victory over the Spiders.
"So it's the endless reps at practice with one another, and believing in him and him trusting in me and just going out there and executing."
Entering Friday's game, Henry ranked second behind Barry Robertson (508 yards) with 15 catches for 354 receiving yards for the Cream of Cabarrus No. 5-ranked Chargers. And Henry was tied with Robertson for the team lead with four touchdown catches.
Henry got off to a fast start Friday against the Spiders, finishing the first half with five catches for 129 yards and two touchdowns. Three of his catches covered at least 34 yards.
That big-play ability is something Cox Mill coach Craig Stewart appreciates.
"(Henry) doesn't catch many short passes; he catches a lot of long passes," said Stewart. "That's the thing -- he's doing a great job. (The) big difference we've seen this year from last year is route running; it's so much better. He's always had good speed. He's catching the ball well, he's watching it in and doing things with the ball. Once he makes the catch, he's going to the end zone, and that's a big thing for us."
Henry knew that his route running needed to improve, and it was a clear focus for him heading into this season.
"I focused a lot on top-of-the-route work, like breaking down and making sure I'm getting in and out of my cuts," said Henry. "So I made sure to try and work on that going into the season. Also getting my head around coming out of routes, because it gives me more time to work on making the catch."
Henry's work ethic and attention to detail also does not go unnoticed by his coach.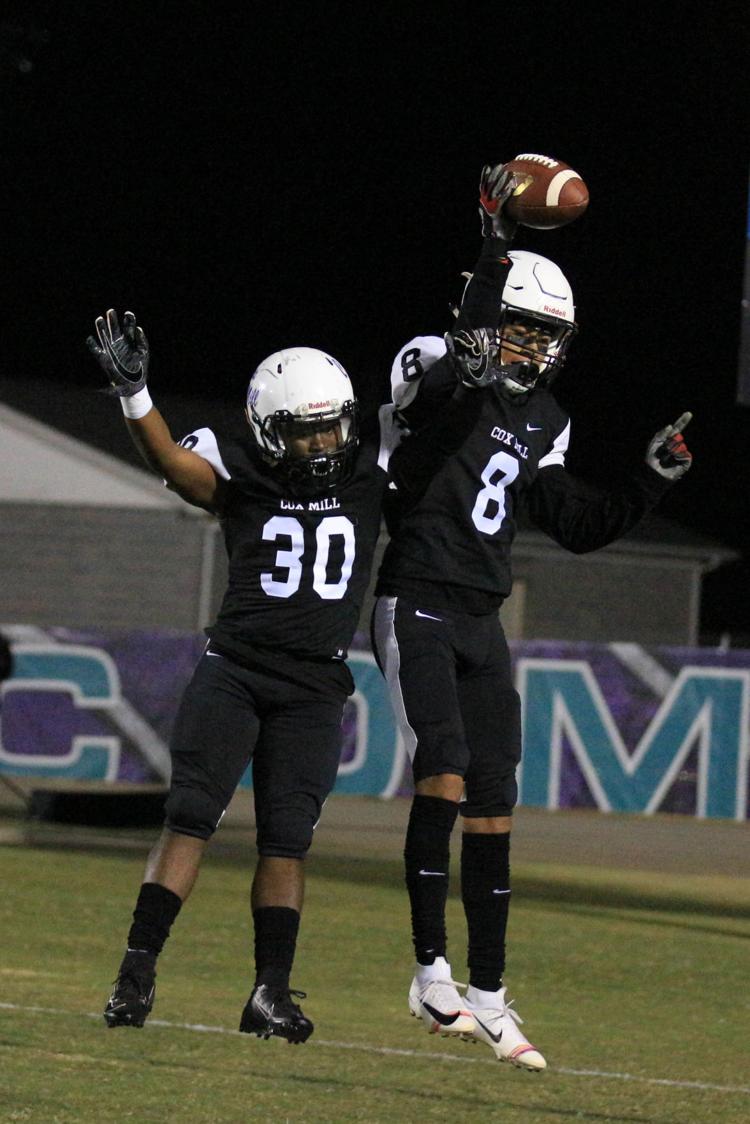 "(He) comes out there and works, works on his craft," Stewart said. "He gets ready, prepares, watches film, that kind of thing. He gets ready."
For Henry, this week of practice and the game were big after last Friday's loss to No. 1 Northwest Cabarrus.
"Last week, I didn't really feel like I performed the way I wanted to," Henry said. "And I feel that I didn't help the team because I didn't perform in any way. So it just felt good to get back here and get some of the looks we wanted and connect with Varney.
"We're doing really good. We click really well in practice. We make sure to get as many reps as possible. It's obviously transferring to out here on the field."
The practice field is where Henry and Farhnbullah continue to develop their chemistry and techniques, but the quarterback appreciates who Henry is as a person and as a friend as well.
"He's a really laid-back guy," Farhnbullah said. "He's never, like, mad if he's not getting that many touches. He's a great teammate, and I just love being around him. I love his charisma. He's a good guy. At practice, it's fun. We're building a good friendship and a good bond."