KANNAPOLIS – Having scored four unanswered touchdowns and firmly clutching a three-touchdown lead early in the third quarter, the Northwest Cabarrus football team seemed to be in total control of its second-round 3AA state playoff game against Northern Guilford Friday.
Then Will Lenard happened.
With the help of a successful Nighthawks' onside kick and a Trojans interception, the Northern Guilford junior quarterback passed his team to three scores in fewer than four minutes, fully erasing Northwest Cabarrus' large lead. The Trojans eventually got the defensive stop they needed, but it oddly came on a running play instead of a passing attempt.
Led by junior linebacker Caden Parker, a horde of Northwest Cabarrus defenders stopped a Northern Guilford ball carrier on fourth-and-1 at the Trojans' 20-yard line early in the fourth quarter, shifting enough momentum back to Northwest Cabarrus so that it could pull away for a 56-35 home victory.
It was one of several fuel-injected plays the Trojans used as a display of resiliency, as they overcame two first-half deficits and the Lenard Lift in the third quarter in which the Nighthawks' quarterback completed all nine of his passing attempts for 118 yards and three touchdowns.
"I'm proud of the guys for the way they fought," said winning coach Brandon Gentry, whose team has reached the third round of the playoffs for the second straight year. "They didn't let that wild series of events (in the third quarter) get them too down. They were able to keep their confidence and come out and keep playing."
Northwest Cabarrus (12-1), the 3AA West Region's fifth seed, will travel to undefeated and top-seeded Weddington (13-0) for a Black Friday matchup which the Trojans hope to accentuate with a little orange.
"It means a lot," said senior quarterback and team leader Nick Wilds-Lawing. "The goal is to be 1-0 each week. Now we're back to 0-0, so we have to become 1-0 again."
Lenard, who finished with 301 passing yards, and the Nighthawks started strong as well on Friday. He completed five of his first seven pass attempts for 49 yards as Northern Guilford drove 69 yards for a touchdown on the game's first possession. Northwest Cabarrus' Andre Hill and Karsen Perkins each recorded sacks on the Nighthawks' next possession, indirectly leading to the Trojans' next drive in which they tied the score on a 3-yard Tyrese Blake touchdown run.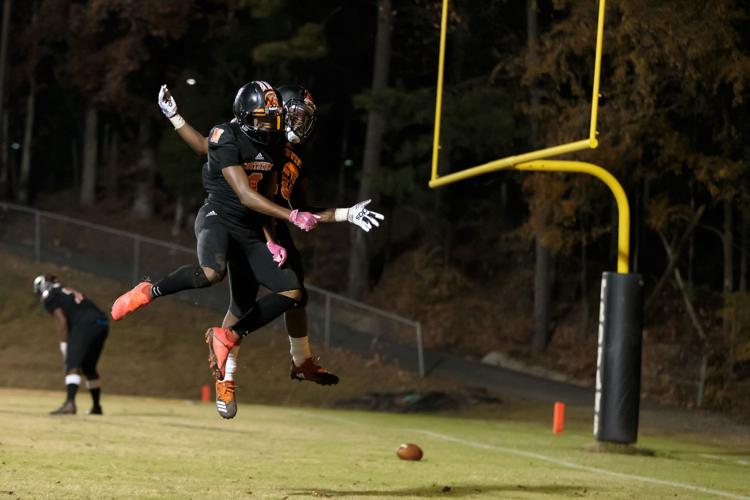 A 40-yard catch-and-run by running back Nyles Mosley highlighted a 77-yard drive in which the Nighthawks recaptured the lead, 14-7, early in the second quarter. Northwest Cabarrus drew even by covering all 65 yards of a scoring drive on the ground. Blake (117 yards rushing, 42 receiving) scored his second of five touchdowns on the night with a slithering 13-yard run.
Desperately trying to gain a lead, Gentry took a gamble closer to halftime at the encouragement of assistant coach Jordan Ollis. He recommended a fake punt, which was designed for up-man L.J. Currie to take a direct snap and run for his life.
Scooting left, Currie gained 15 yards on a fourth-and-6, and a Northern Guilford penalty at the end of the play gave the Trojans the ball at the Nighthawks' 13-yard line. On the next play, Blake broke a few tackles and spun across the goal line for Northwest Cabarrus' first lead.
"I saw daylight," said Currie. "I tried to score, but I'm kind of slow. I just tried to take it to the house."
Blake's 24-yard touchdown reception pushed the Trojans' lead to 35-14 early in the first quarter. After the 21-point scoring barrage by Northern Guilford, Northwest Cabarrus recaptured the lead on a 7-yard run by quarterback Nick Wilds-Lawing.
Still, the Nighthawks were scoring at will, and somehow the Trojans needed to stop it.
Lenard continued his hot streak on Northern Guilford's next possession, leading his team to the Northwest Cabarrus 20 by connecting on four of five passes for 56 yards. On third-and-1, Perkins stopped running back Jordan McInnis for no gain, and Northern Guilford tried the same play on fourth down.
Parker and his slight, 5-foot-10, 160-pound body found himself at the center of a massive Trojans defensive push, dropping McInnis for a 1-yard loss.
"(The stop) was everything," said Parker. "We had to get that momentum. We had to get the ball back to our offense so we could come out with the win."
On the next play, Wilds-Lawing faked a handoff to Blake to his right and raced toward the same sideline with the ball. Only a couple defenders paid him any attention, and Wilds-Lawing's long legs pranced 79 yards for a touchdown and a 49-35 lead with 9:02 remaining in the game.
Northwest Cabarrus' run defense energized the pass defense as both Currie and Parker intercepted passes deep in Northern Guilford territory on consecutive possessions. Parker's pick led to Blake's final score, allowing the Trojans to pull away for the final margin and, for the first time in the game, a chance to breathe.