HARRISBURG – In just one season, head coach Jupiter Wilson guided the Hickory Ridge football team to the postseason.
It's a step forward, seeing that the Ragin' Bulls won just five games last year, when their season ended prematurely because of a melee at East Mecklenburg.
Wilson, a former North Carolina Tar Heels offensive lineman, was named Hickory Ridge's fourth head coach in five seasons back in June.
Hickory Ridge's season ended Friday night with a 12-11 loss to Kernersville Glenn in the second round of the Class 4A state playoffs.
Sure, the sting will be there for a while, but Wilson has the football program headed in the right direction.
"Those guys persevered with me," Wilson said. "They did the things they needed to do and we found a way to right the ship. I look forward to many years of coaching at Hickory Ridge."
Wilson, who was an assistant coach with the Ragin' Bulls last year, worked through the transition.
With a senior-laden team, starting with quarterback Kobe Clifton and playmakers such as Nolan Carey Jr. and Malik Tobias, the Ragin' Bulls finished with an 8-4 overall record and a 5-2 mark in the challenging Southwestern 4A Conference.
"You look at it from my standpoint that I came in as a head coach and tried to do some things a little different, and some things maybe didn't go the way I wanted, but we got eight wins and finished the season 8-4," Wilson said.
Hickory Ridge loses 26 seniors from this year's team, but talented underclassmen will look to keep pushing forward.
Freshman wide receiver Christian Hamilton caught six passes for 122 yards with a touchdown Friday night.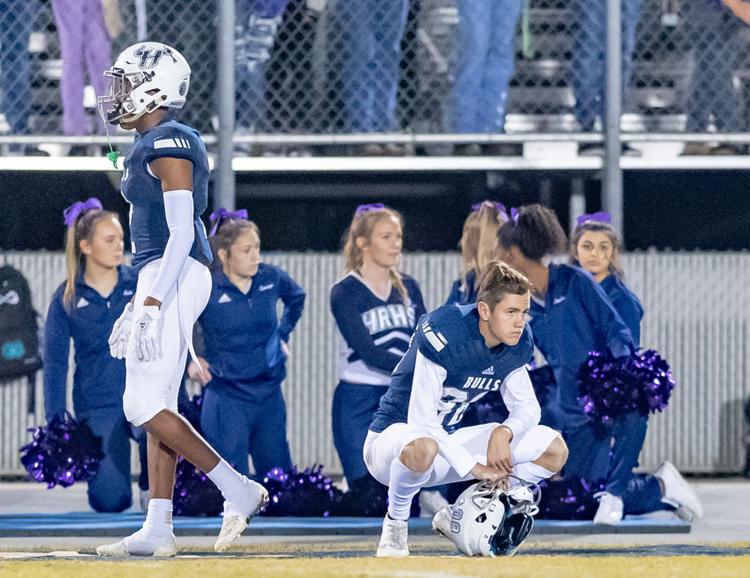 It appears that Hamilton, who Wilson calls "a big-time player," will soon be one of the top recruits in Cabarrus County. He recently picked up a scholarship offer from Virginia Tech, and Wilson believes many more will come.
Bulls learned in victory and defeat
The Bulls also have several other returning athletes who will be college recruits and help Hickory Ridge remain a strong program, including junior safety Tyrell Davis and junior running back Mookie McWilliams.
"The juniors, sophomores and freshmen are going to have the opportunity to play football next year, so just don't take it lightly," Wilson said.
Wilson said the biggest message he relayed to his team after its playoff defeat was that there are more important things in life than football, including learning from adversity.
Wilson added that he cares and loves each one of his players.
"I just want to make sure those guys know I love them to death. no matter what, and that sometimes life's journey brings hardship," Wilson said. "This is one of those hardships as young men. Anytime you win a game, there is going to be a winner and there's going to be a loser, and we just happened to fall on the short side of the loss.
"I just want them to know that life is bigger than football and let them know, me, as a coach, I will always be a part of their lives."