The Independent Tribune did a tour of the county's six public-school football teams that opened official practice on Thursday morning, and, as usual, hope sprang eternal.
The veteran of the Cabarrus County coaching corps is Mount Pleasant's Mike Johns, who's beginning his 21st year leading the Tigers. Coming off its second consecutive Rocky River 2A Conference title, Mount Pleasant was the first local team to take the practice field, emerging from the fieldhouse at 7 a.m.
And then, an hour later, there was the New Coach on the Block: Jupiter Wilson.
Wilson is in his first season leading the Hickory Ridge Ragin' Bulls after serving as an assistant under Sam Greiner last year. The situation wasn't exactly perfect for the Bulls – they still need assistant coaches – but there were 105 players on the practice field Thursday, and Wilson was pleased with what he saw.
Wilson had to multi-task throughout the morning workout, whether he was physically getting down in a three-point stance to instruct his players or taking moments to emphasize the core values he wants to instill in his first team in Harrisburg.
"It's definitely exciting times," said Wilson, a former offensive lineman for the North Carolina Tar Heels. "I don't have as many coaches as I want; I'm still trying to work that out. But the five I've got are really solid. We meet every morning at 7, just to talk about culture. And that's the biggest thing. Everything that we want (the players) to see, we need to embody ourselves by being on time and things like that.
"I talked to (the players) about everybody wearing the right things – white shirts and blue or gray shorts, not coming out here in orange and purple. Just coming out here and looking uniform as a team. Coaches out here are all going to wear the same thing.
"I just want to make sure that part is fine," Wilson added. "And after that, I always say, the football part will take care of itself."
The Hickory Ridge coaches donned T-shirts emblazoned with the words "Win the Day," which is one of the team's mottos this year.
That mission seemed to resonate throughout the squad. The Bulls, overall, looked disciplined and energetic, and players implored their teammates to be at their best.
Wilson said that's the kind of environment necessary to be successful in Cabarrus County football.
"Whether it's Central Cabarrus, Northwest or whoever, this county has a bunch of good coaches and a bunch of good guys," Wilson said. "I think the thing that separates you, other than having good players and good schemes, is the stuff that you do that nobody really, really gets to see. And I just want to make sure that my guys have that part down -- from me, the coaches and everybody.
"I'm excited, and the kids are definitely excited. We're just ready to go. Ready to go."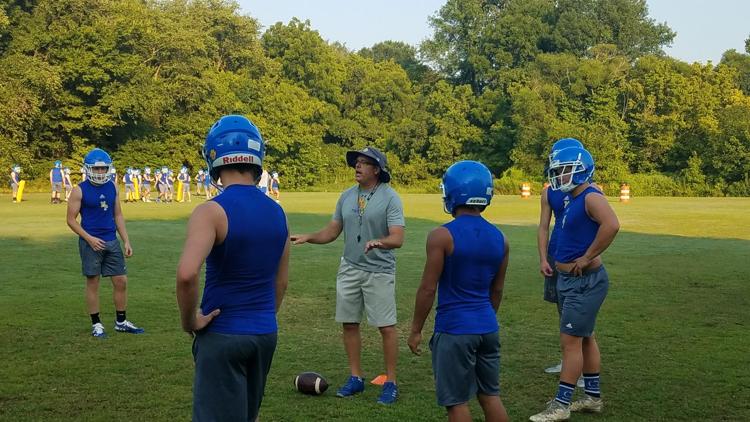 Down at Mount Pleasant, Johns had 64 players report on the first day.
"Day 1's always so exciting, and this morning it's beautiful," Johns said, taking a quick break from his team's workout as players grabbed drinks of water. "We couldn't ask for better weather. It's been a great effort so far. The attitude has been good today."
Just down the road on Highway 49, the Central Cabarrus Vikings had 100 players show up to practice on their turf field, coach Kenneth McClamrock said.
The Vikings have a strong group of players returning from a squad that finished 8-4 last season and made the playoffs. With standouts such as DeAndre Boykins (more than 25 major-college offers) and Logan Anderson (a stellar linebacker who will also play tight end), Central Cabarrus has a good chance to improve on third-place tie in the SPC last year.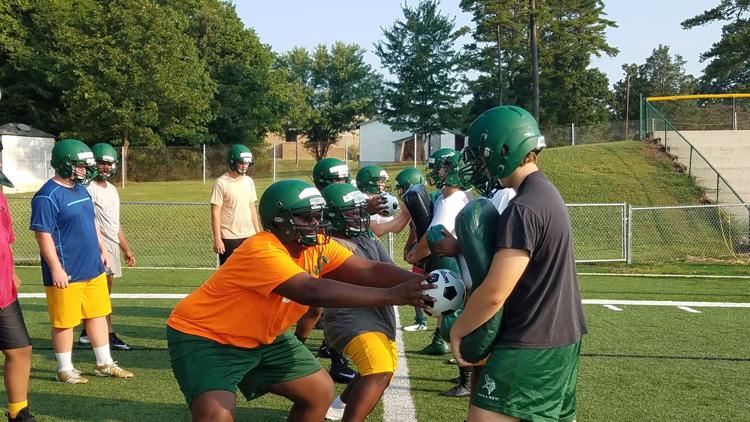 Boykins and Anderson showed poise and leadership during the Vikings' workout Thursday morning, as did many others.
Rich Williams begins his second season as the Jay M. Robinson coach, and he had at least 70 athletes on the field Thursday. That was a pleasant surprise for the veteran coach, who looks to see his squad leap past last year's .500 record (6-6).
"We've been out here working all summer, and we've been in the 50s and 60s (in terms of players) all summer," Williams said. "Well, today we had over 70, so I feel good about that.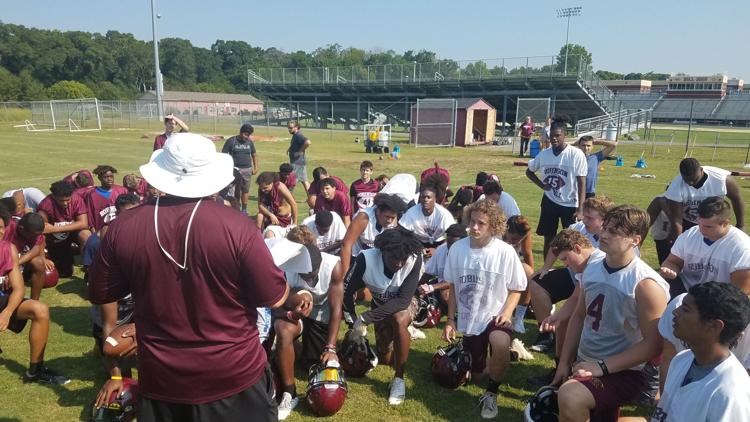 "We had a good first day," he added. "The kids got after it, the kids were attentive. The first day, everybody's excited, so we're going to keep them excited and keep rolling. We're looking forward to a great season."
The team that won the SPC last year, the Northwest Cabarrus Trojans, had 80 players show up on the first day.
It will be hard for Northwest to top last season's 13-1 record, but a good sign for the Trojans is that their top three players were on the field Thursday.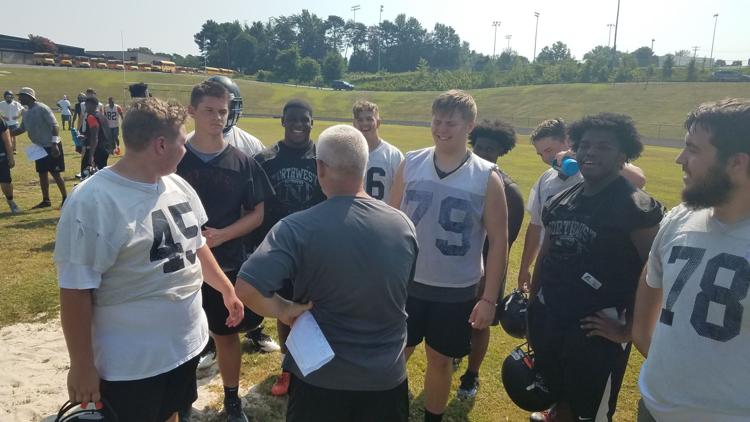 Star quarterback Nick Wilds-Lawing looks bigger and stronger, and he zipped passes to 6-foot-5 tight end Karsen Perkins, who also is an elite defensive end and Liberty University signee. And Tyrese Blake, a senior who ran for more than 2,300 yards in 2018, actually could improve on his numbers as he continues to try to attract attention from college recruiters.
The last stop on the Independent Tribune's tour was not far away, at A.L. Brown High School, home of the Wonders. The team's new turf field was getting some final touches to be ready for the home opener on Aug. 30 against Gastonia Ashbrook, but the Wonders handled business on their normal practice field in the baseball stadium outfield.
A.L. Brown coach Mike Newsome said 95 players were in attendance, although he believes that number could grow in a few days.
Since the team had held workouts throughout the summer, Newsome said the hot sun and the hard work were not unusual for his players. But he said he did make a point to use the Thursday morning session as an example for his seniors.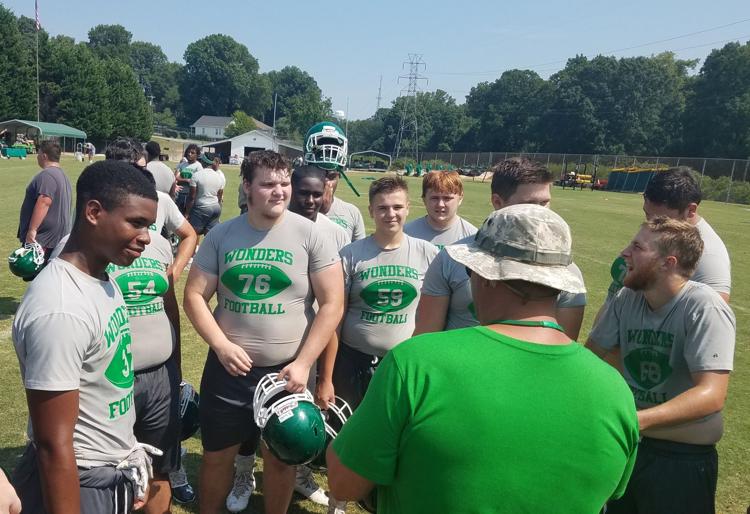 "What I tried to emphasize to the seniors is this is their last first day of practice, and that's kind of tough for a guy that's played football his whole life to really take in," Newsome said. "I wanted them to think about that today and for every day that we're out here. Tomorrow will be their last SECOND day of practice. And when we get to the first game, it'll be their last first game of the year.
"We have a couple of them that'll keep playing (after high school), but I always want to emphasize that to seniors. I want them all to take that in and really just enjoy this year and have fun here at practice.
"The first day, we had fun and got after it, so it was good for us."
Concord and Cox Mill were scheduled to practice on Thursday evening, after the Independent Tribune was published.