MOUNT PLEASANT – Kayley and Emily Shinn don't have to cheer for storm clouds anymore.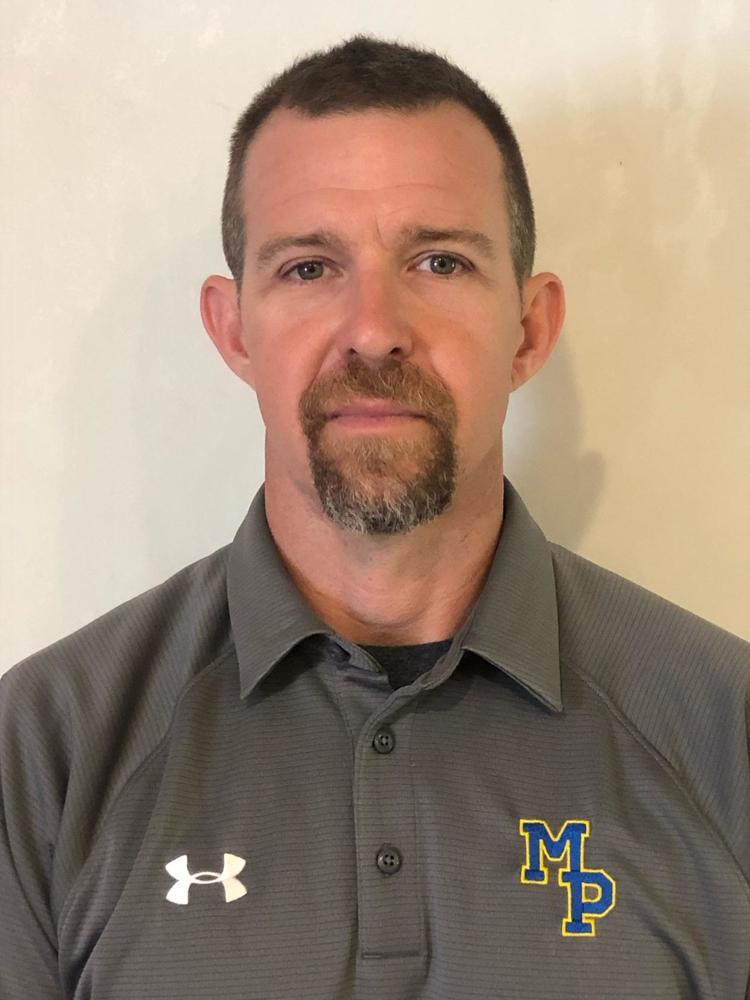 As 8- and 4-year-olds, they can enjoy sunny days, run around gleefully at recess, and know their evenings usually will end the same way each day: with Daddy sitting across from them at the dinner table and helping to tuck them safely into bed at night.
That's because of a decision Chris Shinn made this spring.
After spending the bulk of his two decades as an educator working in high school sports, including the past four years as athletics director at Mount Pleasant High, the long days and late nights required of the job had begun to wear on Shinn.
But nothing had a greater impact on him, he said, than missing valuable time with his daughters. And when it got to a point where his girls were watching the weather like young meteorologists, hoping baseball and softball fields would be too drenched for games that night, he knew it was time to make a change.
"When you take your 4-year-old to preschool in the morning, and it's raining and she gets excited because she knows you're going to be home that evening, you know it's time to step back and do something different," Shinn said. "(Emily) would get all jacked up when it was raining, saying, 'Daddy's coming home tonight!'
"I said, 'Yeah, we've got to do something.'"
So Shinn decided to step down from his post as Mount Pleasant's AD. He'll hand the reins over to Brad Hinson, formerly of Cox Mill, in just a few weeks.
Meanwhile, Shinn will start a new job as AD at Concord's Winkler Middle School, which also is a demanding job but one Shinn said will allow him to be around his family more often.
"I'm going to go from weeks where I'm at the school five nights a week to weeks where I might have one or two afternoons at the school – no Fridays," Shinn said. "We can go to the beach, we can go hang out on the weekends now if we want."
Kayley, 8, is completing her second-grade year at Mount Pleasant Elementary, while 4-year-old Emily's winding down her final days in preschool. Shinn said this is just the right time for him to make his job change.
"It's one of those things where if you don't spend time with them when they're that age, you miss out," he said. "You never get that time back. I'm finishing up my 20th year in education, athletics and coaching, and after a while your perspective changes. And right now, for me, the most important thing is being able to be home and spend some more time with my kids.
"It's time for my schedule to be revolved more around my family than revolving around athletics, especially in this day and age. Because if you don't spend time with them early, you could lose them down the road. I can't afford that."
Throughout the years, Shinn has sacrificed to help other peoples' children. He spent 14 years as a teacher and football coach at his alma mater, Central Cabarrus, before taking on a two-year stint at Cabarrus County Schools' Opportunity School. After that, he was the AD at Concord High for two years and then took over at Mount Pleasant.
Although he didn't attend Mount Pleasant, the place was like home for him. He grew up nearby in the Georgeville community and had many close friends with ties to the school, and the situation was made even better with his wife, Julie, being a teacher there.
Over the past four years, many of the Mount Pleasant students, in effect, became his own kids. He said he'll definitely miss this place.
"I'm kind of graduating with the seniors that are graduating this year," Shinn said. "My time at Mount has been great. The coaches are great, the kids work hard, and they're awesome kids. And that's one thing I'm definitely going to miss is a lot of the kids I've been able to work with in the weight room. I'm going to come back and watch them, because I'm invested in those kids.
"Mount Pleasant's a great place," he added. "They've got a new principal this year (Russ Snyder), and he's going to be awesome. He's athletic-minded, and he really cares about the school and cares about the kids. And Brad's going to do a great job. He did a great job at Cox Mill, and he'll do a great job here. I think this (move) is going to be good for everybody."
With his years of experience, Shinn believes he's abundantly prepared for his new position at Winkler. And he's excited about venturing into the world of middle school athletics for the first time.
"To me, at this level, it's a little more pure," he said. "They're learning basics and fundamentals. You're trying to build a foundation for the next four years, when they get to high school. A lot of those work ethics have been instilled before they ever get (to high school). It's a new challenge in a lot of ways to go in there and help some of those younger kids and help those coaches at that level."
The drive to and from Shinn's home in Stanly County will be much different and a little longer this fall. But he doesn't mind. In fact, he seemed downright giddy as he spoke of the commute this week. Distance is the farthest thing from his mind.
"The difference," he said, "is instead of midnight or 1 in the morning on a Friday night, I'll be making that drive at 7 o'clock in the evening."