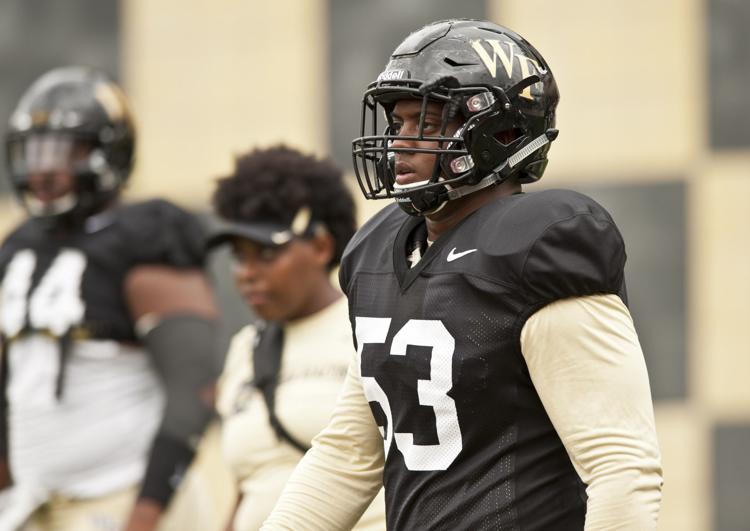 It came down to the equivalent of a coin flip for Miles Fox to be where he was Tuesday morning.
Fox, the new 6-1, 290-pound defensive tackle at Wake Forest, was in pads for the first time this spring. He came to the Deacons as a graduate transfer from Old Dominion, where a plantar plate tear ended his season in September. He's still rehabbing from the injury, so he went through individual drills Tuesday morning.
"The two ligaments on the side of my toe tore off completely," Fox said of the injury.
That's as painful as it sounds, Fox confirmed without so much as a smile. And with a 50-50 chance of full recovery, going through drills was a significant development.
"Yeah. It was bad, pretty bad. The doctor gave me a 50-percent chance of success rate," Fox said. "That kind of opened my eyes a little bit, as far as it made me grateful for being able to play the game I love to play."
Fox is among a few Deacons trying to open some eyes at defensive tackle.
That's one of two defensive position groups searching for replacements for two senior starters. Zeek Rodney and Willie Yarbary were valuable cogs in the middle of Wake Forest's defensive line last season, as were Cameron Glenn and Chuck Wade Jr. at safety.
Without Rodney and Yarbary, and including the medical disqualification of would-be senior Elontae Bateman in August, the Deacons suddenly have plenty of snaps available in the middle of the defensive line.
"I think we have numbers at tackle, we have five guys who are going to be really competitive," Coach Dave Clawson said at the beginning of spring practices. "But we've gotta push those guys to be high-level players."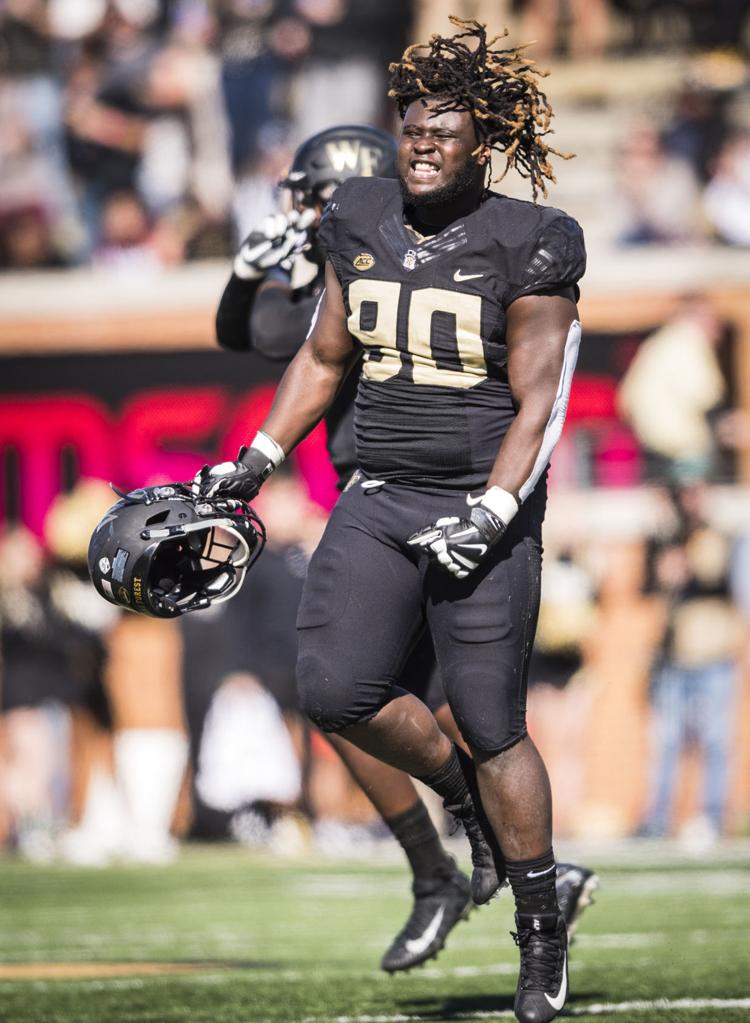 While Fox mostly has been on the sideline this spring, Sulaiman Kamara, Tyler Williams, Rondell Bothroyd and Dion Bergan have comprised the rotation at defensive tackle.
Rodney and Yarbary combined to play 1,640 snaps last season, racking up 83 tackles and 17½ tackles for loss. The quartet of Kamara, Williams, Bothroyd and Bergan combined to play 872 snaps and had 45 tackles.
"I definitely knew during the season that my time would come sophomore year to compete with some of the older guys, to try to get a starting position my sophomore year," said Bergan, one of two freshmen to play in every game last season. "But I felt like Willie and Zeek, they were really good examples of how to really play hard, play physical.
"Now the spotlight is hitting us a little bit more. It's weird not having those older guys who were so wise to help us out."
Earlier this spring, assistant head coach for defense/defensive line coach Dave Cohen said talent wasn't as much of an issue as experience and confidence.
Those attributes are only accrued with time and meaningful games — but that doesn't mean the Deacons aren't working to gather as much of both as possible before the August 30 opener against Utah State.
"The experience and confidence, yeah, that'll take them probably half the year," Cohen said. "But Tyler Williams is a good player. Dion and Sulaiman are good. They've just gotta play good, with confidence."
Now that Fox is becoming more involved, it'll open a door for him to become more of a vocal leader for the Deacons and help grow that confidence even more — while also boosting the level of overall experience of the group.
"You can't just come in being like a rah-rah guy, and no one knows you, you're not even practicing or anything. I try to kinda stay towards the back, not say too much. But you know, add my input when needed," Fox said. "Now that I'm back on the field, I can start teaching guys what I know and everything, trying to gain their respect.
"You can't earn that sitting on the sidelines and in the training room, being the new guy."