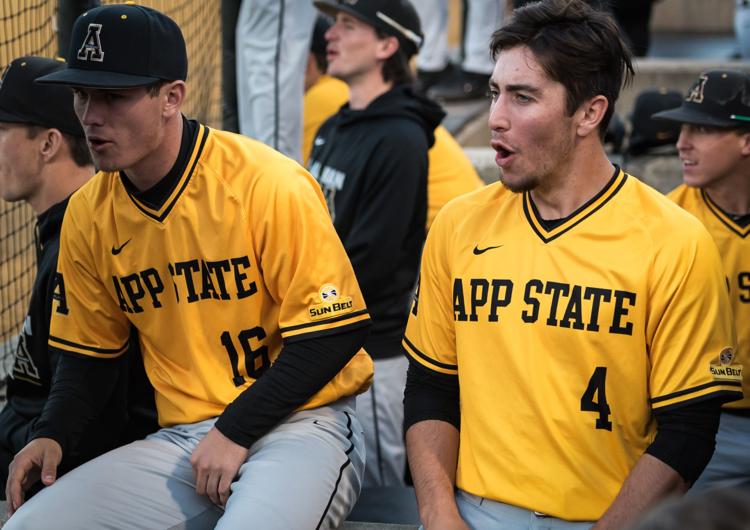 Kermit Smith is in his third season as Appalachian State's baseball coach. Hired in July of 2016, that timing created a harsh game of recruiting catch-up for Smith and his assistants.
The staff didn't get time to craft that first season's class. On top of that, it forced a late start on the 2017 class. Smith chose to field a team of 31 players last season, four short of what the NCAA allows. With a fewer bodies, injuries were magnified. But it was a decision Smith felt needed to be made to set his personal standard.
"We're just not going to recruit a guy to cycle them in and cycle them out," Smith said. "We're going to recruit a guy because we've got the future in mind, with him and our program."
Taking that into account, this year's group of freshmen is only Smith's second recruiting class. It's the first Smith and his staff got to build over a full recruiting cycle, and it's cropped up already with promise for App State (10-13, 3-3 Sun Belt). Infielder Luke Drumheller is leading the team with a .420 batting average, and he had five hits — all of them doubles — on March 10 against Furman. Pitcher Tyler Tuthill leads the team with a 4-2 record, appearing as both a weekday and weekend starter. Both are true freshman.
Recruiting, obviously, is not an exact science. Some guys, like Drumheller and Tuthill, get the chances to flair up right away at the college level. But others, as Smith points out, are brought in to develop. When it comes to talent evaluation, it takes a simple approach.
As recruiting coordinator Britt Johnson puts it, "we just trusted our eye."
Johnson points out how easy it is to get swept up in the climate of recruiting. A player can have offers from peer schools, and a program could toss a scholarship in that guy's direction as well just because. High schoolers are also committing at younger ages, Johnson said. And now, the NCAA's new rule (announced last April) mandating that high schoolers can't come on campus or be contacted by coaches until Sept. 1 of their junior years, provides even more separation.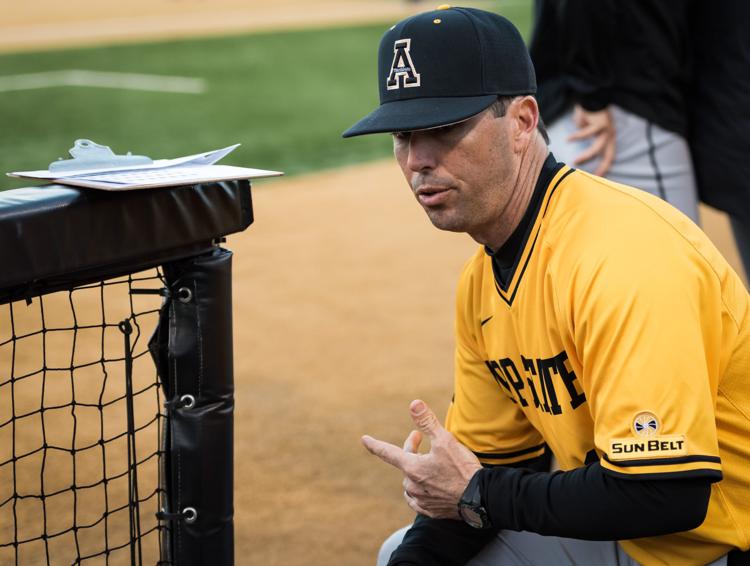 In order to build the Appalachian program the way they wanted, Johnson said they couldn't focus on the noise surrounding prospective college athletes. It had to come down solely the staff's opinion. And that's exactly how Drumheller and Tuthill wound up in Boone.
Drumheller was on App State's campus in 2016, playing in a tournament as a sophomore (before the previously mentioned NCAA rule). It happened to be the same day App State football played host to Old Dominion, which became a 31-7 Mountaineers win. During the game, hitting coach Eric Lunde (then a volunteer assistant) was watching Drumheller and called Johnson and Smith. His message was, essentially, get up to the baseball field.
With Tuthill, it was about seeing through a poor start. When App State went to watch him, he gave up six runs in two innings. But the staff saw a skill set that they liked and believed in. For Smith, it comes down to having faith in his assistants.
"If you're asking the head coach, I just trusted my staff, which I do in every scenario — recruiting, development, game-day situations," Smith said. "So that it's just trusting my staff that they saw the right things. And that was a prime example."
Drumheller committed to App State before his junior season. He had a list of three schools he liked — Charlotte, App State and North Carolina. The Mountaineers were the first to offer him, and the shortstop remembers being ecstatic.
On top of the program's appeal, Drumheller connected with Smith as a person. And he liked the idea of trying to make App State a contender in the Sun Belt.
"I think being a part of building a program is something that really drew me in, and I think a lot of the other guys would agree with that," Drumheller said. "I think there's something in all of us, when coach was recruiting us, it was something that he told to us."
The development for all these young players, and everyone else on App State's team, started the moment they landed on campus. And that's the fun part for Smith. He gets to watch players, from guys like Drumheller down to guys who might not play often this year, and try to make them better.
It's the chance to prove App State's recruiting, and the staff's eyes, right.
"At the end of the day, I've got way more resources than I've ever had to develop a baseball player at Appalachian State," Smith said. "So I get to put them in the cycle of academically, socially, nutritionally, strength, conditioning, baseball, coaching — I get to put them in this very competitive development cycle and get to see what comes out on the other end.
"That's going to be really, really exciting."