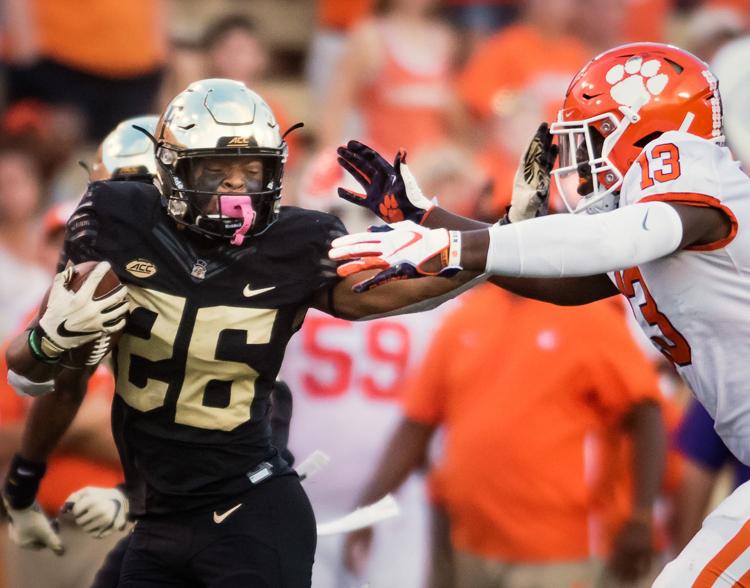 As Coach Dave Clawson points out, there's not much of a difference between the running backs listed at Nos. 1 and 2 on Wake Forest's depth chart. Matt Colburn II and Cade Carney have held down those spots for the past two seasons.
And what that's meant in each of the past two years is, at some point, one of those first two options has been missing — pressing the other into an expanded workload. That was the situation for Colburn to end the 2017 regular season as it was for Carney to end the 2018 regular season.
Now, with Colburn graduating and Carney sidelined by shoulder surgery, it's time for someone else to be pressed into a larger role.
Enter Christian Beal-Smith.
"I just keep showing every day that I'm able to play ACC football and that I can be one of the No. 1 running backs," said Beal-Smith, a rising redshirt sophomore and former East Forsyth star.
Beal-Smith enjoyed a breakout performance in the spring game last year, when he ran for 97 yards and two touchdowns, despite leaving the game early with a leg injury. After enrolling in January 2017 and redshirting in that season, Beal-Smith declared — both in his performance and in comments afterward — that he was ready to prove in 2018 that he could be a top-tier running back for a high-octane ACC offense.
Colburn and Carney combined for 1,764 yards and 13 touchdowns last season, while Beal-Smith racked up 231 yards and was available if needed — but with the two players ahead of him, he was mostly relegated to playing in non-competitive situations.
Now, there's nobody in front of Beal-Smith for the rest of the spring.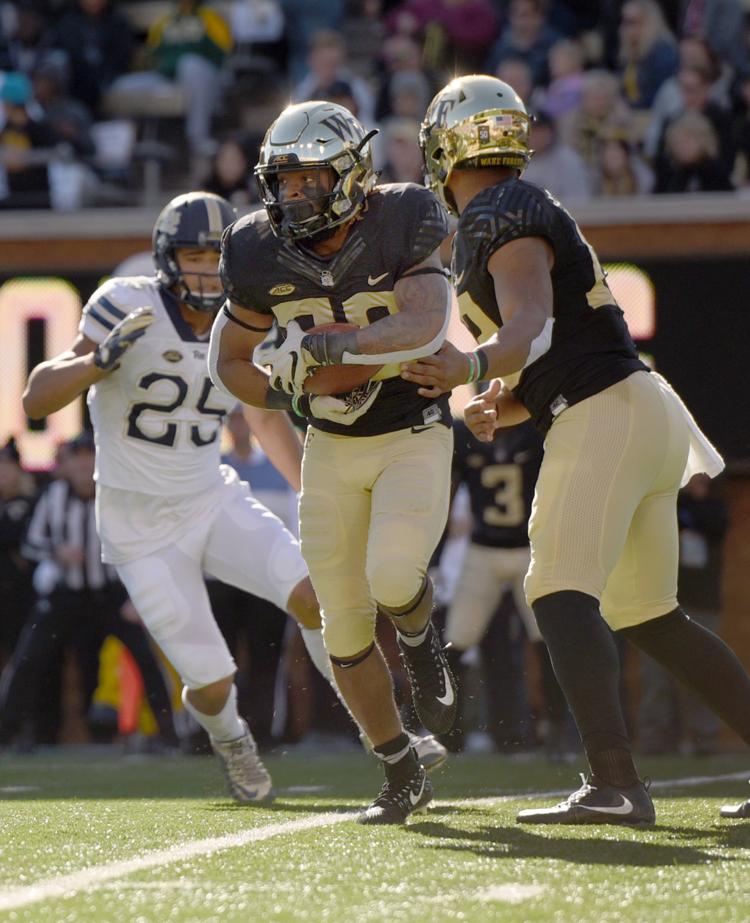 "And so, (Cade is) telling me I've gotta … take the No. 1 spot, gotta be a leader of the running back group and that's what I'm doing right now," Beal-Smith said. "I'm holding film time meetings with them, I'm staying after, working on bags, hitting the bags with them, so I'm taking the job and I'm approaching it well."
Carney, who rushed for 1,005 yards last season, looked sharp for the first few spring practices. But in the span of a week, he underwent shoulder surgery, Beal-Smith stepped away for what he called "a personal issue," and DeAndre' Delaney injured an ankle while walking to class.
Wake Forest went from a full stable of running backs to having two healthy ones — Courtney McKinney, who redshirted last season, and walk-on Will Drawdy.
"It just makes you nervous because you're wondering if one goes down, now we're really in trouble," running backs coach John Hunter said. "But they didn't, and it was great for those kids because it gave them an opportunity to get a lot of reps, and they need it."
That's the position Beal-Smith was in during the fall.
"He's taking advantage of his reps, but you know, the good thing for us is we invested a lot of reps in him last season. Even though he didn't play a ton, he played a significant amount, but he got a ton of reps in practice," Hunter said of Beal-Smith. "So he hit the ground running this spring, it wasn't an issue this spring in terms of learning where to line up and all those things."
There seem to be two keys to Beal-Smith becoming a reliable player for the Deacons next season.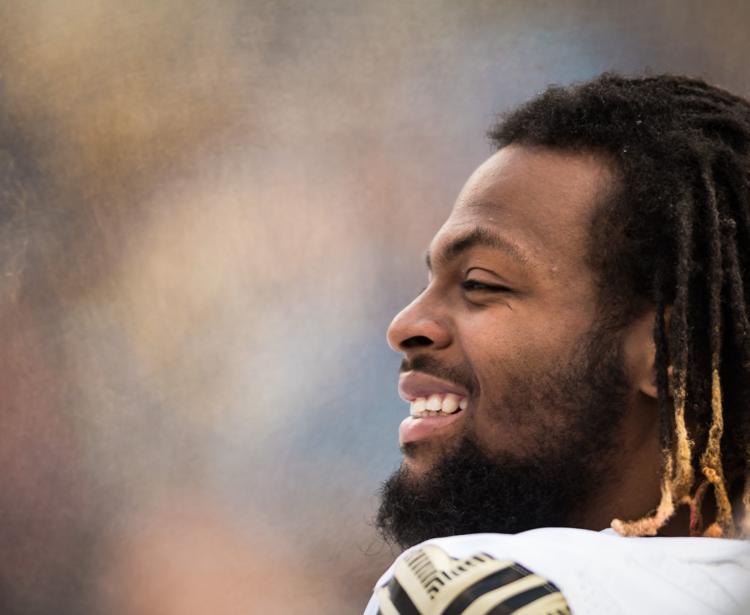 One is his pass-blocking ability. The three-time All-Northwest selection said he's put aside whatever impatience he had with his playing time because of a story from Colburn that resonated with him.
"Matt told me a story of how, when he was a freshman, how they played him and they just sat him because of … what Coach (Hunter) wanted him to do, he wasn't doing," Beal-Smith said. "And so, now that I'm learning that he doesn't care if you know how to run the ball, it's about if you're able to block, you've gotta protect the quarterback.
"So that's what I'm really focusing on right now."
The other aspect that will allow the Deacons to put Beal-Smith on the field more comes on special teams. Wake Forest is in the process of replacing its top four returners, between kicks and punts, with the departures of Greg Dortch, Alex Bachman, Chuck Wade Jr. and Colburn.
Beal-Smith is in the mix as one of their replacements. He's already made an impact on special teams; he tied for the team lead with six special-teams tackles last season.
"I like (returning) a lot. It gives me a lot of open space that I can move around, because that's what special teams is, I can get around in open space and I can make people miss," Beal-Smith said.