CONCORD – Ty Johnson will be a lot closer to home now.
He grew up in Wilkesboro and played high school basketball in Iredell County, so that drive from the beaches of North Carolina to his old stomping grounds won't take him long at all, now that he's accepted the job as the Cox Mill boys basketball coach.
The situation is just as cool for Johnson's wife, Kassidi, as she spent her college days at the Cabarrus College of Health Sciences and knows her way around town.
But none of that is what made Johnson want the Cox Mill job.
No, the 27-year-old put a For Sale sign in his front yard last week and resigned from a good job at Shallotte's West Brunswick High School for one central reason: legacy.
The legacy that's been established at Cox Mill under outgoing coach Jody Barbee and the one Johnson wants to build upon during his tenure as the Chargers' leader.
So Johnson comes to Concord with his wife and 1-year-old son, Micah, en tow, humbled by the opportunity new Cox Mill athletics director Philip Davanzo III provided by naming him the third coach in Chargers history last week.
But Johnson's also undaunted by the prospect of taking over for Barbee, who won a pair of state championships and helped the Chargers build a national profile with players such as current free-agent NBA prospect Matt Morgan and McDonald's All-American Wendell Moore Jr.
"It's just exciting," Johnson told the Independent Tribune during a phone conversation. "As a coach, you already have an expectation of yourself to win. And when the program has that expectation, it's exciting. I'm a competitor. From when I played to when I coach now, I want to win. I want to work, and I want to be the best.
"With the expectation that Coach Barbee set, (Cox Mill) is one of the best jobs in the state of North Carolina," he continued. "What Coach Davanzo's preaching and what he wants me to do with our kids is exciting. I love the challenge, and I'm looking forward to it – just living every day like it's Game 7."
Despite being just 27, Johnson's coaching history is pretty substantial.
It actually started when he was in high school.
Johnson was a standout prep player. He started out as an all-conference performer at North Wilkes High, where he played for his father, Tommy. He then transferred to North Iredell and accomplished the same feat while adding accolades like District Player of the Year to his list.
All the while, Johnson was one of the country's youngest AAU coaches, helping to guide a local team of players during the spring and summer.
He went on to start his college playing career at Bluefield College in Virginia but later matriculated to Asheville's Warren Wilson College and became a first-team All-American. His senior season, he led the nation with 112 3-pointers and was an anchor for a team that won the United States Collegiate Athletic Association national championship.
But even the task of balancing college classes and basketball couldn't keep Johnson from coaching.
"I knew I always wanted to coach," Johnson said. "I worked team camps and lived in a dorm room all summer while I was playing in college."
Johnson was invited to play on the ACC Barnstorming Tour in 2015 and took the court with a team that included ex-Duke guard Quinn Cook and former N.C. State player Ralston Turner. Johnson was also good enough to have a short professional career, spending time with the Carolina Cougars of the Universal Basketball Association.
But that summer, he was offered the chance to become the head girls basketball coach at West Brunswick, and his professional coaching career began.
Johnson coached the team for one season before being named the head women's coach at Caldwell Community College and Technical Institute in Hudson, which was roughly a short drive from Wilkesboro. Plus, at just 24 years old, he was guiding a college program.
Again, Johnson was undaunted, stepping in to lead the Cobras to the semifinals of the NJCAA Division 1 Region X Tournament. It was the team's first trip to the postseason in eight years.
Johnson's stay in Hudson was brief, however, as he was invited back to West Brunswick the next year, this time as the boys coach.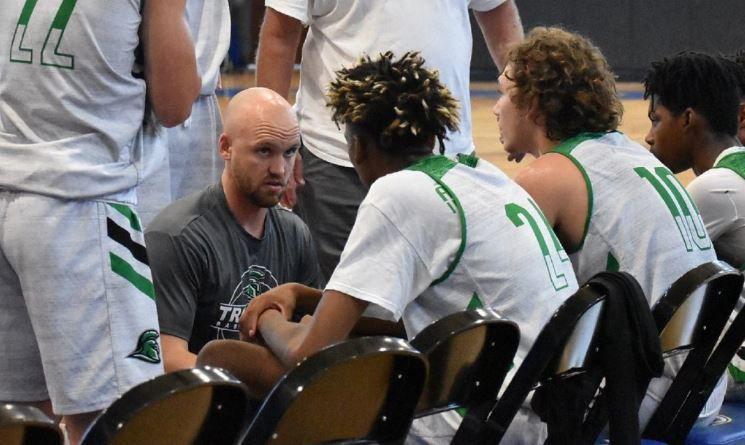 "I knew I wanted to coach boys eventually," Johnson recalled. "I had no idea that the boys coach was leaving for (Wilmington) Laney. I loved working at West Brunswick. There are phenomenal people there, and I'll always enjoy the three years I had in this community.
"So when (West Brunswick athletics director Jimmy Fletcher) called me back to do the boys, it was a no-brainer. It was an opportunity to grow."
Finally in position to lead a boys program, Johnson bought a house and went about establishing West Brunswick as a program to be reckoned with.
During his two years leading the Trojans, Johnson compiled a record of 26-25 and made a playoff appearance. Last season, West Brunswick finished with a 14-13 overall record and tied for fourth place in the eight-team Mideastern 3A/4A Conference with a 7-7 mark. The Trojans had a nine-point, first-round playoff loss to Durham Hillside, a sound team that went on to make the 3A state quarterfinals.
Seemingly settled into West Brunswick for the long haul, coaches across the country were surprised when Barbee announced in March that he was stepping down after six seasons (averaging nearly 25 wins each year) to spend time with family.
The Cox Mill job was appealing to many, partly because of the reputation Barbee had built and party because it was a successful school in general. And Johnson was among the throng interested in taking over the program.
When Davanzo recently told him the job was his, Johnson was thrilled.
"It's a huge honor," Johnson said. "I mean, being a coach at Cox Mill in any sport is a huge honor. They've finished in the top10 in the Wells Fargo Cup the last three years, so they don't just dominate their league in basketball; they're good all around. Success breeds success, and I feel like that's what they've got going at Cox Mill.
"And the basketball program, just the history behind what Coach Barbee did there, man, I'm just really looking forward to just building on to what he's already done. It's built, it's there, and I'm just looking to continue building it up and just trying to get it 1 percent better every day – or maybe a half-percent better every day. Just trying to get it where we stay consistently playing in March like Coach Barbee had. That's the goal."
Davanzo, who assumed Cox Mill's AD role from Brad Hinson last month, believes he's found a gem in his new young coach.
"I'm excited that Coach Johnson will be joining our staff," Davanzo said. "His vision and background align completely with our vision for Cox Mill High School. Having an educator in the building is paramount for the students of Cox Mill, and we are getting a very good one. Additionally, I appreciate our community's patience during the process."
Cox Mill finished with a 28-3 record last season and won the South Piedmont 3A Conference for the third year in a row, although its string of consecutive state titles ended at two with a semifinal loss to Southwest Guilford.
The Chargers were known for a sound, aggressive style of play with an emphasis on defense under Barbee, and Johnson said fans shouldn't expect to see things slow down in the new era of Cox Mill hoops.
At West Brunswick, both of Johnson's teams ranked among the top 10 in the state in points allowed and rebounding and employed an up-tempo style.
"You're going to see our kids enjoy the game," Johnson promised. "I teach my kids, 'You play harder than anybody beside you. I don't care who you're playing against.'
I teach my kids, 'Play like your hair's on fire and that ball coming off the rim is a bucket of water.'
"We are relentless defensively. (At West Brunswick), we never gave up more than 47 points per game on average, and we usually rebounded over 36 times a game.
"And we play fast," Johnson added. "I want to go. We run our lanes and get into our secondary, and it's all about chemistry at the point. The hardest thing to guard is a bunch of guy playing for the guy beside them."
So Johnson can't wait to take over at Cox Mill, even as many wonder if the program will take a dip after Barbee's resignation and the departure of standouts like Moore Jr. (Duke), Caleb Stone-Carrawell (Charlotte 49ers) and Cody Cline (Charleston Southern football).
Johnson said he's all in at Cox Mill. He'll be in town for a visit this week, and he wants to have a workout with players the last week of July. By the first week of August, he hopes to be a full-time Cabarrus County resident.
He plans to be at Charger football games on Friday nights, and, in his words, "I don't miss any home volleyball games." A self-described "family guy," Kassidi and Micah will likely be right there beside him, donning Cox Mill purple and teal.
"It's a family move, and we're super excited, and family back home is excited," Johnson said. "I've heard nothing but good things about the city and the league, so I'm looking forward to Tuesday and Friday nights for sure.
"I just look forward to getting to work at Cox Mill."