CONCORD – The distance from the west end of Gastonia to West Cabarrus High School is only about 40 miles, but the proximity does nothing to tell you just how far Jabarr Adams has come to get here.
Hired last week as the Wolverines' first boys basketball coach, Adams proved himself on small-college campuses in the Deep South (Alabama) and across the Southwest (Texas and Oklahoma), and had a stint in the Queen City before he arrived at Cabarrus County's newest school.
"West Cabarrus is just an exciting atmosphere for me," said the 36-year-old Adams, who spent the past two years as head coach at Mallard Creek High. "It was an opportunity to build from the ground up. I just can't wait to pour into my team, help them grow as young men."
It's a model Adams knows intimately, the power of helping others. Because if people hadn't poured into Adams' life when he was a teenager, he might've never made it out of his hometown.
Maybe he'd still be under the stranglehold of poverty.
Maybe he'd still be on the hard-edged parts of west Gastonia.
Or worse, like so many people he grew up with, maybe he'd be another tragic tale of imprisonment or early death.
He's the first in his immediate family to have a high school diploma. Better yet, he's a man with a master's degree.
He's a soon-to-be married father.
He's a respected man who beat out scores of other well-qualified candidates to be chosen for one of the top jobs in high school sports, not to mention at a school making its athletics debut this fall.
And there's not a day that goes by that Adams isn't thankful for the people who believed in him, the men and women who decided to reach back and try to make a difference in his life.
That's why he turned a deaf ear to the mean streets and instead answered the calling to coach.
As the middle boy of seven kids, Adams grew up in a single-parent household in Gastonia. His mother, Sheryl, did all she could, but life was still rough, and the family occasionally had to live in Section 8 housing.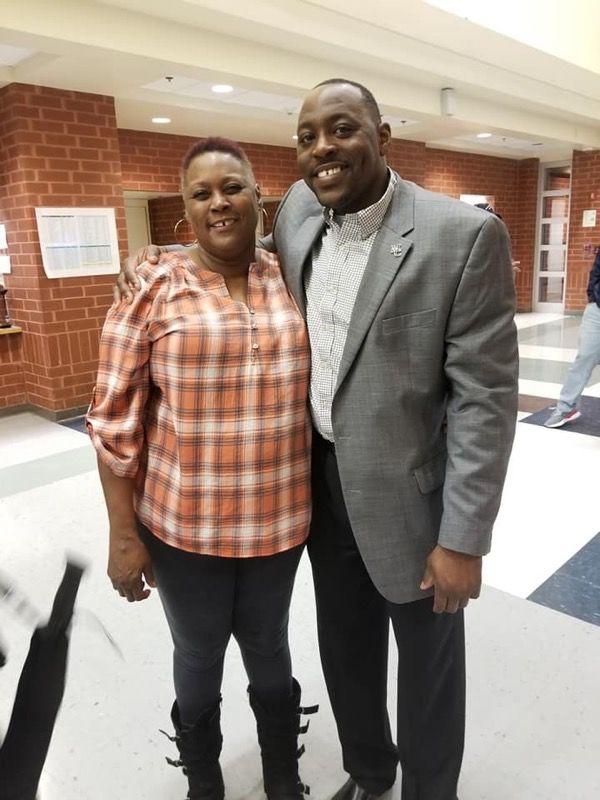 Adams struggled in the environment without his father around each day, and he sometimes acted out at school. But the one place he found solace, the arena that allowed him to put his troubles behind him and shine, was the fields of play.
Adams was special when it came to sports, even at a young age, and local coaches didn't want him to waste his talents and become another one of Gaston County's stories of athletes who could have gone on to great things.
Family members who themselves had found trouble in Gastonia tried to help Adams, too.
"I had an older brother (Kynotta Smith) and twin uncles (Danielle and Donnelle Smith) that always told me, 'You never go in the streets. The streets are not for you. We want you to be better than the streets. You don't do what we do,'" Adams said.  
"Anything I wanted, if they had it, they gave it to me."
The encouragement gave Adams hope, even in his darkest hours, but he admits it still didn't keep him from making his share of missteps. Things got their worst in his eighth grade year at York Chester Middle School – the same year he won county championships in football, basketball and track and field.
"I had great friends, but there were times that I was the class clown," Adams said. "I was always getting in trouble. But I knew I had to do something different. And that's part of what changed my life."
One of the things that helped change Adams' perspective on life was his fast-growing friendship with a fellow eighth-grader named Britton Thomas.
Thomas went to a different school, Holbrook Middle. Thomas was white, and Adams was African American. But they were kindred spirits. They played well together on the basketball court, and they liked many of the same things when they were off it, whether it was music or movies. Pretty soon, the boys were inseparable.
"We were always together," Adams said. "It's crazy. We still talk about it. It was like 'White Men Can't Jump.' I was the black guy, he was the white guy. You could never find us apart. We did everything you do with a brother. He really was like a brother to me."
Adams also grew close to Thomas' father, Terry. And before long, Adams was eating at the Thomas home. Then, he was spending nights there.
"Mr. Thomas became my godfather," Adams said. "The family really helped me."
Adams effectively became a part of the Thomas family, and he got to do and see things he never imagined were possible.
"Being with Mr. Thomas growing up, he showed me a different side of life," Adams explained. "Me and Britton played AAU ball together for the Gastonia Cougars. Then I ended up leaving the Cougars to play for the (Charlotte) Royals. Without their transportation, I would have never been able to play for the Royals. The Royals, we went to a national tournament at Disney World. Those are things I would've never gotten to do without help from (the Thomas family)."
Adams was noticing a change in his life. He didn't want to hang in the streets. He didn't want to show out in class anymore. The Thomases were showing him a different side of life, and he wanted that for himself.
But as his high school days approached, he didn't believe he could be at his best if he went to Hunter Huss, the high school that York Chester fed into. Instead, he wanted to go to Ashbrook, where his buddy, Britton, was going.
Adams petitioned the county for permission to go to Ashbrook, but it was denied. At first, he didn't know what to do, but his last resort was to appeal the ruling. And Terry Thomas was right there with him when he went before the Gaston County Board of Education, led by Dr. Jennifer Davis.
"Mr. Thomas went with me for my appeal," Adams said, "and we expressed to Dr. Davis that I was trying to do the right things and that I wasn't trying to get in trouble, that I was trying to go down the right path, and that I was trying to distance myself from people I grew up with who (could make) me go down the wrong path.
"Fortunately, she granted me the ability to be able to go to Ashbrook."
At Ashbrook, Adams continued to star in multiple sports, but he truly cherished his days playing for the Greenwave baskeball team.
Teaming with Britton and a cast of other talented players, Ashbrook went 77-10 during Adams' time there, winning three conference championships.
Adams especially loved playing for the highly respected Marty Hatchell, who remains Gaston County's winningest coach with 379 career victories. Hatchell, Adams said, was another father figure for him.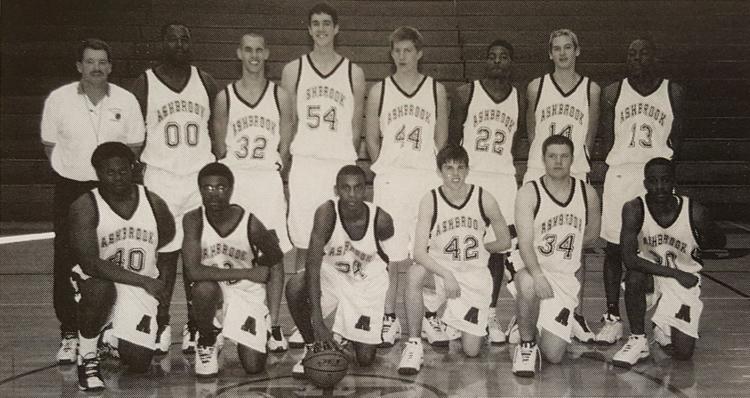 In fact, when Adams wasn't sleeping at the Thomases' house, many times he was staying at Hatchell's. The veteran coach helped keep him on the right path. He held him accountable, on the court and off.
Finally, Adams was learning what it was like to be his best self. And he liked it.
"When I was able to go to Ashbrook, the rest was history for me," he said.  "I became the athlete that I was, but I also had more positive people around me at the time. I had more support going to Ashbrook.
"I'll just be honest with you: A lot of the guys I grew up with are not doing what I'm doing. The guys I grew up with in my neighborhood, they're selling drugs, they're in and out of prison. So it actually helped me going a different route. I feel like without that special help, I may have been going down the same road."
When Adams was looking for junior colleges to play ball, Hatchell set up his visits. When Hatchell couldn't make it, Adams' P.E. teacher, Jerri Edwards, personally took him on the trips to different campuses.
"I just had a lot of people wanting to help me," Adams recalled. "It really made a difference in my life."
Adams' first stop after Ashbrook was a Rockingham Community College, where he was blessed with another father figure: Dean Myrick.
Myrick was a young coach who loved his players, but he also loved them enough to tell them when they were wrong. And when he first got to RCC, Adams started going wayward. It was time for some tough love.
"I'll never forget it," Adams said. "I was getting in trouble in class the first two weeks of school. (Myrick) sat me down in his office one day and said, 'Now, if you don't straighten up in the classroom, I'm going to send you back to Gaston County.'"
"I knew I didn't want to go back, and that set me straight right then," he said. "I said, 'Hey, I've got to do right, I've got to do well.'"
Adams started flying right, on and off the court, and eventually secured a scholarship to UNC Pembroke, a program at the time led by Jason Tinsley.
Adams had a solid two seasons at Pembroke. He averaged 6.6 points and 3.9 rebounds as a junior, and 5.7 points and 3.6 boards as a senior. But his stay in Pembroke was beneficial in so many other ways.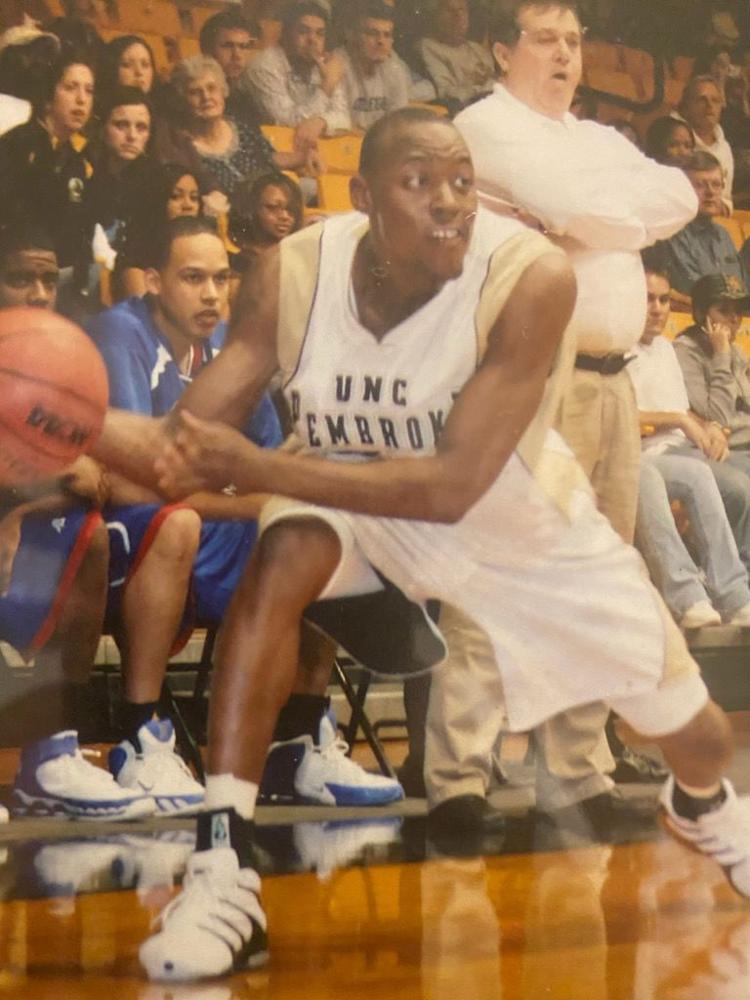 He learned that people who care about you – really care about you – never stop caring for you.
One of the AAU teams Adams played for was the Newton Flames, coached by Steve Arndt. The basketball was great, Adams said, but he really got to see what it meant to be a part of Arndt's team years after he stopped playing for the Flames.
"(Arndt) was also special in my life," Adams said. "He helped me out, and he kind of took me on when I was going to college. He and his (Cathy) were always there to support me. Sometimes, they'd send me monthly allowances. When I was doing well in school, they'd send me goodie packages. On final exam week, I'd get a care package that said, 'Study hard. These are all the snacks you need to make sure you're studying hard.'
I had a lot of support from them, and I'll never forget that."
After earning his bachelor's degree in social work, Tinsley kept Adams on as a graduate assistant for two more years, allowing him to get a master's in public administration as well. And Tinsley wasn't just his coach; he was another man who provided Adams with items to carry in his life's toolbox.
"He helped me grow as a man," Adams said. "He taught me how to handle the coaching world. He taught me how to buy a house. He taught me how to buy a car. To this day, before I accept I job, I call him and talk to him about it."
Tinsley also helped Adams secure his first full-time job, as an assistant coach at Tarleton State in Texas. Adams spent four years at Tarleton and went to the University of Montevallo in Alabama for two seasons. Finally, he was reunited with old Pembroke coach when Tinsley brought him on to the staff at Northeastern State in Oklahoma.
But by then, Adams had rekindled a friendship with Anna Craun. He and Craun had first met as students at Ashbrook, but they didn't date. But the more they talked as adults, the closer they became. Soon, they fell in love and got engaged and had a daughter, Kinleigh, who quickly stole her daddy's heart.
I asked Adams what his interests are other than basketball, and he scoffed.
"If it ain't basketball, it's spending time with my family," he said. "I love spending time with my little girl. People tell me all the time that she's spoiled. 'She's the spitting image of you. She looks just like you, she acts just like you.' I love her so much."
But life as a college assistant coach can be grueling for a family man, what with all the recruiting trips, film study, practices and getting home late at night from games.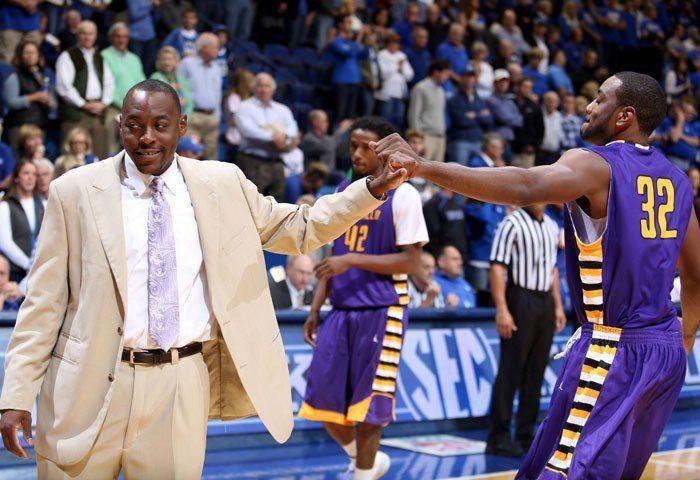 Adams embraced it all, seeing it as a necessary process to fulfill his dream of one day becoming a college head coach. But he soon realized something wasn't right. The price was becoming just too much to pay.
"What brought me back to the high school (coaching) world was my little girl," he explained. "She was born in Texas, and my family's been all over the world with me. We didn't get to see family (in North Carolina) much. We used to come home (to Gastonia) one time a year, for seven days. That's it. After the seven days, we'd go back where we lived.
"My last year in Oklahoma, we came home and left, but my little girl cried half the way back to Oklahoma. I knew right then, 'It's time for me to move closer to family. She needs to know who her family is.'"
Just like that, Adams gave up coaching in college. He moved back to Gaston County and became an assistant coach at Ashbrook for one season, helping the Greenwave reach the state playoffs in 2017-18. It was fun, but he aspired to be a head coach.
After the year at Ashbrook, then-Mallard Creek athletics director Philip Davanzo III – now at Cox Mill – gave Adams his first chance to lead a program.
With Adams leading the way, the Mavericks reached the state playoffs for two years in a row. It was no small feat in the I-MECK 4A Conference, which also was home to heavyweights like North Mecklenburg, which was declared 4A state co-champion after this year's title game was canceled because of the COVID-19 pandemic, and Vance.
Adams also coached Mallard Creek, which opened in 2007 and has been known from Day 1 as "a football school," to its first home playoff game in program history.
Adams was ready to continue coaching the Mavericks for the 2020-21, which would have been his third at Mallard Creek. But there was something about the West Cabarrus job that appealed to him when it officially became open.
"I'm excited about opening a new school," he said. "I'm intrigued to see how the talent pool is going to roll over to West Cabarrus. A lot of people are telling me that a lot of talent is coming to West Cabarrus.
"I understand that this is going to be a process. But when I took the job at Mallard Creek, I knew that was going to be a process. At Mallard Creek, you're labeled as a football school; West Cabarrus is not labeled as anything. It's just 'West Cabarrus, the brand new school.' I'm really excited about the possibilities."
Adams is looking forward to leaving his imprint at West. More important, he's looking forward to helping more young men, making a difference the way so many coaches did in his life.
He knows that "coach" is a job title, but "difference-maker" has to be in the lead paragraph of the job description.
It's why Adams says he goes about his business the way he does.
"I pour a lot of time into my team," he said. "We do things outside of school. I spend time with my players on Saturdays after practice. We go have lunch together. I want them to feel genuinely that I love them. I care about them – outside of basketball. I care about their academics. I care about them in and out of season.
"Coming back to high school has been a great opportunity for me. It's given me an opportunity to be a head coach but also give back to the kids on the high school level. Usually, when you get college kids, they're pretty much molded. They pretty much know where they want to go. With high school kids, they're so up in the air about what they want to do in life. So if I'm able to help them get in the right direction, that's what I'm going to do."
The years have flown by since Adams himself was the teenager in search of something, anything other than winding up on the wrong sides of the stories about the west end of Gastonia.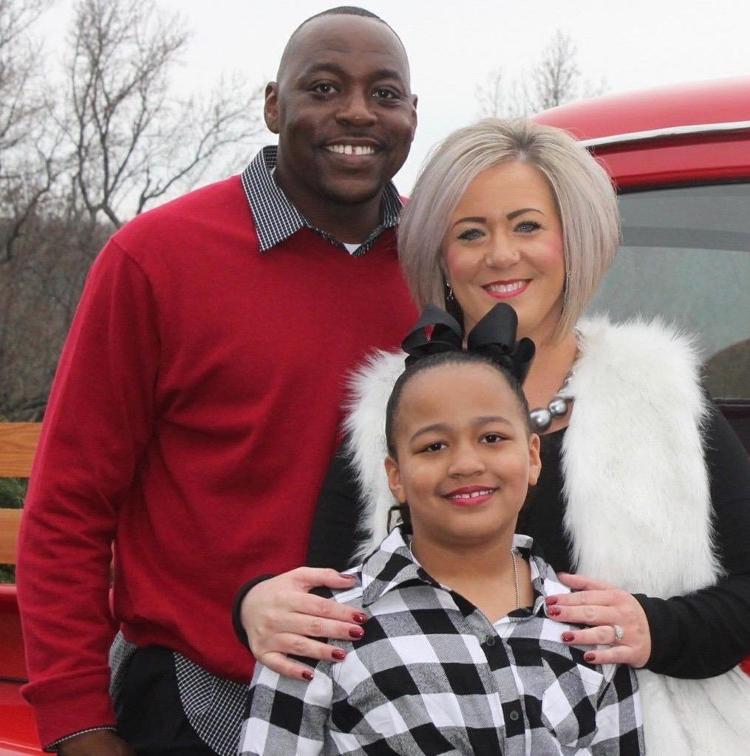 He and his mother, Sheryl, are closer than ever.
He's established a relationship with his father now.
Kinleigh is 7, well on her way to becoming a young lady.
On Dec. 12, Adams and Anna are going to exchange their wedding vows.
And in the midst of it all, Adams will be doing what he loves: giving back by paying it forward on the hardwood with this new batch of Wolverines.
He's thankful. He constantly calls himself "blessed." And every now and then, Adams drives through his old neighborhood, reminiscing about both the good and bad times. He's reminded of the things that could've held him back, and he definitely remembers the things and people that made sure he wasn't.
Good coaches never stop teaching, and the really good ones never stop learning.
"It was definitely hard growing up, but I think it made me the person I am today," said Adams, who's still a Gaston County resident in nearby Mount Holly. "It gave me the drive that I have to be successful. All that entails who I am today."
The great Satchel Paige once famously said, "Don't look back –something might be gaining on you." But every once in a while, it's helpful to go and take a look back.
So you can see just how far you've come.