CONCORD – It was fitting that the latest game between the top two girls basketball teams in the SPC turned out to be another Instant Classic.
Especially with South Piedmont 3A Conference regular-season hardware on the line -- Cream of Cabarrus No. 1-ranked Central Cabarrus already had at least a share of the championship, and No. 5 Cox Mill was fighting to get its name etched onto the trophy, too.
The teams' first meeting this season came down to an overtime thriller, with Central Cabarrus eking out a one-point win last month. And this game was just as competitive – and breathtaking.
In Round 2 Tuesday night, with the atmosphere in the Cox Mill gym at fever pitch and the pendulum of momentum swinging a different direction every trip down the court in the final quarter, the teams valiantly battled once more.
When the dust settled and the final buzzer sounded, the Central Cabarrus Vikings walked off the court with a narrow 54-52 victory while donning SPC regular-season champion crowns for the third year in a row.
And it didn't matter how close they came to having to share tiaras with the Chargers.
"It just feels great," Central senior guard Ja-el' Miller said, still seemingly trying to catch her breath 30 minutes after the game. "The competition tonight was great. We were going back and forth. Then we decided to persevere and fight. And we fought."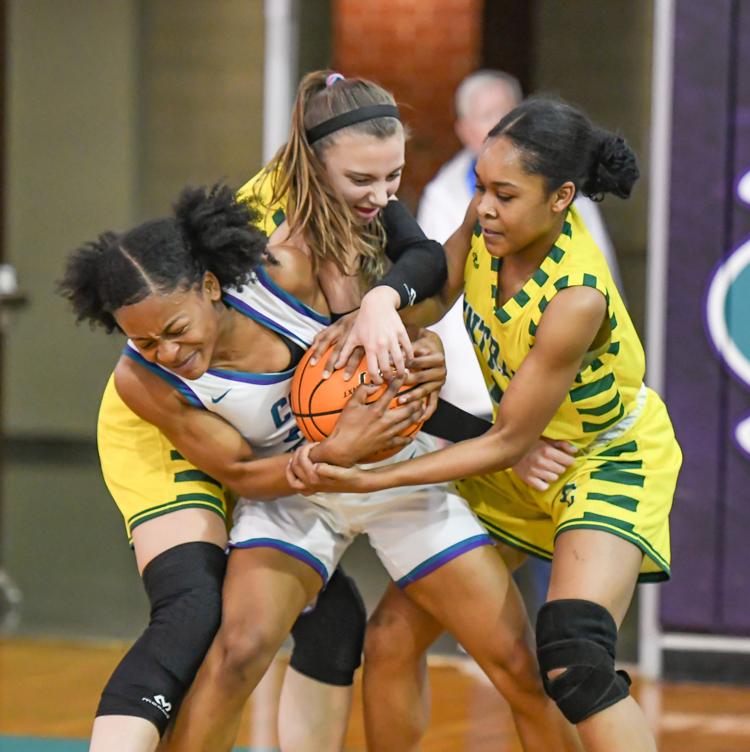 To paraphrase Rasheed Wallace, Mr. "Both Teams Played Hard" himself, each squad left parts of itself -- like skid marks from elbow and knee scrapes -- on the court on this night.
And because the programs have a mutual respect for each other, this one meant something extra. And for the Vikings, the prize was a three-peat.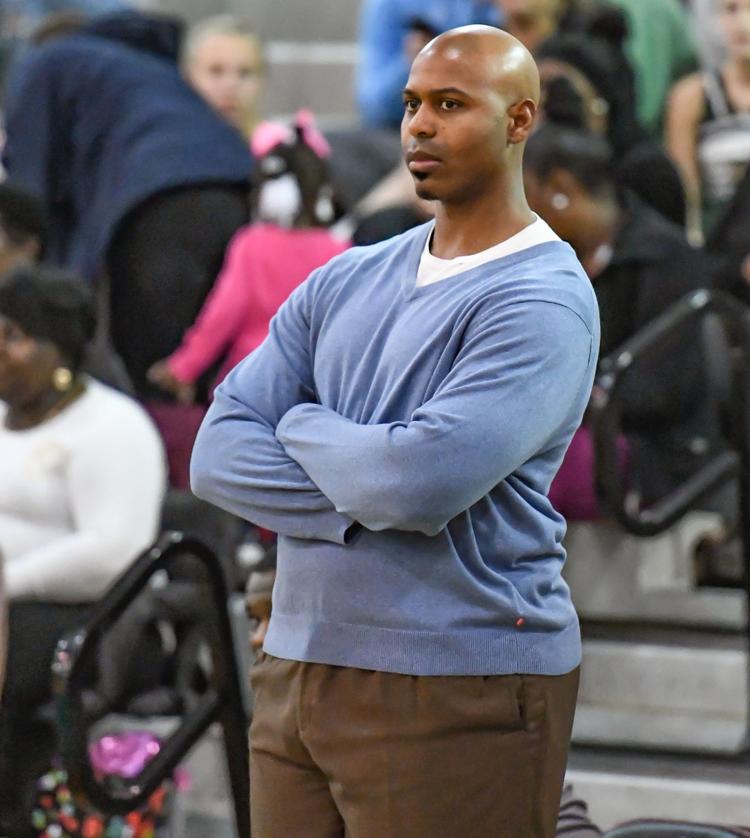 "Man, that's three years in a row now," said Central Cabarrus coach Brandon Blalock. "That's everything. That's what we've been fighting for. Winning the conference championship is key for (state) playoff ramifications. We're trying to see the big picture."
The Vikings moved their overall record 18-5, which includes a perfect 9-0 mark in the SPC with one league game remaining. The Chargers are now 14-9, 7-2 in the conference.
This was Central Cabarrus' 10th consecutive victory over the Chargers, although only the last four have occurred since Lin Smithson took over as Cox Mill's coach in the middle of last season. Since then, all the games have pretty much been epic battles, as Central's last four wins in the series have been by a combined 12 points, with the one overtime game.
Things didn't start out close Tuesday, as Central Cabarrus jumped out to a commanding 14-3 lead in the first quarter. But the Chargers began to make their move in the second period and pulled to within three points, 25-22, at halftime.
Cox Mill came out of the locker room a little cold, failing to score a point for the first 2½ minutes of the third quarter. But when Leah Hines made a strong drive to the hoop for a layup to cap an 8-2 run and pull the Chargers within a point, 33-32, with just 38 seconds remaining in the third period, it was anybody's game.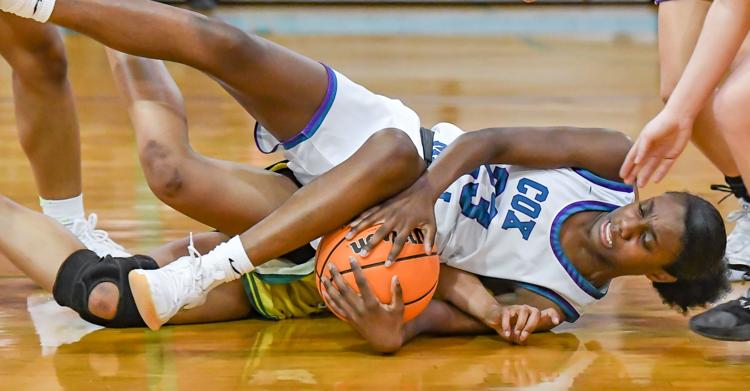 Cox Mill began employing a dizzying full-court press that featured the speedy Hines paired with a long, athletic duo with what seemed to be a built-in GPS for the basketball, Arianna Perry and Nya Tillery, at the top. The trio challenged every inbounds pass. If the Chargers didn't haul in the steal, they seemed to get their fingers on the ball, creating disarray in the Central Cabarrus backcourt.
It resulted in another Chargers surge. And after a Tillery steal, she deftly passed to Perry, and the crafty freshman banked in a reverse layup to give Cox Mill its first lead of the game, 46-45 with 4 minutes, 20 second remaining.
Cox Mill extended its lead to 47-45 when Kylie Lewis hit the front end of a 1-and-1 free-throw situation with 2:44 left in the game.
Then, well, Ja-el' Miller happened.
After a string of turnovers and hurried shots, the Central Cabarrus point guard took control.
Immediately after Lewis missed the second end of her 1-and-1 and the Chargers weren't able to set up their press, Miller quickly dribbled down court and laid in a left-handed layup to tie the score at 47 with 2:33 to go.
This time, it was Central Cabarrus' turn to force a turnover. And after Tillery was whistled for traveling, the Vikings again inbounded the ball against full-court pressure. In an effort to get the ball to Miller, a pass was thrown just ahead of her along the right sideline, and it became a foot race between her and the fleet-footed Tillery as the crowd screamed for a winner to get to the ball.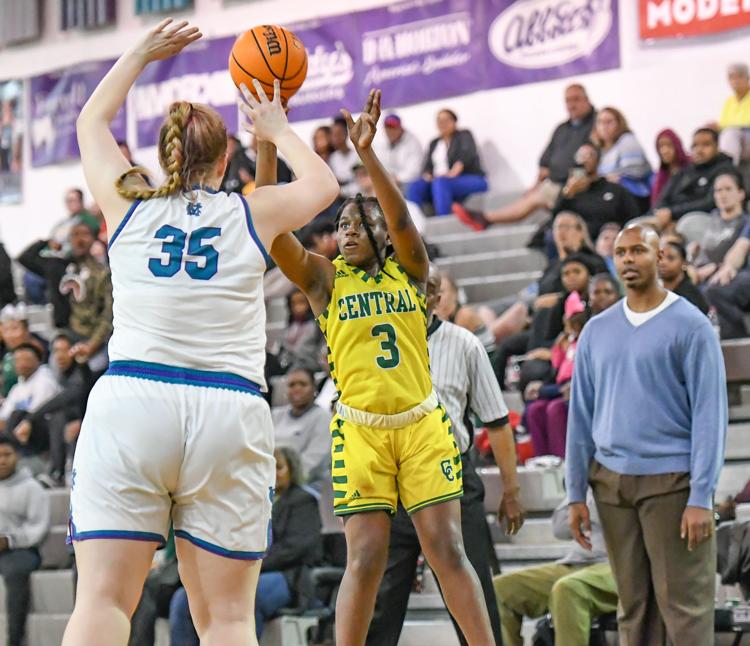 Miller barely beat Tillery to spot and then made a quick dribble toward the lane, where she spun and scooped up a layup with her left hand. Officials blew the whistle for a foul just as the ball touched the rim and fell through the nets.
As the Central Cabarrus fans yelled loudly and stomped in the bleachers with passion, Miller lay on the court on her back and banged the floor with palms as she bounced in celebration. She calmly went to the line and swished the free throw to give the Vikings a 50-47 advantage with 2:04 left on the clock.
In a span of 40 seconds, Miller hadd taken her team from two points down to three points up. She said knew it was something she had to do.
"Coach looked at me," Miller said of Blalock. "Coach always gives me this look. It's like a stare – an 'I believe in you' stare. And when he gives me that look, I know, 'Ja-el', you've got to do it. Come on. Just go.'
"All I was thinking was just, 'Attack. Team, team, team. Let's go,'" added Miller, who had a game-high 25 points. "I thought, 'This is not for you; this is for the team. Do whatever you have to do for the team.' And that's what I did. I kept on attacking."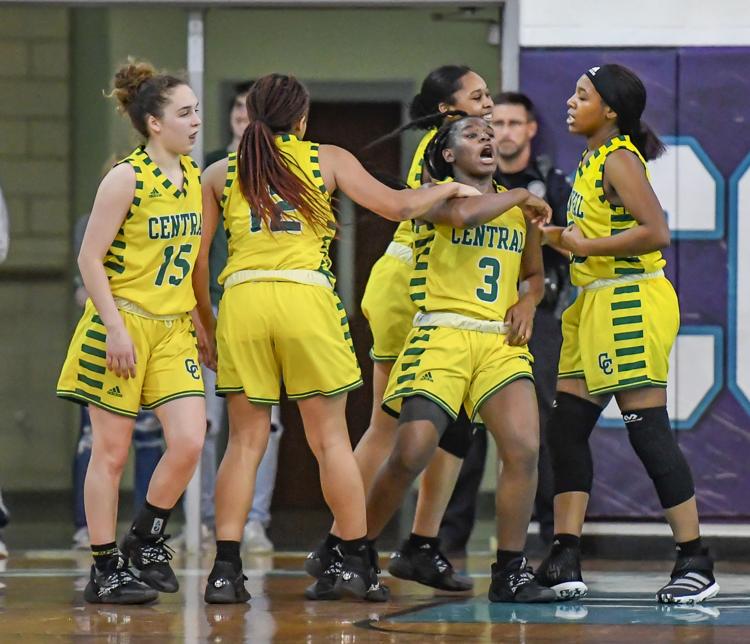 Of her on-the-floor gyration following her old-school three-point play, Miller said, "It wasn't like I was happy for myself; I was happy for the team. I was like, 'We're about to win this!'"
But the game wasn't exactly over yet.
Cox Mill continued to push. The Chargers stayed aggressive and got to the free-throw line with numerous opportunities to tie the game or even take the lead. When the missed, they hauled in their errant shots for offensive rebounds and second and third chances at field goals or drawing more fouls.
Unfortunately for the Chargers, they went just 2-of-9 from the charity stripe over the final 4:20, which included missing five of their six attempts in the last 1:52.
For the game, Cox Mill uncharacteristically missed 17 free throws.
"I couldn't ask for them to play any harder than they played tonight," Smithson said. "They've come a long way. They've worked very hard, and they really stepped up tonight. Nya Tillery, my senior, really showed her leadership tonight and played hard."
"But you miss 17 foul shots … that's a lot," the veteran coach said. "But I can't take anything away from their effort tonight – at all."
Despite their free-throw inaccuracies, the Chargers still had late chances to change their fate.
Following another offensive rebound, Kelsey Holmes hit a short jumper to knot the game at 52 with one minute remaining. But Miller was still in The Zone for Central Cabarrus, and she immediately came down and made an aggressive move in the paint for layup that put the Vikings back ahead, 52-50, with 51 ticks to go.
The Chargers got two good looks at the basket but were off the mark with both attempts before throwing the ball out of bounds. As Central Cabarrus took possession and worked the ball up the court, Cox Mill fouled Demi Case, and the Viking senior went to the free-throw line for a pair of attempts that would presumably put the game out of reach with just second remaining.
Case knocked down both shots to give Central the 54-50 lead.
Although she appeared calm as she went to the line, Case said looks can be deceiving.
"It was definitely stressful, especially with the crowd yelling and everything," Case said. "It was a lot of pressure. I just remained calm and knew I had to knock them down. I didn't want to lose this game.
"This definitely means a lot to us. We've been working hard all season to get this."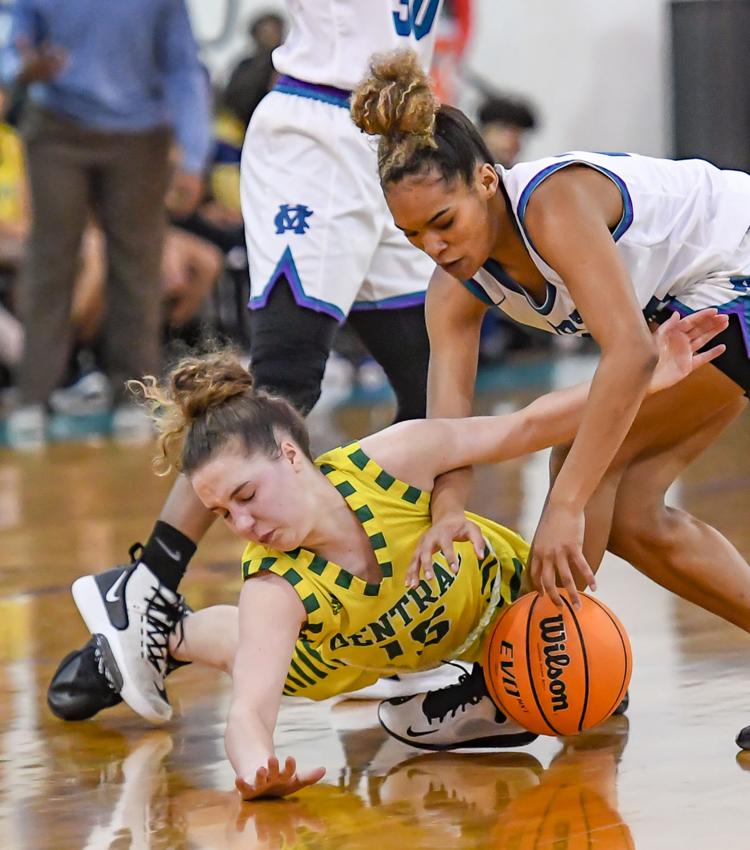 Cox Mill scored a quick basket to pull within 54-52, but only 1.9 seconds were left as the Chargers set up their full-court press. Central Cabarrus' Aniyah Tate heaved a long pass near the midcourt sideline, but the ball bounced off Miller's fingertips and out of bounds.
The Chargers would have the ball, down by two points, with one last chance with 1.1 remaining.
Tillery, who had a season-high 18 points, inbounded an on-target pass to Lewis, who was quickly cutting from the other side of the floor across the top of the key. With Vikings in hot pursuit, Lewis caught the ball on the run, took a big step, turned and unleashed a running shot for the game-winning, championship-clinching 3-pointer.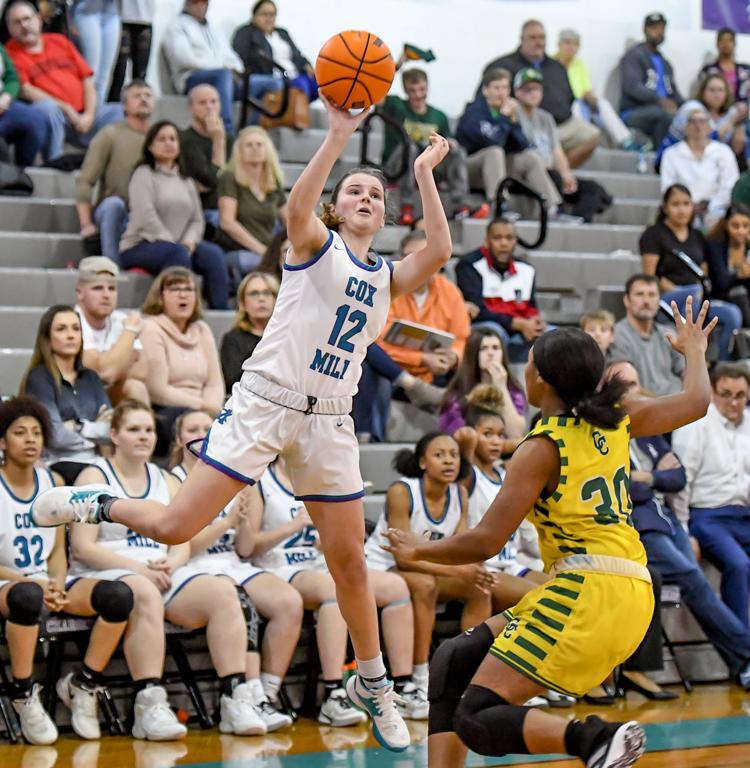 But the shot sailed just across the rim without touching iron, and Central Cabarrus escaped with the title.
Blalock took a deep sigh of relief when he emerged from the locker room after the game. His team had battled foul trouble all night, with two Vikings fouling out of the game. Two more players who normally are in his rotation missed the game with injuries.
And, of course, there was those Chargers, who just didn't know the word "quit."
But again, neither did Blalock's team.
"It was a fight," he said. "It's always like that when we play Cox Mill. The last five games we've played them, hasn't it been like that? That's where I give them all the credit. We persevered, they made some mistakes, but they got past their mistakes real quick.
"But Ja-el was just so big down the stretch for us."
Smithson had a sigh of her own when she left the locker room, but it was a different kind. It was a sigh of knowing her Chargers had gone toe-to-toe with the No. 1 team in the county and the conference.
In the two games over the past month, Cox Mil l had lost by a grand total of three points. And this time, the Chargers had contributed mightily to their own demise on unchallenged shots from 15 feet.
"We battled back and got that lead, and I thought we could hold on to it," Smithson said. "But like I said, '17 … foul shots … we missed.'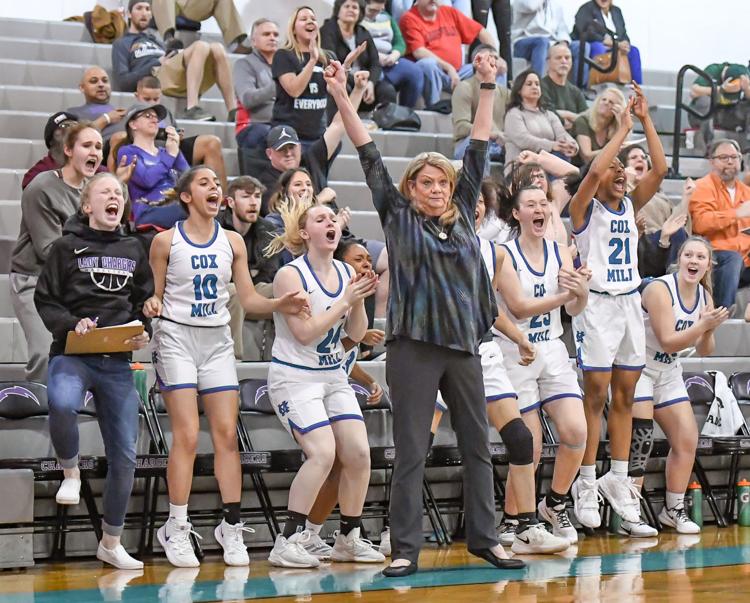 "But again, I'm proud of what we accomplished this year, and we're not done, by any stretch of the imagination. We're hoping to make a little run in the playoffs and get deep in there, but it's going to be tough."
Smithson bragged more on her team, adding, "We're in second place, but we had sure hoped to split that first place. We were really close.
As Smithson spoke, Blalock walked past, and her voice playfully began to rise so the Vikings coach could hear her interview.
"But there's still the (conference) tournament, and it's hard to beat a team three times!"
Smithson giggled, trying to make it clear to Blalock that she was just having fun on a tough night for her team.
"Hopefully, we'll meet them again in the (tournament) finals," Smithson said. "But we've got some obstacles to get over before we get to them."
If the Vikings and Chargers do meet in next week's SPC tournament championship game, well, go ahead and expect yet another Instant Classic.
Central Cabarrus     14     11     12     18 – 54
Cox Mill                       3     19     10     20 – 52
CENTRAL CABARRUS – Ja-el' Miller 25, Mariah Barrie 13, Case 8, Tate 7, Knight 1
COX MILL – Lewis 5, Nya Tillery 18, Hines 9, Fox 2, Holmes 4, Sedergren 3, Perry 7, Gallegos 2, Finley 2