HARRISBURG – They've been a Class 4A team for three years now.
Less than that, actually, as the 2019-20 season still has about a month left before all the champions are crowned and all the tears, both happy and sad, are cried.
But there they were Tuesday night, the Hickory Ridge Ragin' Bulls, a boys basketball program that used to only dream of playing in Southwestern 4A Conference games of consequence, in the throes of one of the biggest regular-season games of the year.
And, uh, they were staring at an 11-point deficit.
It was early in the second quarter, and the Bulls were facing a talented Myers Park team that's played more than its fair share of these 4A must-see monstrosities over the years. Accustomed to tense times on the court, the Mustangs could easily pull away and push the Bulls from that first-place perch they shared with both Myers Park and Independence.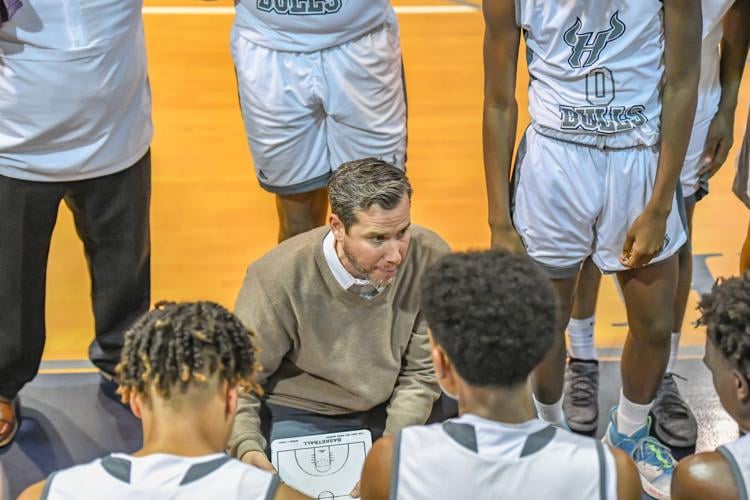 Hey, being a contender in this conference was still new to the Bulls and their fans, so if they fell a tad short with the stakes so high, well, hey, they still had a pretty good season, right?
Except this group of Bulls doesn't seem too satisfied with pretty good. These Bulls want more. They expect more.
So their fearless leader, head coach Robert Machado, called timeout and took a few moments to remind the Bulls just who they are now.
"I felt like we could've easily folded when we were down 11 in the second quarter," Machado recalled. "We called a timeout, and I said, 'Listen, it'll be fine. Settle in. Let's take better shots, let's dig in our heels on defense and get stops.'"
And the Ragin' Bulls made it seem that way, because those are the exact things they went out there and did.
Hickory Ridge's subsequent 13-2 tear during that stretch of the second quarter made all the difference, and they eventually went on to take control and seal a 63-56 victory over the highly touted Mustangs.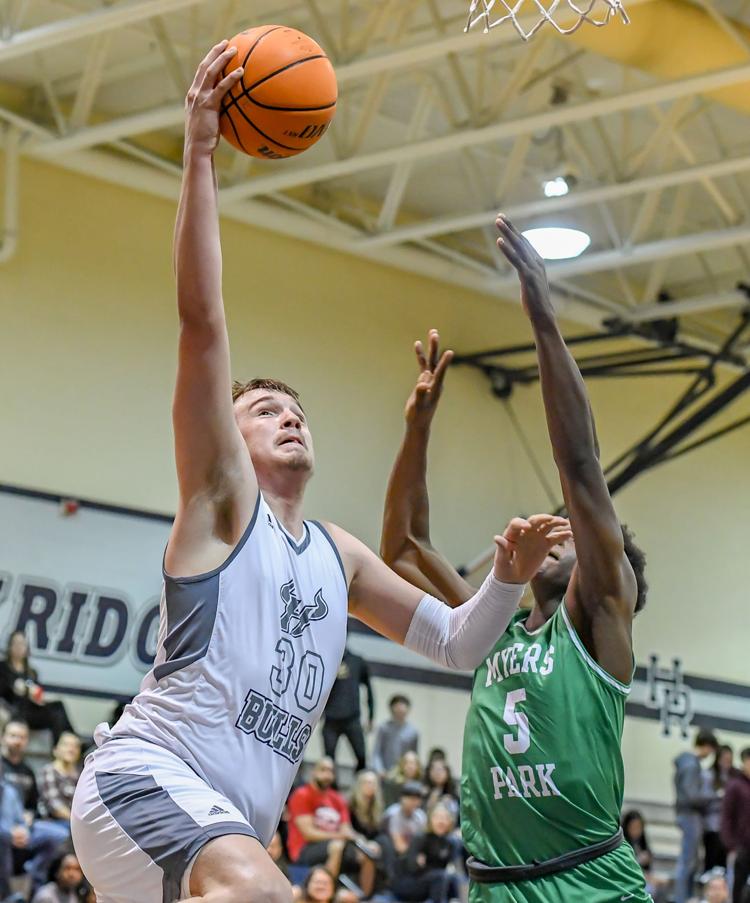 The win keeps the Ragin' Bulls in a tie for first place, but with just one other team – Independence, with whom they split this season.
Hickory Ridge is now 17-4, 9-2 in the league and is riding a seven-game winning streak, thanks to Tuesday's come-from-behind triumph.
It had a few tense moments, but it turned into another chapter highlight in what has been a storybook season for Hickory Ridge, which is inching closer to the school record of 20 wins set in 2011 and 2015.
But part of what's made Hickory Ridge such a special team this year has been its ability to keep season goals in mind while focusing on the moment.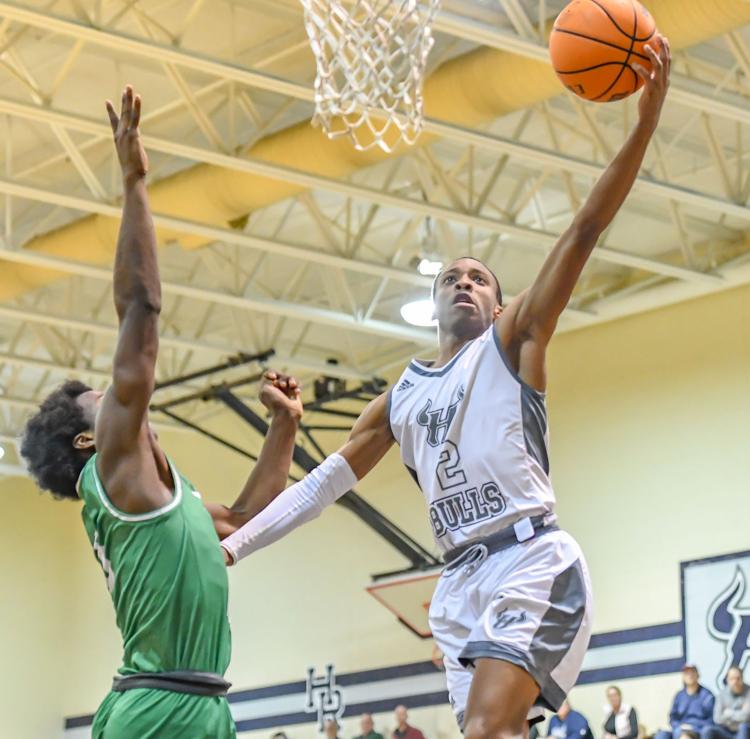 And focusing on the moment, especially the one that saw them facing that 11-point deficit in the second quarter, is definitely what got the Bulls through on Tuesday.
"We know that we have to win out, basically, whether we want to share the conference title or win it outright," Machado said. "But we have to approach every game one at a time. Our goal's always to be 1-0 at the end of the night, and we've done a really good job of that this year."
That perfect record, though, seemed in jeopardy early in the game.
The Bulls came out and missed their first six shots of the night. Meanwhile, Myers Park was being led by the inside-outside scoring of sophomore forward Drake Maye (20 points for the game), who helped the Mustangs jump to a 6-0 lead.
Hickory Ridge finally got on the board when sophomore Shane Fernald went on a personal surge, starting with a fastbreak dunk, followed by a pair of putbacks to tie the game with three minutes left in the first quarter.
But Myers Park got rolling again, and Hickory Ridge went on another drought. With barely a minute gone in the second quarter, the Mustangs had established a 21-10 lead. They looked a bit out of shorts as shots they normally make with ease bounced away from the rim.
That's when Machado met with his team on the bench and a calmness came over the Bulls.
The 13-2 tear was on its way.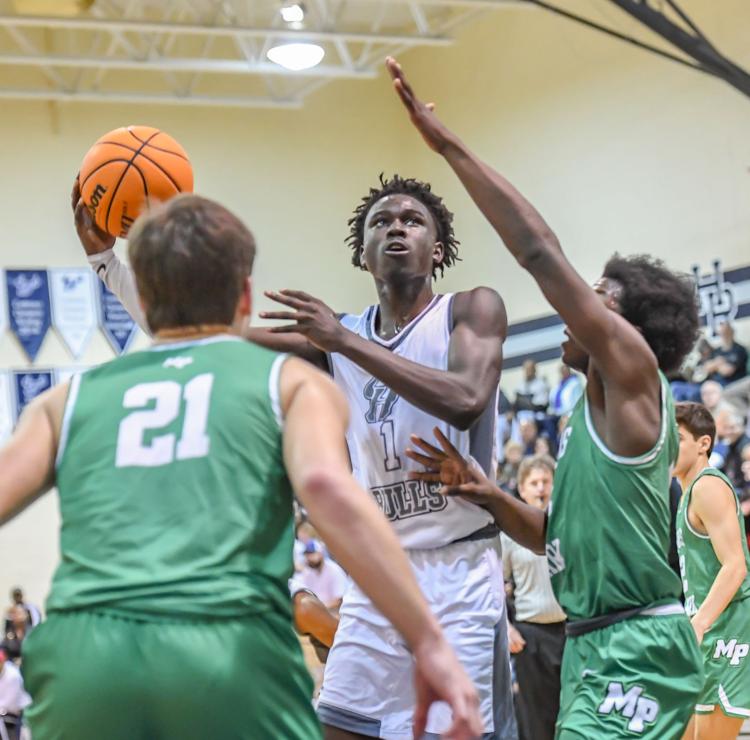 It all began when 6-foot-4 junior Daniel Lubamba attacked the basket and dropped in a sweet floater for a bucket. After a Myers Park miss, Lubamba again went hard to the hoop and made a runner in traffic to make it 21-14 with a little more than six minutes left in the period.
Maye, one of the younger brothers of former North Carolina standout Luke Maye, tried to re-establish Myers Park by executing a sweet spin move to push the lead back to nine points. But over the next five minutes, the Hickory Ridge defense stiffened and held the Mustangs to zero points.
The Bulls tied the game at 23 when Lubamba showed energy and hustle by scurrying in to follow his missed 3-pointer with 1:46 left in the first half.
"I knew we just had to attack, get to the basket," Lubamba said of igniting the Hickory Ridge surge. "We'd been shooting shots, but they weren't really falling, so I knew we just had to attack and play good defense."
Myers Park, though, regained the lead just before halftime on a pair of Maye free throws and went into the locker room up 25-23.
The teams took turns holding the lead for much of the third quarter, but electric sophomore guard Jordan Marsh gave the Bulls the lead for good, 35-34, when he drove in for a hoop against much taller opposition with 2:45 left in the period.
The Bulls said they never panicked when they faced the double-digit deficit after starting a little lethargically in Hickory Ridge's biggest game as a 4A school. After all, while the Bulls have a sparkling record and are enjoying their first-place address in the SW4A, nothing has come easily for them.
They're a young team; the starting lineup features freshmen point guard Caleb Foster, 10th-grader Marsh and Fernald, and juniors Lubamba and Tucker Johnson.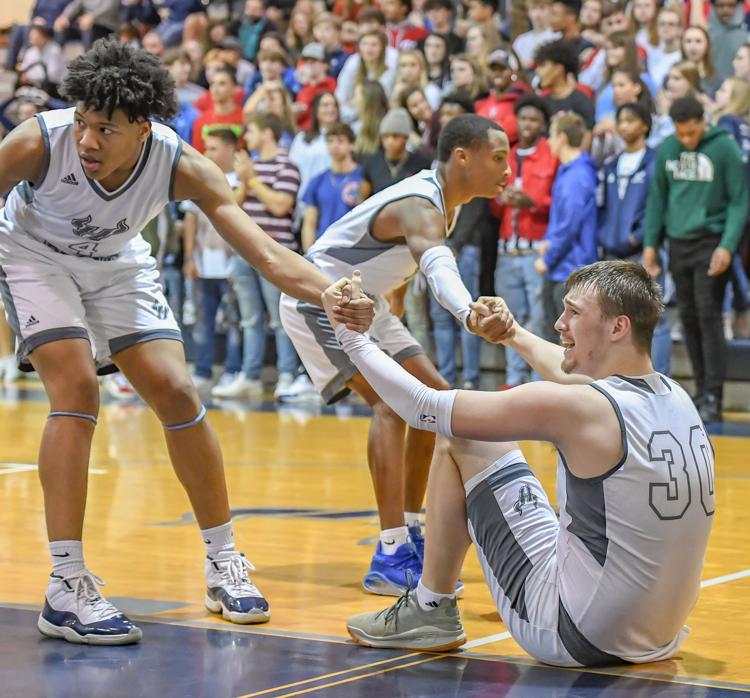 Only one senior, Kobe Clifton, sees significant playing time off the bench, and his fastbreak 3-pointer with about two minutes remaining was, in Machado's words, "just the nail in the coffin right there. That was a huge, huge play."
Throughout the night, several heroes had shown up for the Bulls. Early on, it was Fernald and Lubamba, along with the truly unsung Johnson. At 6 foot 5, Johnson had at least five blocked shots and scared the bejesus out of the shooter at least five more times. He also spent part of the night helping to defend the versatile Maye, a smooth, 6-5 junior who probably could play college basketball but has already committed to play quarterback for the University of Alabama's football team.
For much of the second half, Marsh and Foster generated oohs and ahhs. The 5-10 Marsh (16 points) used his freakish abilities to get to the basket like the quick guard he is or swat shots away like a Mini Mutombo. The 6-4 Foster (14 points) ran the offense smoothly, blew by his defender for scores when he wanted, and knocked down six free throws in the final 1:24 to help secure the win.
Why worry about an 11-point hole with so much time left in the game when you know you have THAT in your arsenal?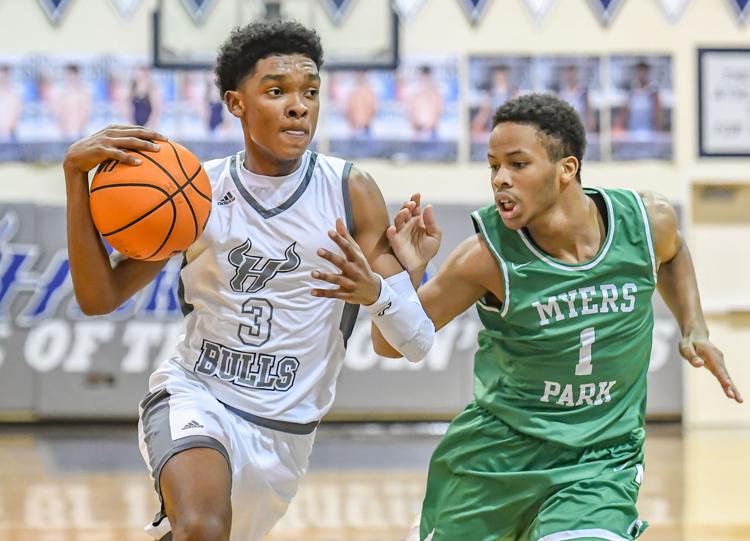 "Well, we've been there multiple times this season," Fernald said. "That's not necessarily a good thing, but we know in the back of our heads that we can come back from stuff like that. We always stay poised. We don't turn the ball over in situations like that. And we have a great young point guard in Caleb, and he just handles everything and gets us where we need to be.
"It's an amazing feeling," Fernald, who had 12 points, said of the victory. "Hickory Ridge hadn't even beaten Myers Park before, and we've done it twice in one season. I know that means a lot to the whole team and the coaching staff."
The only downside of the night for Hickory Ridge came with 4:10 remaining in the game.
With the Bulls clinging to a 48-41 lead, Marsh went down with a leg injury. While the incident wasn't visible to everyone in the gymnasium, some witnesses reported seeing a cell phone come flying from the stands onto the court in an area between the scorer's table and the Myers Park bench.
"I think Jordan tried to get out of the way and collided knees with the kid from Myers Park," Machado said.
Hickory Ridge trainers hurried to Marsh's aid and helped him limp out of the gym. He later came back to the Hickory Ridge bench on crutches.
"We think it might be a little (medial collateral ligament) sprain," Machado said. "He had it earlier in the year. He'll be day-to-day."
Meanwhile, the game went on, and the Bulls fended off Myers Park to secure its eighth straight victory on its home floor.
And the next Biggest Hickory Ridge 4A Game Ever is Butler on Friday.
With a 6-5 record in the SW4A, the Bulldogs are not a threat to win the conference. But they're a threat to keep Hickory Ridge from doing so. And they're formidable.
Just last month, Butler handed the Ragin' Bulls their worst loss of the season, 75-49, in Matthews. The squad boasts a true 7-footer – highly touted sophomore Patrick Wessler, son of former Northwest Cabarrus star Kurt Wessler – and a heady point guard in junior Jordan McFatter.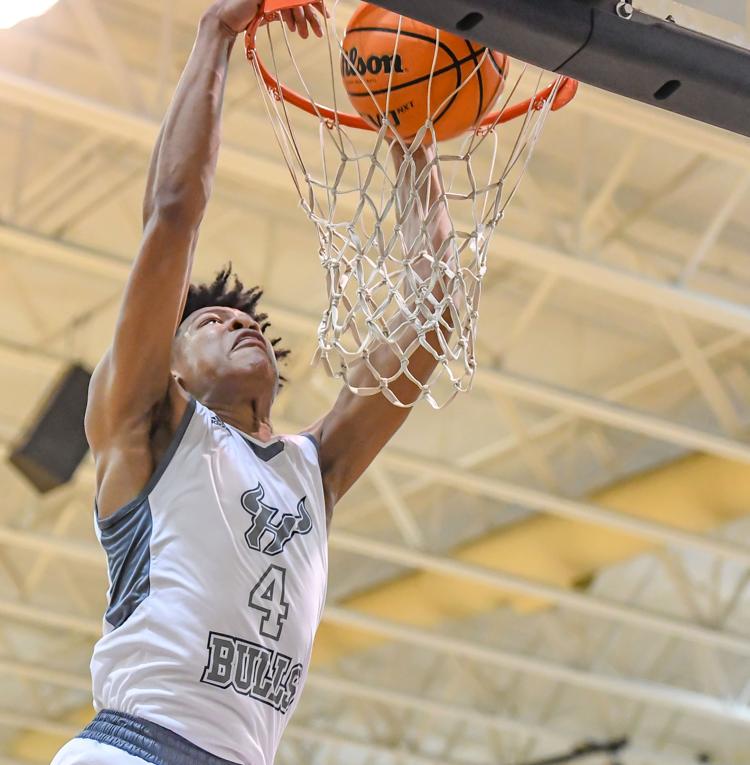 And the Bulls don't even know if they'll have their leading scorer, Marsh, on the court that night.
But as Hickory Ridge showed on Tuesday, this team doesn't deal with being daunted, even when the circumstances are dire.
This season, if you're donning navy and white, doubt be damned.
And as the wins against the so-called heavyweights pile up, it's getting harder and harder to convince Hickory Ridge otherwise.
"We've got a lot of growth to do if we plan on beating teams like (Myers Park) in the future," Machado said, "but the effort was always there tonight. I didn't think there ever was a lack of energy or a desire to be great or a desire to win. So that's really what the difference is for my team right now: They believe every night we go out there that they should win the ball game.
"And they've been right every time before."
Myers Park      17     8       9       22 – 56
Hickory Ridge 10     13     16     24 – 63
MYERS PARK -- Newman 3, Xavier McKelvy 27, Mack 2, Drake Maye 20, Strong 2, Gwinn 2
HICKORY RIDGE – Shane Fernald 12, Lubamba 8, Jordan Marsh 16, Caleb Foster 14, Johnson 8, Clifton 5