CONCORD – Feed the big man.
That's what the cfa Academy Eagles boys basketball team did to turn a fourth-quarter deficit into a 80-76 win at home against the Hickory Grove Lions on Tuesday night.
"We got away with a win, to be honest," said Eagles coach Frank Cantadore II. "It wasn't pretty. I knew to beat this team we had to keep them off the offensive glass, and we did a terrible job of doing that and almost lost because of it."
Cream of Cabarrus No. 1 cfa Academy is now 25-3 on the year and 9-0 in the Metrolina Athletic Conference. Hickory Grove is now 13-6 overall and 3-5 in conference.
Throughout the first three quarters, the play from both teams remained the same. The Lions were on fire from 3, shooting 10-for-15 and getting plenty of offensive rebounds and second-chance points.  Conversely, cfa Academy mixed it up with 3-pointers and transition baskets.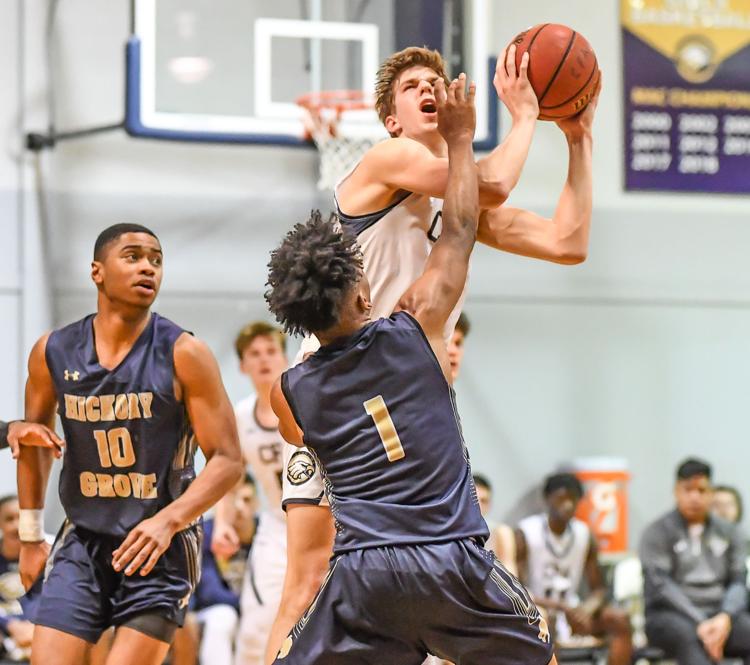 There were nine ties and 13 lead changes in the first three quarters, but at the start of the fourth quarter, cfa Academy was down, 60-55.
Garrett Hien, who averages 15 points per game, had only seven points with a couple slam dunks at that point. The Eagles decided to change up their strategy and focused on feeding the big man down low.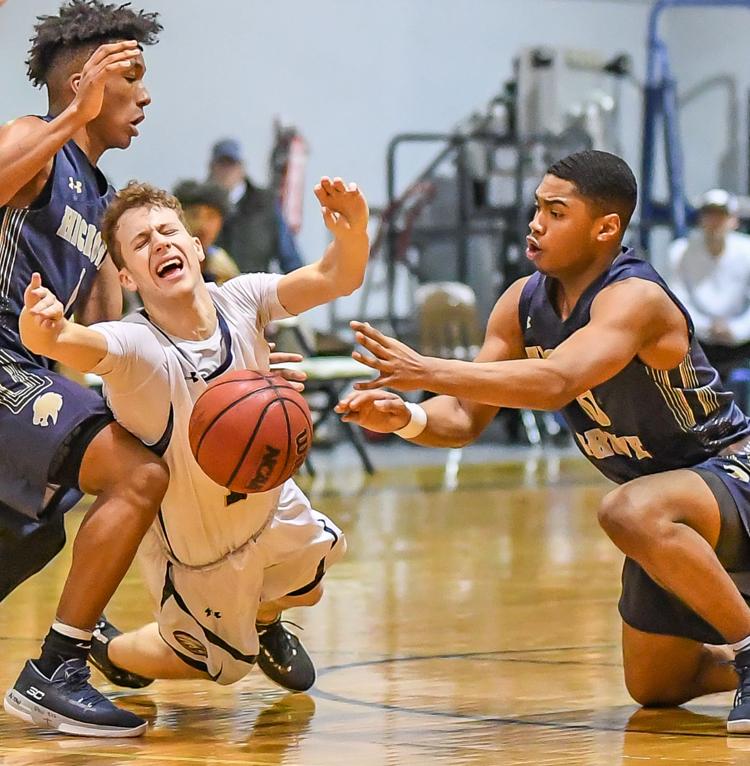 "I was kind of missing shots close to the rim in the beginning," said the 6-foot-9 Hien, who has signed with Furman University. "And starting in the fourth, I hit some big ones, and it fired me up. And my teammates started finding me more."
Hien scored nine straight points, all on post moves in the blocks. He culminated the 9-2 run with a three-point play to give the Eagles a 64-62 lead with five minutes left.
Hien's teammates continued feeding him, and then that turned into outside shots for other Eagles. Isaac Boothe and Trae Benham hit a couple shots, and then Hein dished it to Ambaka Le Gregam for an open 3-pointer. That shot turned the game into an eight-point lead at 72-64, topping off a 10-2 run with 2:30 left in the game.
"Survival, man," Cantadore said of cfa Academy's fourth-quarter performance. "We had to do the right thing, move the ball, share the ball, pump the ball inside and make shots."
Hickory Grove's Chas Stinson hit two three throws and a 3-pointer to make it a 72-69 game with 1:46 left. But after wasting nearly a minute, a sweet, backhand bounce pass from Benham to Hien led to a slam dunk that essentially sealed the game.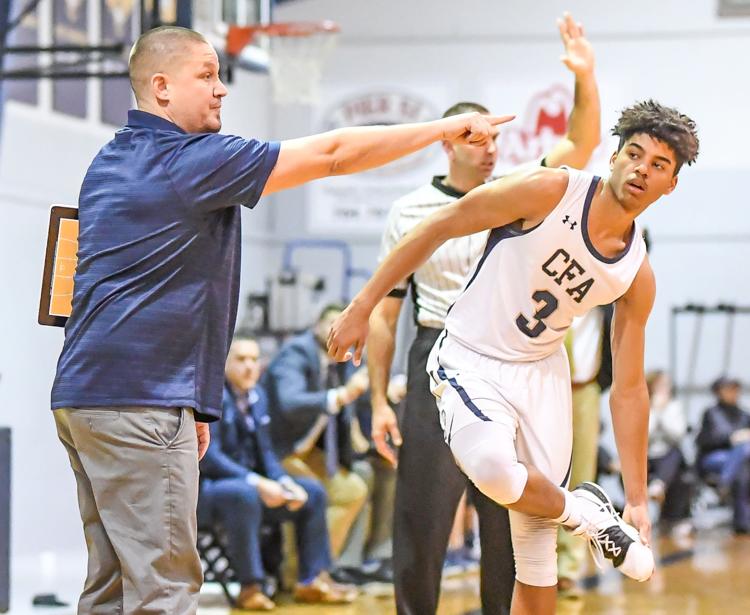 Hien recorded a double-double with 18 points and 10 rebounds, adding two blocks. Benham led the team with 22 points, including 14 in the third quarter. And Boothe had 18 points, shooting a clutch 7-for-7 from the free-throw line in the fourth quarter.
"They woke up (in the fourth quarter)," Cantadore said of his players. "I'm definitely proud of the way they played in the fourth quarter, but we can't wait until the fourth quarter to do that."
Hickory Grove          14     23     23     17 -- 76
cfa Academy             20     13     22     15 -- 80
HICKORY GROVE -- AJ Smith 30, DJ Cuttino 22, Stinson 13, Cam Goodwin 6, Jordan Nelson 3, Jasiah Wilson 2,
CFA ACADEMY -- Benham 22, Hien 18, Boothe 18, Le Gregam 9, Tyler Fearne 9, Javian Cannady 4