CONCORD – The Cream of Cabarrus fourth-ranked Cox Mill boys basketball team jumped out to a 24-point lead after just eight minutes Tuesday night, en route to coasting to an 83-37 victory over Jay M. Robinson.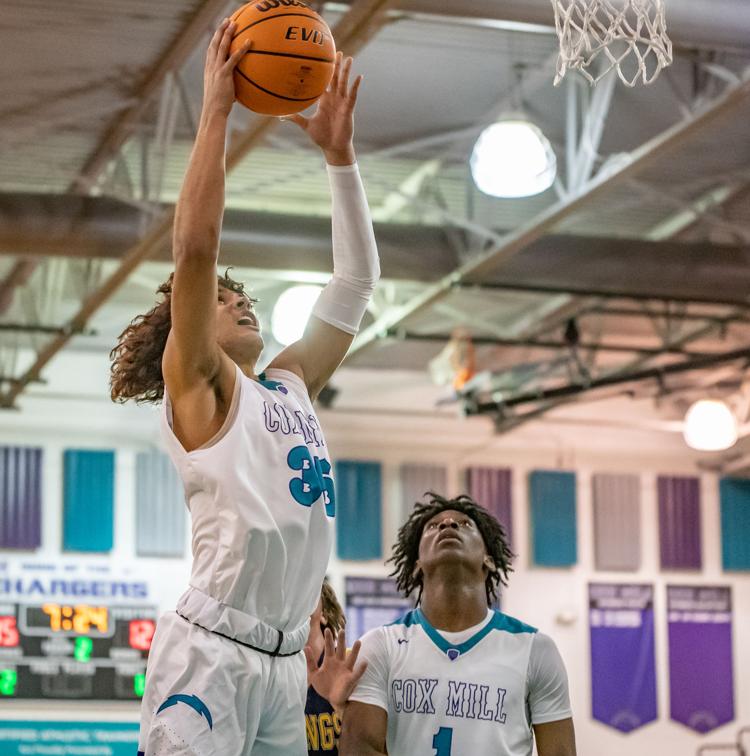 The 46-point margin of victory was the Chargers' largest of the season.
Cox Mill, which is in first place in the South Piedmont 3A Conference, improved its record to 18-3 overall and 6-1 in league play.
Jay M. Robinson dropped to 9-11 overall and 1-6 in the SPC.
Cox Mill had 11 players score at least four points, with junior guard John Anthony Baker leading the field with 19 points.
Senior guard Bailey Gentile and sophomore guard Marcus Morgan netted 11 points apiece for Cox Mill, while sophomore forward Karon Boyd added 10.
Jake Dameron led the Bulldogs with seven points.
The Chargers play at Concord Friday night, while Jay M. Robinson plays host to No. 6 Northwest Cabarrus.
Cox Mill             28     17     23     15 – 83
JM Robinson     4     13       9     11 – 37
COX MILL – Propst-Allison 4, Hunter 7, Lawrence 4, Marcus Morgan 11, Poindexter 5, McClanahan 3, Nelson 5, Karon Boyd 10, Bailey Gentile 11, Riddle 4, John Anthony Baker 19
JAY M. ROBINSON – Boateng 5, Abee 4, Reed 1, Ingles 2, Dameron 7, Richardson 5, Geertz 2, Budd 3, Wheeler 6