HARRISBURG – It looked bleak for the Hickory Ridge boys ball team.
The Ragin' Bulls were down nine points with 3 minutes, 20 seconds to go, but their defense held the Butler Bulldogs to zero points the rest of the game to complete an improbable 62-59 comeback win at home Monday night.
"It was exciting," said Hickory Ridge coach Robert Machado. "Two really good teams going after it, and really it was the will of who wanted to win at the end, and we made a couple more plays."
This game was originally scheduled for last Friday, but the heavy rains the night before forced the schedule change.  Hickory Ridge is now 18-4 overall and stays in a tie with Independence atop the Southwestern 4A Conference with a 10-2 mark. Butler falls to 10-12, 6-6 SW4A.
The win was the Ragin' Bulls eighth in a row. It also was especially gratifying because, exactly a month ago, they lost to Butler by a whopping 26 points.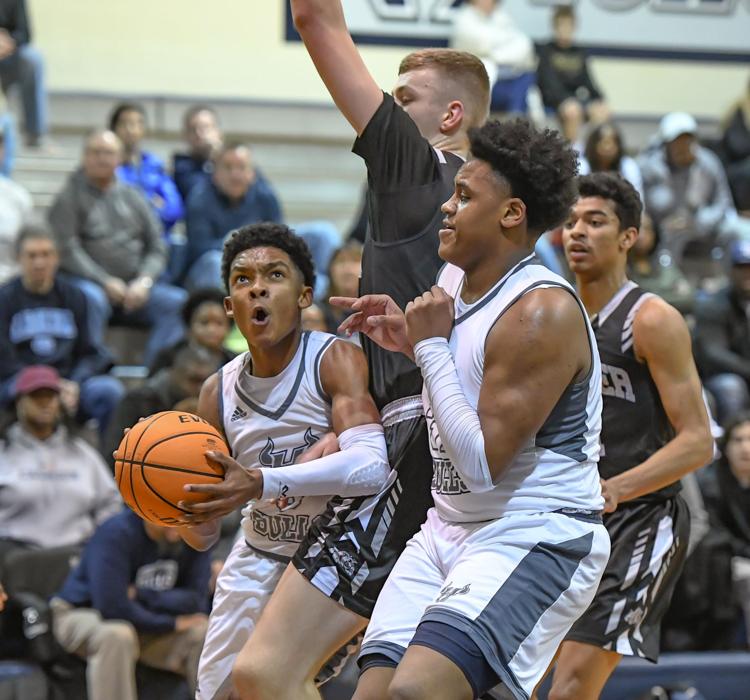 In the first half, Hickory Ridge struggled to handle Butler's 7-foot Patrick Wessler, falling behind 25-19. Wessler then ran into foul trouble, and the Ragin' Bulls went on an 18-10 run, owning the paint, highlighted by two Tucker Johnson slam dunks. They entered half up 37-35.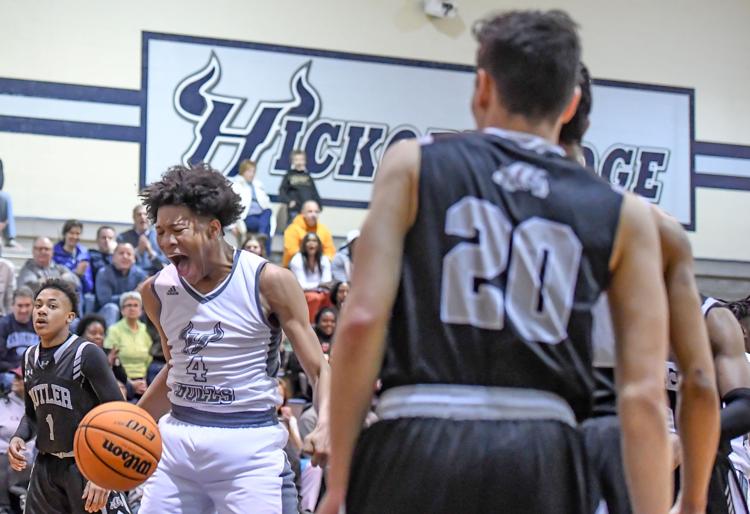 In the third and fourth quarters, Wessler controlled the paint again, bringing Butler's lead to 59-50 with 3:20 left.
"We just knew we had to fight back," said Hickory Ridge junior Daniel Lubamba. "We knew we had it in us, but we had to give it everything we had and go out and play defense."
And that's exactly what they did.
After Caleb Foster hit a 3-pointer for the Bulls, Machado called timeout to gather his troops and switch the defense to a full-court press.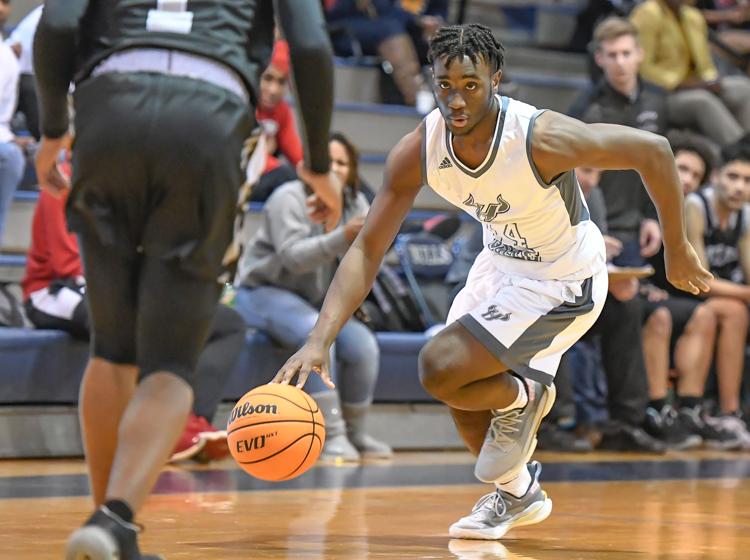 Off the bat, Jaylen Talley got a steal. Next possession, the Bulls forced a turnover, and Foster made two free-throws. The press forced a quick Bulldogs shot that missed short, and Johnson had another dunk to make it 59-57 with two minutes left.
"The full-court pressure helped us," Machado said. "It got us going a bit. We were playing on our heels most of the night. (Wessler) was getting inside the paint as much as he wanted to, and it was killing us, so we had to extend it and create turnovers."
The defense forced another turnover, and Lubamba tied the game with an offensive rebound and putback while getting fouled.  Lubamba missed the free throw, but the Bulls gathered the rebound. Machado called timeout and drew up a perfect inbounds play.
Johnson rolled off a screen and headed toward the paint. Shane Fernald lobbed a pass from midcourt, just over the arms of Wessler. Johnson caught it and made the layup to give Hickory Ridge a 61-59 lead with 41 seconds left, its first lead since the start of the second half.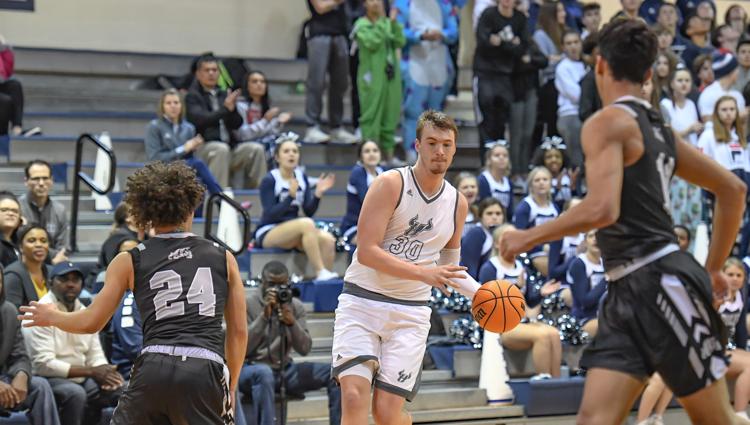 "That's one we've been working on a while," Machado said. "It's just an opportunity for our shooter coming off that front screen, and it's a back screen lob to our big. Tucker is one of the better jumpers in the gym. We threw it up to him, and just to get it over the 7-footer's arm is a good play."
With 25.2 seconds left, Butler had an inbounds play near its basket.  The Bulldogs tossed it up to the top of the key, and Lubamba pulled off an impressive play to seal the game.
The 6-foot-4 Lubamba tipped the ball over the Butler player and to himself, and there was nobody between him and the basket. He went and slammed down a dunk, and the gym went wild.
"When they inbounded it, I could tell it was a little weak, so I knew if I just tipped it up, I could push it and go out and dunk it," Lubamba said.
"It was a surreal feeling. I felt like I was on Cloud 9."
The Bulls have two more games against East Mecklenburg and Porter Ridge. If they win out, they're guaranteed a share of the conference title.
"We're just trying to hold serve," Machado said.  "To go where we were three years ago (as new members of the SW4A) getting our heads beat in to having an opportunity to win a conference championship is pretty special."
Butler                 16     19     12     12 -- 59
Hickory Ridge 12     25     10     16 -- 63
BUTLER – Patrick Wessler 17, Jesse Taylor 13, Ty Black 12, Chastin Gatewood 10, Payne 3, Evans 2
HICKORY RIDGE -- Caleb Foster 21, Daniel Lubamba 16, Tucker Johnson 12, Fernald 6, Gunter 5, Clifton 3