CONCORD – The Jay M. Robinson boys basketball team scored the same number of points in each of the first three quarters of its game with the Jesse Carson Cougars Tuesday, but Bulldogs coach Lavar Batts Sr. could have done without such consistency.
Jay M. Robinson entered the fourth quarter still down a basket as Batts waited for his team to play up to its potential. But a run of dominance on the boards and a double-digit scoring run midway through the period allowed the Bulldogs to pull away for a 64-57 non-conference win.
Jay M. Robinson's sub-par free-throw shooting made the game's final 120 seconds feel like they lasted 100 years as the Bulldogs were still able to secure Batts' 100th career victory.
"It's been a great accomplishment," said Batts, who's in his sixth year as head coach. "Without the administration and the great kids I've had come through here, none of this would be possible."
Jay M. Robinson (8-5 overall) hosts Central Cabarrus in its South Piedmont 3A Conference opener on Friday. Carson waits to begin North Piedmont 3A action next Tuesday when it travels to North Iredell.
Seniors Justin Boateng (34 points, nine rebounds) and Mark Chambers (10 points, nine rebounds) combined for 19 fourth-quarter points as the Bulldogs out-scored Carson, 25-16. The Bulldogs closed the game almost as well as they opened it.
Led by Boateng's seven points, Jay M. Robinson held leads of 10-0 and 12-1 before Carson scored its first field goal: a 3-pointer by Javon Smith (14 points, seven rebounds) almost five minutes into the game. But the Cougars scored the first quarter's final 10 points and led 14-13 at the break.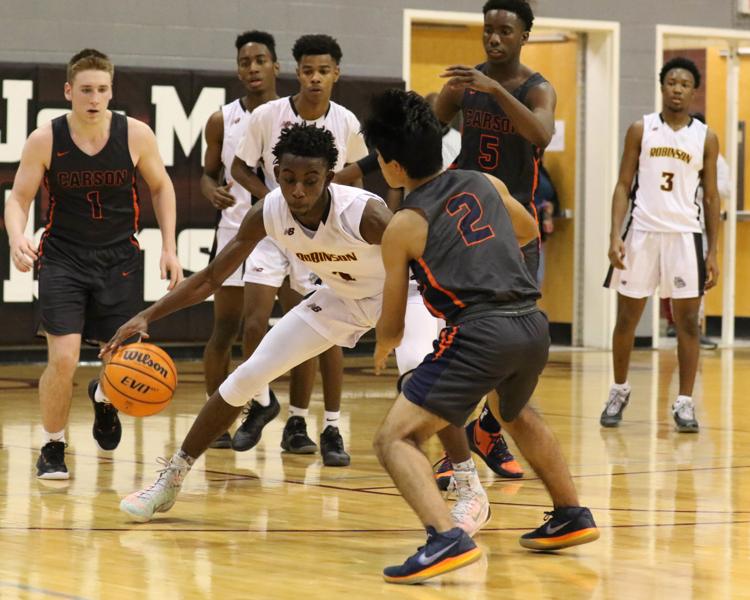 Over a stretch of eight minutes, 40 seconds between the first and second periods, Jay M. Robinson missed 12 of 13 field goal attempts and turned the ball over five times. Most of those missed shots were incomplete, awkward drives to the basket or ill-advised 3-point attempts.
Fortunately for Jay M. Robinson, Carson was no better in the early part of the second quarter, making only one of nine field goal attempts and committing four turnovers before Emory Taylor rained in a 3-pointer at the 2:05 mark to knot the score at 20. Despite Boateng's three-point play with a minute left, the Bulldogs trailed 27-26 at halftime.
"That's been our problem this year," said Batts. "We start out strong, and we have not turned in our killer mentality yet. I'm not sure why. But that's what we've been working on daily. When you've got guys down you have to keep them down."
Ky Richardson's three-point play opened the second half, but Jay M. Robinson quickly fell in another rut. The Bulldogs were held scoreless over the next 4:33 and fell behind 37-29. Boateng's six points, including four free throws, allowed Jay M. Robinson to pull within 41-39 heading into the final quarter.
"I don't like that at all (scoring 13 points in each of the first three quarters) because we should be scoring a lot more than that per quarter," said Batts.
Chambers, a regular starter who Batts said was benched for all the first half for team disciplinary reasons, came alive in the final period. He grabbed five rebounds and made two sets of free throws in the first three minutes.
As Jay M. Robinson built a slight lead, Chambers and Boateng asserted themselves even more. Boateng's three-point play and subsequent pair of layups (two that were assisted by Chambers) preceded a couple of plays in which he assisted on some nifty buckets by Chambers under the basket. The Bulldogs' largest lead was 58-48 with 3:09 remaining.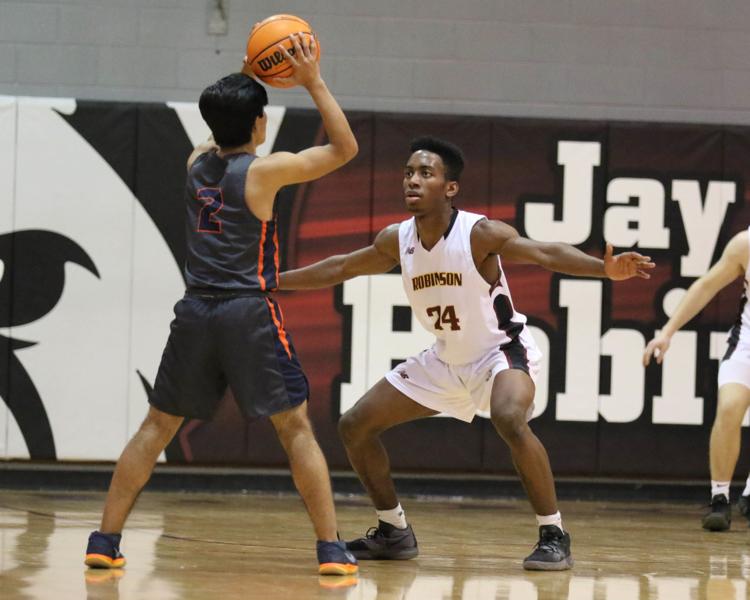 "I think going forward in the fourth quarter was a key factor in the game," said Chambers. "Because those possessions really counted when we needed them, and we got those big plays."
Guard Denis Zuniga tried to keep Carson close, scoring all of his nine points on 3-pointers in the quarter. His final basket cut the Cougars' deficit to 60-54 with 2:37 remaining.
Jay M. Robinson was a dismal 4-of-12 on free throws over the game's final two minutes and did not make a field goal during that span. Fortunately for the Bulldogs, Carson largely settled for 3-point shots and missed five of six attempts during the same stretch.
 E.J. Clark, whose 3-pointer closed the gap at 63-57 with 21.2 seconds left, led Carson with 21 points and added seven rebounds.
Jesse Carson   14     13     14     16 – 57
Jay. Robinson 13     13     13     25 – 64
CARSON – Mauldin 7, Zuniga 9, Javon Smith 14, E.J. Clark 21, Taylor 3, Burris 2, Allen 1
JAY M. ROBINSON – Justin Boateng 34, Reed 2, Ingles 6, Dameron 2, Ky Richardson 10, Mark Chambers 10