CONCORD – Charlotte native William Byron has picked up at least one win this weekend by clocking the fastest finish in the Bojangles' Qualifying for Sunday's Bank of America ROVAL 400 at Charlotte Motor Speedway.
Byron, who also won the pole for the Coca-Cola 600 in May, finished his lap on the ROVAL Friday evening in 1 minute, 20.932 seconds at an average speed of 103.198 miles per hour.
"It was really good," Byron said. "We've had a good day here in Charlotte. The first run in practice went pretty smooth. I just kind of had to go back to the bus and think about it, then talk to my guys about it, and we did some things to the car. We just made those little improvements that we felt like have led to our success in qualifying.
"The car has been getting a little better, and I've been getting a little better," Byron added. "It just all came together at the same time. I almost messed it up on the last chicane when I locked the tires up, but I knew I had to get in there pretty hard. Fortunately, we came out with the pole, and I'm really excited about Sunday now."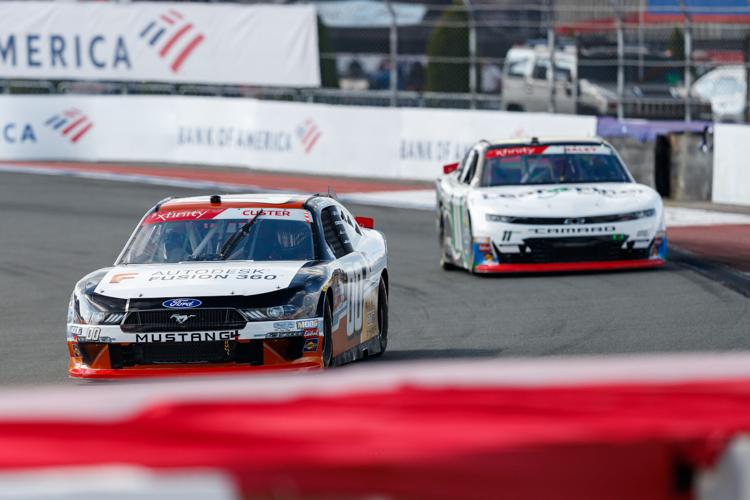 Friday was the 21-year-old Byron's fifth career pole and his fifth this season. He's the youngest driver to win a Cup Series pole on Charlotte Motor Speedway's 1.5-mile superspeedway and the 17-turn, 2.38-mile ROVAL.
Byron's Hendrick Motorsports teammate Alex Bowman was second in qualifying, while reigning Monster Energy Cup Series champion Joey Logano was third. Jimmie Johnson and Clint Bowyer and Kevin Harvick were fourth, fifth and sixth, respectively.
Kyle Larson was seventh, followed by Martin Truex Jr. and last year's ROVAL 400 winner, Ryan Blaney.
Kannapolis native Daniel Hemric will be joined by Chase Elliott in the 10th row, and Northwest Cabarrus High graduate Bubba Wallace will be in the 13th row at Sunday's start.
On Friday at Charlotte Motor Speedway, most of the talk was about the new layout of the racetrack.
The second edition of the Bank of America ROVAL 400 includes an alteration to the chicane in the backstretch that brings a dramatic change in speed to the cars as they go through the two turns.
The ROVAL had an exciting finish in its inaugural race last fall, with Jimmie Johnson taking out Martin Truex Jr. in the final lap, leading to Ryan Blaney winning the race. But the changes this time around make for even more excitement, not so much so for the drivers, though.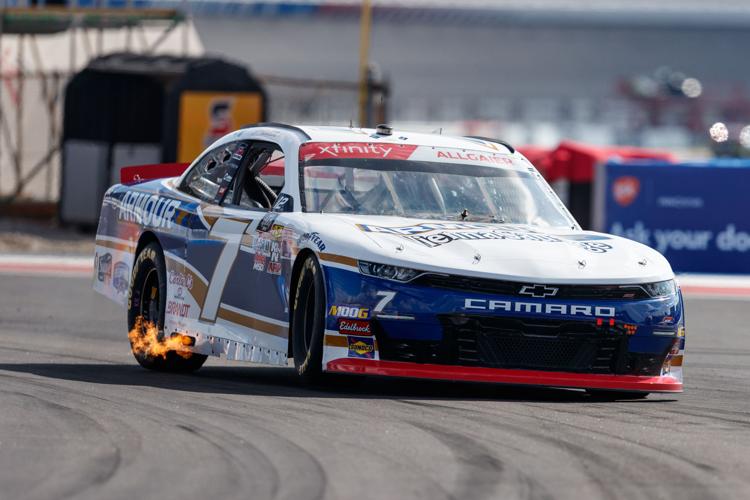 The new backstretch chicane includes a hard left turn followed by a hard right. Both require an extreme downshift and change of speed to make the turn effectively. The reaction of the drivers Friday's practice showed that this change presents plenty of challenges going into Sunday's race, and maybe another memorable finish for the fans.
"Last year you just kind of slowed down a little bit, downshifted one gear … and tried to go through there with about six inches to spare," said driver Kyle Busch. "This year, it's really, really tight still, so you downshift to second, some guys are going to first, so it's really slow -- slower than the front stretch, in fact. So it's vastly different for sure."
In addition to the new turns of the chicane, it has been widened to 54 feet at its widest point, opposed to 32 feet a year ago.
"It's sketchy, man," Clint Bowyer said. "It's hard to explain. About the time you get comfortable or confident, you know better. It's that treacherous on the racetrack. You have to be mindful and be aggressive but be careful at the same time."
"You're going from a really, really fast pace down to a snail's pace very quick," Bowyer added.
Racing greats to handle pre-race festivities
The pre-race festivities of Sunday will be packed with all-time greats of the racing world.
The 2020 NASCAR Hall of Fame class is Tony Stewart, Bobby Labonte, Joe Gibbs and Waddell Wilson. Those four will serve as the grand marshals for Sunday's Bank of America ROVAL 400, the cutoff race of NASCAR's first round of playoffs.
They are joined by another racing great, Mario Andretti, winner of the 1969 Indianapolis 500, who will be the honorary pace car driver.
The national anthem will be sung by country music artist Lindsay Ell.
Sunday's race begins at 2 p.m.
IndyCar takes to the ROVAL
Early Friday, Josef Newgarden had a smile on his face at just the talk of getting a chance to run his Shell Pennzoil IndyCar on the ROVAL track, and in the evening, he got his chance with the team's backup car.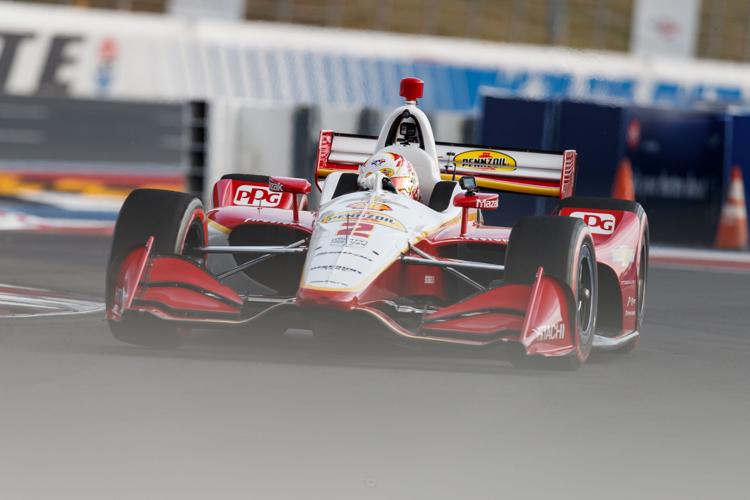 Newgarden won Team Penske's second title in less than a year earlier this week after being crowned NTT's IndyCar champion. With that, he celebrated by running six laps around Charlotte Motor Speedway after Bojangles' Qualifying.
"It honestly felt really good," Newgarden said. "I didn't know what it was going to feel like. Everything was pretty smooth, for the most part."
In his IndyCar, Newgarden recognized the course's unique differences and some things he says his own circuit doesn't have, either.
"It's for sure different than anywhere we go," said Newgarden. "I wouldn't say it's similar to anything. It's clearly a road course, but it's got some street-course sections to it.
"Turns 1 and 2 remind me of a street course," Newgarden added. "You've got the oval, which reminds me a little bit of the Indy GP that we run, and then everything else is something new. It didn't remind me of anything as a whole, but it had some characteristics of some places we go."