KANNAPOLIS – During the A.L. Brown football team's first-round state playoff game at Asheville T.C. Roberson last week, Wonders coach Mike Newsome saw something he didn't like.
It wasn't the fact that Rams quarterback Brody Whitson was on his way to having the biggest passing night any opponent has had against the Wonders this season – 446 yards and six touchdowns.
It wasn't even the fact that the Wonders were losing for much of the first half.
For Newsome, it was about the way his players' shoulders slumped and heads hung when the going was getting tough.
Sure, the Wonders could've been tackling better and running their offensive plays better. But seeing his athletes' reaction in between plays and the sidelines triggered something in the Wonders' head man.
"I think kids nowadays, when things aren't going as well as what they expect them to go, they all kind of get defense mechanisms," Newsome said. "I think for a lot of our kids, they get kind of an I-don't-care attitude, when I know that they care and I know it means something to them."
Seeing his players this way with their season hanging in the balance, Newsome, in his words, "kind of got onto them a little bit about their will to win."
Although the Wonders gave up the most points they'd allowed in more than a year -- when they gave up 58 in a loss to Northwest Cabarrus in October 2018 -- they rallied to take a 56-50 victory over T.C. Roberson to advance to the second round.
The Wonders, who are the West Region's 10th seed, travel to Boone tonight to face second-seeded Watauga in what likely will be another outing that will test their resolve.
Only this time, thanks to last week, the Wonders know they have what it takes to fight through the toughest of times at the most critical time of the season.
"I think kids sometimes kind of look at the negative parts – the glass half-empty versus the glass half-full kind of thing. Some of our top players were doing it. But I think (last week's experience) will also pay dividends for us as we play another tough team this week.
"That's what I'm most proud of them about: They pushed past that point of doubt into success."
Watauga, which was the champion of the Northwestern 3A/4A Conference and owns an 11-1 record, figures to be an even tougher challenge than T.C. Roberson – and maybe any team A.L. Brown has faced this season. If the Wonders are to advance to the third round for the first time since 2012, they'll likely have to do it by winning another shootout.
The Pioneers, it would seem, are professional scorers. This season, they're amazingly averaging about 53 points per game.
They've scored at least 61 points in a game three times, and they've failed to put up fewer than 42 just once – in their only loss of the season, a 63-35 affair against Pfafftown Ronald Reagan.
But it's not like the Wonders can't score. In fact, in their past three outings -- wins over Jay M. Robinson, Concord and T.C. Roberson – they've averaged nearly 55 points per game.
And while the victories over Jay M. Robinson and Concord were blowouts, last week's game in Asheville showed the Wonders they're capable of producing points under stressful circumstances.
"I think just winning like that, showing that we can go through a lot of adversity and still come out victorious on the other side, I think it does worlds for our kids' attitude," Newsome said. "I think (the problem going into last week) also maybe goes back to our last two games of the regular season kind of being easy games for us, where we played Robinson and Concord. I think our kids kind of looked at T.C. Roberson's record (5-6) and kind of thought it was going to be another easy win for them. And when it wasn't what they expected, they kind of didn't handle it the right way at first. But I'm glad they handled it the right way at the end of the game."
The Wonders' points last week came mostly via the run. Senior Jakhiry Bennett, who already was Cabarrus County's leader rusher, had a game for the ages. Bennett had more than 400 combined yards, including 322 rushing, with five total touchdowns. He also ran for the game-winning score with just 1 minute, 19 seconds left.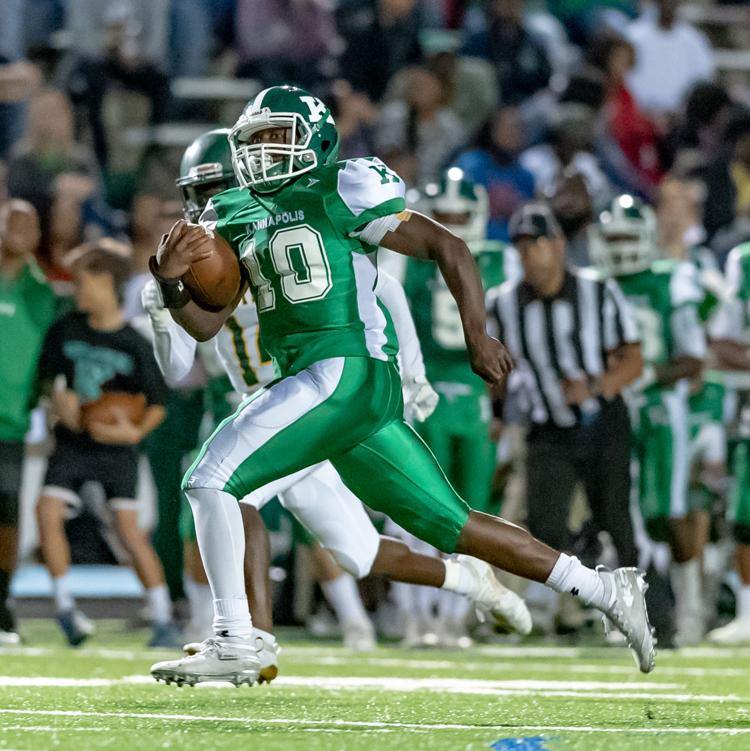 "We needed him to do it," Newsome said. "We really did. But I think what you miss a lot when a running back has a great game like that is how great the offensive line had to play. The offensive line did a great job on top of his awesome performance."
There was plenty of praise to go around on this night, though.
Fellow running back Todd Kennedy ran for a pair of touchdowns, and sophomore quarterback Cam Kromah gained confidence as his first postseason game wore on, going an efficient 7-for-11 passing with 178 yards and a pair of touchdowns.
The Wonders will definitely need that confidence to carry over into tonight's game against a highly respected program.
Newsome is extremely familiar with the Pioneers and their coach, Ryan Habich, whom the A.L. Brown leader has gotten to know through various clinics.
But the Wonders actually have another person on the staff who's even closer to Habich: Zeb Ritchie, a 2013 A.L. Brown graduate who was on Watauga's coaching staff while he was a student at Appalachian State.
Ritchie's now an assistant coach at his alma mater.
"While he was in college, (Ritchie) wanted to help coach high school football, so I contacted Coach Habich," Newsome said. "I told him about our kid, and he accepted him. (Ritchie) went up there and was a great assistant coach for him for years. And now that kid is back working with us.
"So we've got a good idea of what they do and how they do things," Newsome added. "But they're a good football team, and they're going to do some good things (tonight). And you've got to go in there and play really well in order to beat them on their home turf."
The Pioneers have been known over the years for their fierce rushing attack, and it's clear they've used that this year. Watauga boasts two runners with at least 1,200 yards – seniors Anderson Castle (1,801 yards and 29 touchdowns) and Jaiden Bond (1,245 yards and 14 TDs).
The good thing for the Wonders, though, is they know their own offense can be potent when necessary. But their coach wants them to be strong in all phases, especially emotionally.
"Sometimes it's just the body language of the kids – seeing them down, seeing their heads down," Newsome said. "I read a lot into body language. I think sometimes it speaks volumes about what a person is trying to say without the words. Maybe I look into that too much, but I like to see a kid think positive all the time and to get past that negativity.
"I'm really glad our guys they did that. It definitely shows our kids we can score at any time, and we can win at any time."