CONCORD – Their journey into Union County will begin early today.
The Northwest Cabarrus football players and their No. 5 seed from the West Region of the Class 3AA state playoffs will arrive at Weddington High School long before game time, and there will be a boisterous group of fans and unmeasured hope en tow.
This is the second season in a row that the Trojans (11-1) have reached the third round of the postseason, but the return trips to their home last year wasn't very pleasant. They lost, 49-28, to Kings Mountain and had their 13-game winning streak snapped, and the painful memory has stayed with the team.
But the 2019 Trojans have a renewed focus and a mostly healthy squad as they venture into 4,000-seat Weddington Stadium, home of the No. 1-seeded Warriors (13-0) and the No. 1-rated all-purpose running back in the nation.
"It feels good to be back in the third round again," said Northwest senior tight end/defensive end Karsen Perkins. "I think we sold ourselves short last year. I feel like this year, we have a better chance. If we go out there and play the kind of ball that we know we can play, we should be fine. It's all about defense.
"I think if we just come in there locked in, we'll be fine," said Hill. "It doesn't matter the place that we play; it just matters how we play."
The Trojans, of course, have been successful in their first two rounds of the playoffs, but Northwest Cabarrus coach Brandon Gentry acknowledges that the offensive unit has had to carry the bulk of the weight.
In the first round, the Trojans barely survived Marvin Ridge, 31-30. Next, Northwest simply lit up the scoreboard in a 56-35 win over Northern Guilford. The Northwest defense was pretty stout throughout most of the regular season, but the last three outings have been tough, as it's given up more than 35 points per game, which includes a 41-34 loss to Cox Mill in the South Piedmont 3A Conference title game.
The thing is, those last three games were in the friendly confines of Trojan Stadium. Tonight's contest will be in a raucous facility filled mostly with Weddington green and white, and the Warriors will be led by five-star running back Will Shipley.
Only a junior, Shipley has been rated the top all-purpose running back in the Class of 2021 and the No. 3 overall running back by 247Sports.com. He has scholarship offers from the top college programs in the country. That distinguished list of suitors is headlined by Alabama, Clemson, Georgia, Ohio State and Wisconsin.
At 5 foot 11 and 200 pounds, Shipley has power and speed, obviously posing a serious challenge to the Trojans. Shiftiness isn't necessarily a part of Shipley's game, but Gentry knows that sometimes the old-school approach can often be more dangerous.
"He exploits your weakness; that's what makes him good," Gentry said of Shipley. "If you get out of position, he's going to hit the hole. And he has track speed, so he's going to go to the house if you're not in the right position. So we're basically coaching our guys to get to the right spots, and we've got to gang tackle. We can't anticipate one guy (getting the tackle).
We've got this motto around here of '959' – nine players within five yards of the ball 90 percent of the time. So we're trying to get nine players to the ball at all times.
"We're going to have to gang tackle that joker; he's big and strong and fast, and it's just going to take a team effort to get him down."
The Trojans have watched enough film on Shipley to know how to contain him. But stopping him has been an entirely different task, as he's racked up more than 1,300 yards and 20 touchdowns.
"I know that he's a strong runner, and he's going to play hard," said Northwest Cabarrus defensive standout Andre Hill. "All the film, I've watched on him, he plays hard, and he doesn't really back down from any kind of challenge. He's going to play until the last second of the game, so I know we've got to combat him with everything we've got. Because once he hits that gap, nobody's going to be able to touch him, so we've got to make sure we stop him at the line."
Gentry said his defense, though, will have to be much better than it has over the past three weeks, when the Trojans have effectively had to try to win shootouts.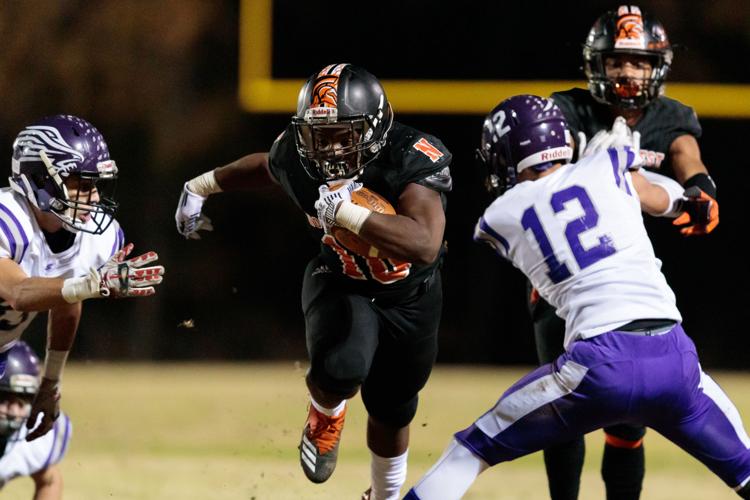 Most Friday nights, that's not a problem. Led by quarterback Nick Wilds-Lawing, big-play receivers Cam Saunders and Marquan Williams, and a running back trio featuring L.J. Curries, George Miller-Duncan and electrifying star Tyrese Blake, Northwest's offense is lethal. The Trojans are averaging nearly 41 points per game this season and have scored fewer than 31 on just one occasion.
Weddington averages 44 points per game. And Gentry knows allowing Weddington and Shipley to get rollling can be a recipe for disaster, especially since the Warriors' defense gives up just five points per game.
"We definitely can play better, especially on defense," Gentry said. "We made some mistakes last week, and we blew some coverages, and those kinds of things can't happen. I want to see Karsen get loose. He had one sack for us last week, and he's going to have to be big for us. We can definitely improve defensively.
"The offense has been clicking," he added. "There's always some things we can do better there. But if we get the defense playing to the level of the offense and with the special teams playing well, I think we can do some things."
But Gentry said the Trojans can't expect to only worry about Shipley tonight.
"It's not just him; they've got other weapons they can get to the house," Gentry said. "But we just want to make sure their best player doesn't put them on his back and take them to another round. We want to take away what they do best."
The prospect of taking on the unbeaten Warriors on the road doesn't strike fear in Northwest Cabarrus, even though the Trojans haven't played a road playoff game over the last two seasons until tonight. All five of their previous postseason games have been at home.
But the Trojans welcome the prospect of stepping across enemy lines with so much at stake.
"I think it's more of an advantage for us, because now we get to challenge them at their own place," Hill said. "I kind of like that aspect of it."
Gentry said the reason his players aren't worried about tonight's environment is because of their strong mental makeup.
"Honestly, I don't think our kids will be bothered by it," he said.
Gentry has a thought and then chuckles to himself.
"It's funny," he begins, "but it's a good problem to have -- we've got some kids that kind of don't have any sense. They're just going to be out there to do their thing. I don't think the crowd will really affect them."
Playing on the road, the Northwest leader said, actually can be a good thing.
"Sometimes, it helps you to focus a little bit more getting away from the home environment," Gentry said. "You don't have a lot of people on your phone saying things to you. We're going to eat a little earlier, we're get on the bus a little earlier and travel down. So hopefully we'll be able to lock in a little more and have fewer distractions.
"A lot of times, when you walk into a different stadium, the air just smells different, it feels different, and it's just time to say, 'All right, let's go.' Hopefully, it tunes us up a little more and we're ready to go."
The Trojans don't expect to be alone when they arrive in Union County this evening. They anticipate a lot of fans being with them, just like supporters have all week – and all season, for that matter.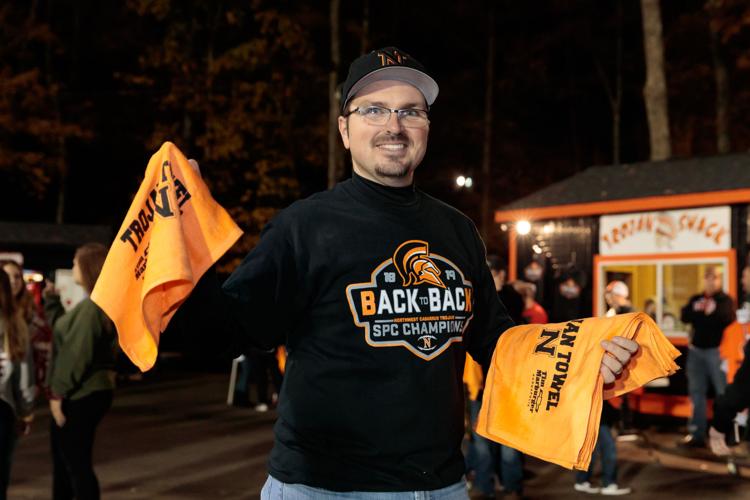 The Northwest players said they have been touched by the fan support they've received this week. Members of the team's booster club have helped provide breakfast and lunch before and after practices, and there have been banners and words of encouragement all over the campus – and beyond.
"I even had somebody talk to me at Cook Out about one of the games one night," said Perkins, who has committed to Liberty University.
"Everyone in the community's helping out," said Northwest defensive back Caden Parker. "It feels great when everybody's on your side and helping out, like fans. And it means a lot to us as players to know we've got that support."
It means a lot to the coaches, too.
"Honestly, we've probably got the best booster club in the world," Gentry said. "Those guys are taking really good care of us. They're feeding us really well, and they're always checking in to see what we need. They check to see if there's anything they can do to make sure the kids are OK and to help make sure things run really smoothly.
"Just little things like that take some things off my plate so we can make sure we're good to go Friday."
So they are ready. The Trojans know they have a major task in front of them, but they're more excited about it than fearful.
"It feels good," Parker said. "To be in the third round is everything. We want to do everything we can to get to the fourth round and be 1-0 every week. We're practicing hard. It's going to take everyone giving their all. And I think we will."