Editor's note: This story is part of an Independent Tribune series titled "Senior Spotlight" on high school athletes who are currently missing their senior seasons because of the novel coronavirus.
CONCORD — Madie Kirkman has dreams of writing for a distinguished publication.
The Jay M. Robinson High senior soccer star is planning to attend the University of North Carolina at Chapel Hill's Hussman School of Journalism and Media, which is regarded as one of the best Journalism schools in the country.
The Hussman School has produced several notable alumni, including 24 Pulitzer Prize winners and late iconic ESPN broadcaster Stuart Scott. Kirkman is looking to fall right in line with those prestigious predecessors.
Kirkman has used a love for friendship, writing, and Chick-fil-A to carry her to this point. Despite her senior season being canceled due to COVID-19 concerns, she is staying focused on what is to come.
Sitting down for a question-and-answer session with the Independent Tribune, Kirkman gave insight into her experience at Robinson as well as what she believes her future holds.
Where were you when you heard the news about the season being suspended?
I was in line at the Chick-fil-A drive-thru. Our coach had canceled practice that day, so I went to Chick-fil-A. My parents texted me while I was in the line and told me about it. It seemed really sudden, and it turned out the day before I had just played my last soccer game.
What are your plans after graduation?
I'm going to attend UNC-Chapel Hill in the fall and major in Media and Journalism.
Do you play any other sports?
I played tennis my junior and senior years.
Is there a certain athlete you look up to?
Anyone on the USA Women's National Soccer Team. Especially Megan Rapinoe, both for her set-pieces and courage on the field. Also, Carli Lloyd for her determination.
What has it been like to play soccer at Robinson?
It's been a really good experience. I've made a lot of good memories with everyone on the team. I'm definitely going to miss it when I graduate.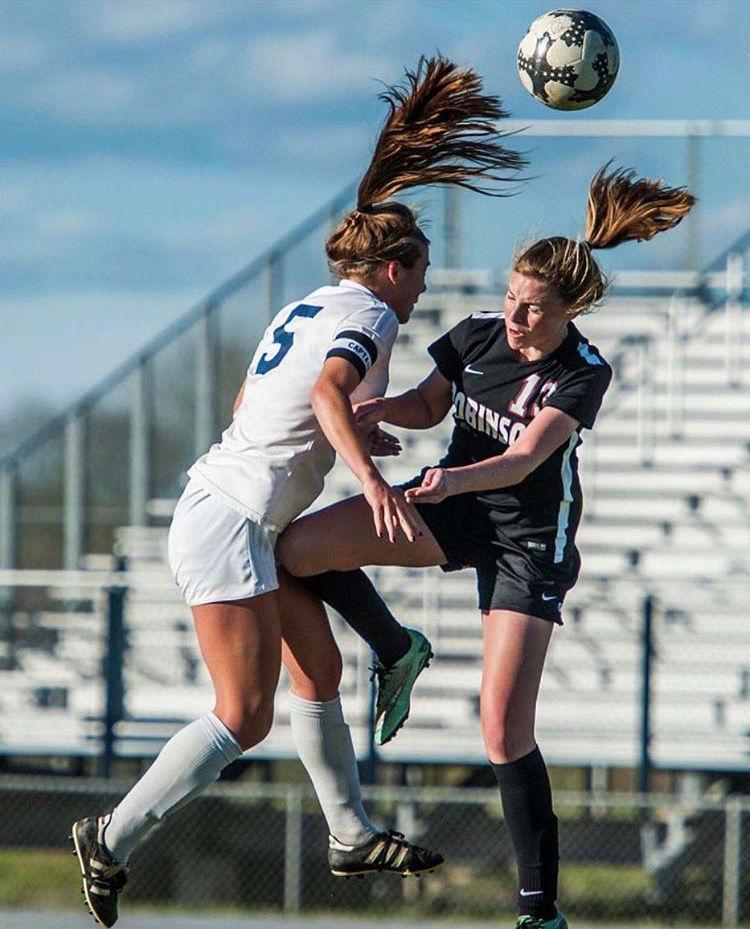 What is your favorite memory from playing soccer for Robinson?
Probably my sophomore year when I scored on a free-kick at the end of the game to win against Concord High. That felt really good. Everyone got really excited after that goal.
Do you have any pregame rituals?
As a team, we always have a senior pray in our team circle before the game. But personally, and a lot of people think this is weird, I always wear my (non-athletic) socks from earlier in the day under my soccer socks.
What are some of your hobbies?
I enjoy reading, watching Netflix, hanging out with friends, and playing tennis.
What is your favorite thing to watch on Netflix right now?
Probably 'Grey's Anatomy,' but I did watch 'Outer Banks' and I really enjoyed it.
If you could only choose one social media platform to use (Facebook, Twitter, Snapchat, Instagram, Tik Tok), which would it be?
I would say Tik Tok because I'm on it a lot, but Instagram would help me stay connected with people, so I'll go with Instagram.
If you were stranded on an island and could only bring three things, what would they be?
A boat so I could get off the island, a book, and my two dogs.
What has been your favorite class in high school?
Where is your favorite place to eat?
I would say either Chick-fil-A or E-Noodles.
If you won a million dollars, what would you do with it?
I would pay for college and probably try to save the rest.
If you could meet and have dinner with any person from history, living or dead, who would it be and why?
Martin Luther King, Jr. I respect how hard he fought for civil rights despite there being so many people against him.
Where do you see yourself in 10 years?
I'm not really sure. Hopefully, I'm writing for a well-known newspaper and have a family. Whatever I'm doing, I want to be happy.