KANNAPOLIS – The chant "Won-ders" reverberated from the section where 341 graduates were seated in rows.
Senior student body president Jamal Smith provided that answer on A.L. Brown's graduation day in front of a classmates, faculty and a large crowd filling up the football stadium.
"A Wonder is what a (Concord) Spider ain't, what a (Northwest Cabarrus) Trojan wants to be, what a (Central Cabarrus) Viking can't," Smith said in front of a large crowd inside A.L. Brown's football stadium. "Wonders, we are something that can't be identified because we have the ability to be whatever we want to be without someone telling us who we have to be."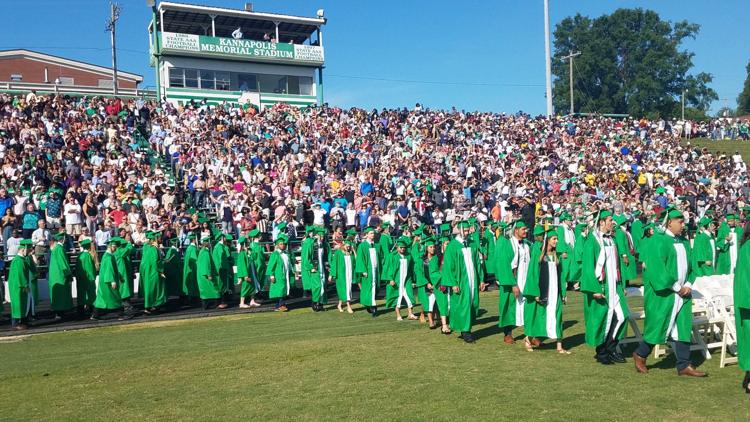 A.L. Brown's graduating Class of 2019 triumphed through trials and tribulations to walk the stage Saturday morning and receive their diplomas.
"It means a lot. I went through a lot during my four years of high school," graduate Neocia Tilliman said. "To be able to be here, it is a big accomplishment."
The graduates marched from the basketball gymnasium to their seats before Smith kicked off the commencement ceremony with his speech.
He talked about holding onto the future but remembering the past.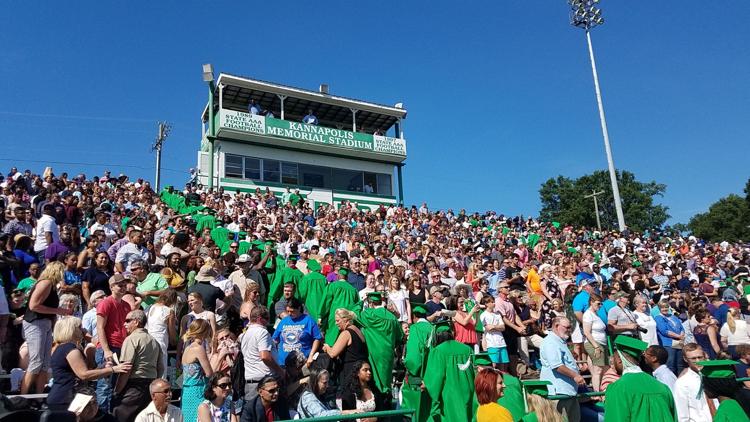 Smith then told the graduates to turn around and look at the people in the crowd who supported them along the way.
"Three things you will always need – support, self-actualization and motivation," Smith said. "Everyone in the crowd has been there for you, whether it's parents, grandparents, aunts and uncles or even faculty and staff."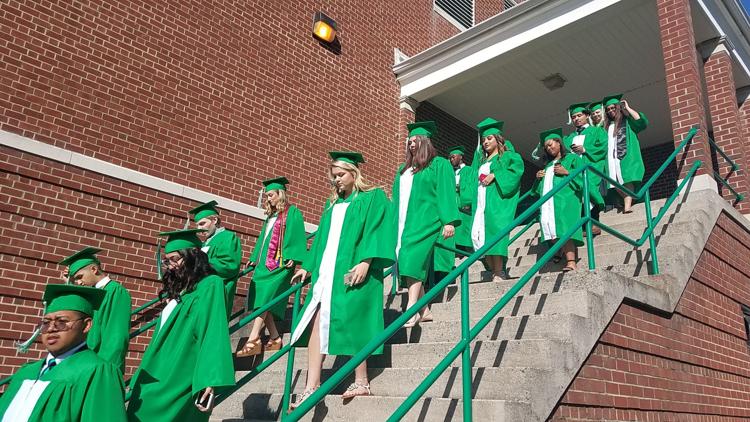 Among the 341 graduates, more than 100 graduated Summa Cum Laude, Magna Cum Laude and Cum Laude.  The Class of 2019 has been awarded more than $4 million in scholarships, and more than 25 of them received full rides to universities and colleges.
A.L. Brown principal Dr. Todd Parker, who said he's known most of the graduates since elementary school, gave his remarks.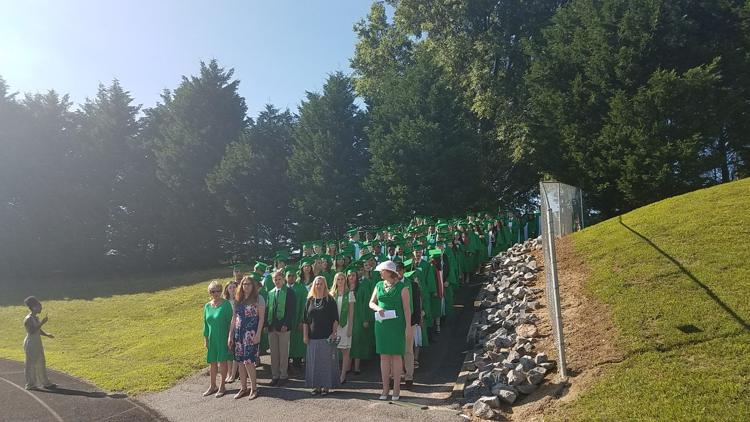 Parker was principal at Fred L. Wilson Elementary and then Kannapolis Intermediate School before starting at A.L. Brown four years ago.
"A lot of these kids I've had since they were in kindergarten," Parker said. "To watch them be able to walk across the stage, I feel like a father to about 341 kids. It's just an honor and a blessing."
When school starts in August, Parker said he already looks forward to graduation day, not just because it's the end of the school year, but because it's the day when the students' hard work finally pays off.
"Today is the best day of the year," Parker said. "These seniors have worked hard. They've done everything they can to walk across the stage. Faculty and staff has done a tremendous job preparing these students. I am so proud of them."
Tillman, who plans to attend North Carolina A&T with a focus in psychology, walked across the stage in front of supporters cheering for her as she was handed her diploma.
"Just to know that I made them proud, they led me here," Tillman said of her family. "I don't know where I'd be without them."
For graduate Josh Hollis, he persevered through high school and finished with his diploma.
The next step for him is to attend Central Piedmont Community College in Charlotte before transferring to Appalachian State.
"The four years of high school, it can be hard. You have a bunch of ups and downs with friends, relationships, keeping grades up and bouncing back," Hollis said. "Just knowing that if you keep your head strong, you will make it. Getting through it is the best feeling, especially on a day like today, just being with your friends."
No matter which direction the seniors go, Smith said A.L. Brown's Class of 2019 will have a close bond.
"We are not just Wonders, classmates, friends. We are a family that sticks together at all times," Smith said. "We are Wonder Nation."