Once a week Avie Helms carries a two-gallon water bucket in one hand and a half gallon in the other while she walks the halls watering the plants at A.T. Allen Elementary School. The students call her the plant lady and she is there 52 weeks of the year, making sure the school's plants stay green and luscious.
The 79-year-old takes great pride in the plants at A.T. Allen and has transformed the school environment with her love and care.
"If you are going to have anything, you've got to take care of it. That goes for a lot of things from marriage on down," Helms said. "You've got to take care of it. Plants are living things and they have to be taken care of."
But before she became known as the plant lady to this new generation of A.T. Allen students, Helms was actually a student at the school herself.
A lifetime of service to the school
Helms began as a student at A.T. Allen during the 1945-46 school year. She said at that time, the school went up through the 7th grade and then she went on to graduate from Bethel.
She eventually got married and had three children. When her youngest child started kindergarten, she thought it was time for her to get a job. So she took a position in the cafeteria of A.T. Allen.
"I got a part-time job and it was in the cafeteria for about two hours a day," she said. "When they were serving the meals, I would come in and help them serve and clean up."
After two years in the cafeteria, Helms was encouraged by staff to go into the classroom. At that time, she said Gov. James B. Hunt, Jr. was working to add teacher assistants in grades 1-3. So Helms interviewed with office staff and was eventually placed in a 3rd grade classroom when the teacher assistant positions became official.
"We were labeled primary reading aids. I was assigned to 3rd grade and I was the only 3rd grade reading aid, but we only had two 3rd grade classes," she said. "So I was assigned to one but anything that had to be done like running off sheets of paper and things like that, I did for the other one too."
Sometime in her 25-year career as a teacher assistant that followed, Helms began watering the plants in the library.
Those plants need something
The love for plants that Helms has came from her mother.
"She loved plants. She had so many plants," Helms said. "I guess that's where I learned to love plants."
When her mother fell ill, it also fell to Helms to take care of all the plants including the 100 African violets she had on a plant stand in her house. Her mother passed away in 2009 and Helms now has 42 African violets and 15 orchids on that plant stand on her own home.
Realizing the plants in the A.T. Allen library needed a little something, Helms watered them until she retired in 2002. There were only about five plants in the library at the time.
When she came back to visit one summer after retirement, she was told the plants still needed her.
"The principal and assistant principal said 'The plants look terrible' and they took me down there," Helms said. "I went down there and it looked like they needed a little extra. I put them all in my car that evening and took them home and repotted them."
That was the origin story of the plant lady. Helms decided that taking on the care of the plants would give her a way to get back into the school in a volunteer role without having to manage a classroom.
Every week when Helms comes in, she goes to her storage area in the library and fills up her water cans to prepare for what is now an almost 2-hour job since the plants in the library and across the school began to multiply.
Susan Meyer, media coordinator, said there are now 24 plants in the library. People that know about Helms' talents have even asked her to take home their plants and help save them.
"It's not that she's water plants. She has given them tender, loving care. This woman has polished leaves, she has transferred them from small pots to large pots, she has fertilized them," Meyer said. "It's the tender love and care. It's not just that she has been watering our plants."
When the new A.T. Allen opened about 10 years ago, Helms also took over the plants in the office. Then plants began appearing at the end of hallways. Meyer estimates that the school has about 50 plants.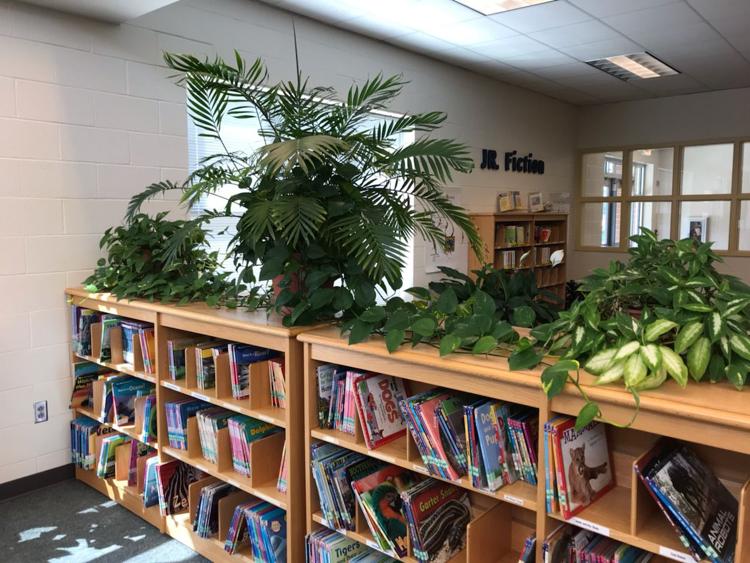 "I can't tell you how many hundreds of people have been in this library and said to me 'Are these real plants?' and they have to touch them because they look like florist plants," Meyer said. "They look like fake plants because they are so perfect, they are so beautiful."
And Helms make sure they stay healthy year-round, even going as far as to challenge a district staff member over summer power usage.
"In the summertime they turn off the light for energy in the library. But when I come I turn on all the lights and I leave with all the lights on and it's up to the custodians to turn them off," Helms said. "These plants need light. When I leave whatever happen, happens. But while I'm here, I'm going to have the lights on."
Thanks to all of the time spent at the school, Helms has also developed a relationship with A.T. Allen students; the ones who lovingly gave her the plant lady nickname.
Meyer said sometimes when there is free time, the students will go talk to them about Helms and she teaches them about plants and what they need to grow.
"What a wonderful example for children to see; her dedication, her seriousness about her efforts, the difference she makes in the library with the beauty of the plants," Meyer said to Helms during a recent interview with the Independent Tribune. "What an example you have been for our kids."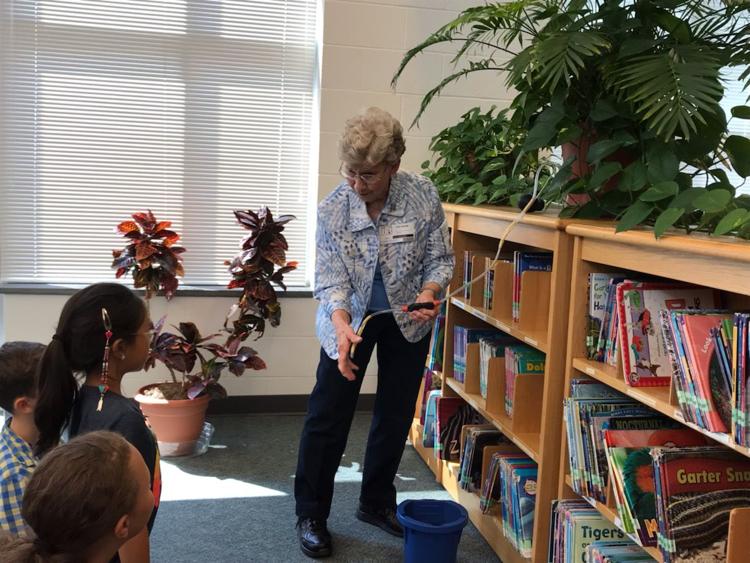 However, the years of the plant lady at A.T. Allen are coming to an end this summer. Helms has decided to retire from the school for a second time. With her 80th birthday approaching, she feels that the time is right to leave the plants she loves to deserving friends.
But the beauty she brought to the school community will always be remembered from those who walked the halls of the school over the years, and Helms will never forget her time at A.T. Allen.
"I enjoy plants but I also enjoy the camaraderie that I have with people I come in contact with. These are the best people you can find anywhere. A.T. Allen is the best school in the county," Helms said.