When Sheryl Kluge started her Blessing Box project with the first one at Concord Fire Station 5, she said her goal was to have one in every municipality in Cabarrus County.
She is well on her way to accomplishing that goal after the new Blessing Box at Cabarrus Health Alliance was officially filled and opened for business thanks to a local Boy Scout.
A Blessing Box is like a little free library, but for food and toiletries. Those that are hungry are encouraged to stop by and take what they need. Likewise, people who want to help their neighbors can bring food and put it in the box to share.
Arann O'Reilly, rising junior at Olympic High School and member of Troop 249 out of Steele Creek, decided to take on the task of building the Kannapolis Blessing Box for his Eagle Scout project.
Getting the project off the ground
Kluge, director of sales at Homewood Suites in Concord, began plans to implement the Blessing Box projects over a year ago. For the first one, which opened at the fire station on Pitts School Road in January, Kluge partnered with Concord Police officer and owner of Rough Plank Designs, Chris Carpenter.
Carpenter built the first box and it was filled by donations from Cannon Pharmacy, Food Lion on Poplar Tent Road, Homewood Suites, Comfort Suites, Levy Foods and other individuals.
Kluge also works with The Sandbox, a local organization that serves families with a child diagnosed with cancer or a rare or terminal illness. That's where she met the O'Reilly's and told them about the Blessing Box opportunity.
"We were talking about the Blessing Box and he (Arann) needed an Eagle Scout project," Kluge said. "These would make great Eagle Scout projects and they do. They also make great just troop projects."
With the amount of programs its offers to the community, the Cabarrus Health Alliance was a no-brainer for a Blessing Box placement.
"It was a good location. The rate of food insecurity in Cabarrus County is 15 to 21 percent and that's just what's in the system. So I thought the biggest impact would be to put it here," Arann O'Reilly said.
So the fundraising and building began. Home Depot- Steele Creek donated $75 for the project which took care of supplies and the troop collected about 1,500 food and toiletries to fill the box.
Donations came in from Harris Teeter, Cannon Pharmacy, Homewood Suites, members of the YMCA's Leader-In-Training program and friends and family members. The troop also packed 88 hygiene bags for the box.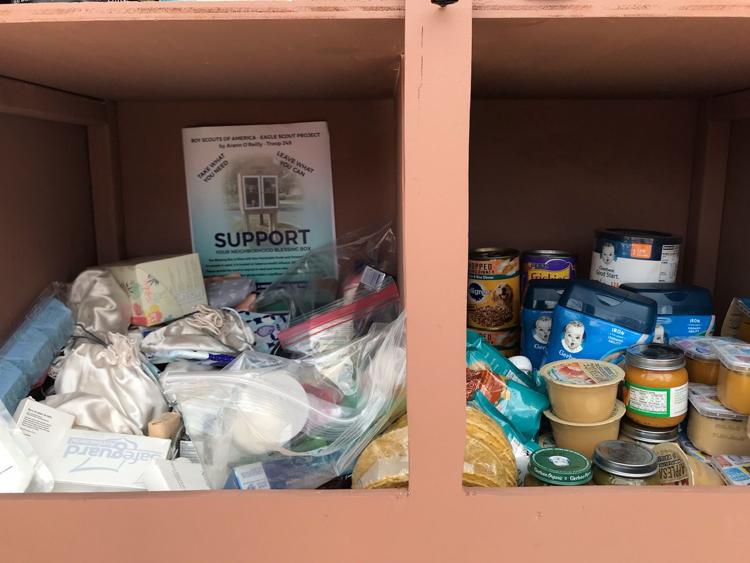 By the time a ribbon-cutting was held, the box had been open for about four days and the items were already going fast.
Carainn O'Reilly said her son had a vision for the box when he decided to make it his project. When community members walk up to the box, they will see carefully painted doors with the words "Take what you need. Leave what you can," written in cursive. There is also a plaque that says "Boy Scouts of America Eagle Scout Project by Arann O'Reilly, Troop 249. July 2019."
The motivated scout chose to put plants under the box to give it a homey-feel.
"It was really empowering because he wanted it to be welcoming; really living and nourishing all around and people take note of the little things. And when you are in a situation where you need a food pantry, and we've been there; when you are in that situation you are very sensitive and insecure anyway," Carainn O'Reilly said. "It just puts an extra little thing to it."
The box sits at a high-traffic area for the alliance, and its various departments are going to be responsible for keeping it stocked for the community.
"So every month the different departments will have responsibilities as well as community members being able to come over and stock it. If a community member or community group would like to stock it, they do not need to ask permission," Erin Shoe, chief operating officer at the Cabarrus Health Alliance, said. "Please some to Cabarrus Health Alliance and check out the box. If it's full, drop off your donation and we'll make sure it gets stocked when the inventory is running low."
Shoe added that the location is perfect because people come in and out of the alliance all day and will walk right past the box in its parking lot. After the ribbon cutting, some curious community members were already grabbing items out of it.
"What's great about this location is we have patients and visitors all day long through our WIC program, pediatric department, we have OBGYN maternal health program, our syringe exchange program, our dental program and so truly there are people in our facility all day long receiving services," Shoe said. "So we are really excited about having the box here to serve those folks and then whoever those people tell as well. You don't have to be a patient or visitor to Cabarrus Health Alliance. If you are in need, it's great that it's here."
The Blessing Box at Cabarrus Health Alliance is located at 300 Mooresville Road in Kannapolis.
Kluge is still looking for builders and locations for boxes in Harrisburg, Midland and Mount Pleasant.