The Brainy Yaks didn't expect to come home from a recent international robotics tournament with any trophies, but the judges had other ideas.
Cannon School's middle school robotics team recently attended the Mountain State Invitational Tournament through First Lego League. First Lego League is a global robotics competition built around theme-based challenges to engage children 9-16 in research, problem-solving, coding and engineering. The tournament was hosted by Fairmont State University in West Virginia and included teams from around the world.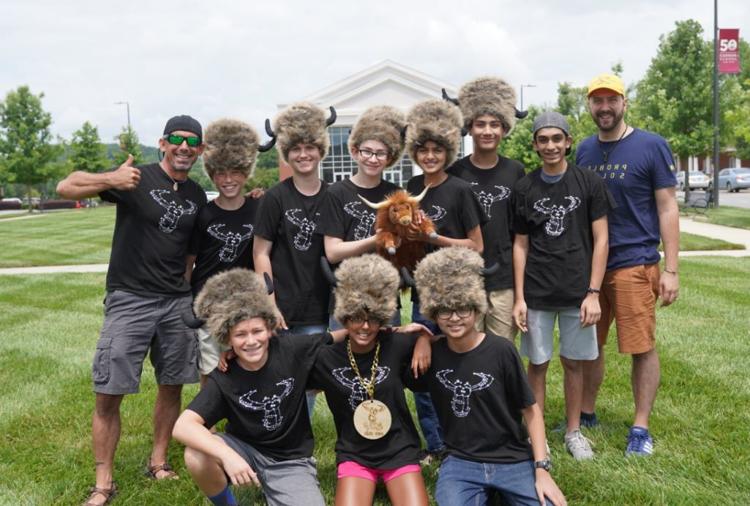 And out of all those teams, the Brainy Yaks received the 1st place Teamwork Award.
"It was amazing," Leigh Northrup, middle school dean of innovation and technology and coach, said. "The coolest thing is that the kids were recognized for almost 11 months of really hard work."
This was the first year the team qualified for an international tournament, and they had no idea what to expect when they arrived for the weekend. What they found was team spirit, energy and an environment similar to that of a professional sporting event.
"When we got there Friday morning, one of the first things we saw was one of the teams from Colombia in the lobby just dancing and celebrating and it was really hard to tell whether you were at a World Cup soccer match or a robotics tournament," Northrup said. "The international teams had their faces painted. They had vuvuzelas and noise makers and their entire family was waving flags and the spirit was just contagious."
Qualifying for the world tournament
Each year, First Lego League releases a challenge which is based on a real-world scientific topic. Each challenge has three parts; the Robot Game, the Innovation Project and the Core Values.
According to the organization's website, teams participate in the challenge by programming an autonomous robot to score points on a themed playing field, developing a solution to a problem they have identified, all guided by the Core Values; discovery, innovation, impact, inclusion, teamwork and fun.
The research component, the Innovation Project, challenges the teams to study a problem and come up with a solution. This year's theme was space and the Brainy Yaks chose to focus on astronauts and their sleep.
The solution the team developed was supplemental lighting to simulate a day and night cycle so the astronauts get their rhythm back. They called their solution Space Days.
By developing the project and winning at regional and state tournaments, the team qualified for the international tournament.
The team also came up with a Core Values rap and choreographed dance to the tune of "Ice, Ice Baby."
Members of the Cannon team are Chase Hensley, Abhi Kumar, Brandon Bartelli, Braden Polsky, Rayyan Syed, Jibraan Syed, Niki Desai, Nolan Crandall, Riley Shue, Chase Erdin and Deven Dighe.
Experiencing the world through robotics
When the team arrived in West Virginia, they worked together to complete a high-ropes course, attended workshops on robotics and competed during robot runs against 64 other teams.
"It went pretty well. We got 40 points less than the max points we could get," Hensley said of the robot run. "For our team, we improved our robot a lot and also we learned a lot from the different workshops. They had like six you could go to and further dig into some of the topics they talked about as a whole group."
Northrup said throughout the weekend he could tell the team was doing well because the judges kept speaking to them, but they were still shocked when it was time for the award ceremony and they were asked to perform their rap in front of all the other teams.
"They only asked us and the team from Brazil to do that. They presented their research project and we presented our core values rap and to be there in front of thousands of international people just celebrating the core values of First Lego League was really cool," Northrup said. "The neat thing is too is at Cannon we have the Upper School makerspace robotics guy, we have the Upper School graphic design and video teacher helping and with the choreography we had the Upper School cheerleading coach helping the robotics team do their choreography. It was truly a team effort to get the kids to where they ended up."
Then it came time for the awards, which turned out a lot better than the team expected. They went into the tournament knowing they were up against the best and ready to learn, not to get a trophy.
Yet they came home with a first place.
"We got there and it was really fun and we got to do a lot of things. We just wanted to meet with the people and soak in as much information as we can get because it wasn't about winning a trophy ultimately. It was about team-building and getting to meet other people there," member Rayyan Syed said. "We were really in awe and super surprised when we actually got the trophy. In the end we got to know each other well, we got to know people from other countries as well and in the end, the cherry on top of the sundae; we got our trophy."
Northrup thinks the team came home with first place for teamwork because of its creative core values rap. He said First Lego League isn't just about running robots; it's much bigger than that.
"The program tries to teach the kids not just about STEM and engineering, but about how to be awesome people, awesome teammates and to be able to contribute to the innovation of the next century," he said.
The team is already planning for next year; thinking of adjustments they could make to their robot and how to add a little more pep in their step. Some suggestions about wearing USA capes or jumpsuits were discussed the last time they were together.
"The best part was just going to this world experience and we got to see what it actually means to be a team there at worlds. So next year we may take some ideas from what we learned from the other teams. We've got to really bring the pep," Rayyan Syed said. "We learned a lot of cool, new techniques about the robot that we can definitely implement next year. We learned cool presentation techniques and how to really present our idea to the judges and we learned some researching tactics. So it was really beneficial, this world experience and we know how to improve next year."