Catawba Brewing Co. had a problem on its hands: hundreds of pounds of aged out peanuts in stock with a new shipment of peanuts headed its way.
While some may have discarded the peanuts, assuming they had no value, co-owner Jetta Pyatt knew of one bear rescue that would accept the unwanted nuts as a blessing, her husband and brewery co-owner Billy Pyatt said.
"Jetta is certainly pro-bear," Billy said. "She has followed Appalachian Bear Rescue for a long, long time."
This isn't the first time the brewery has helped Appalachian Bear Rescue. In the past, Billy said the brewery has hosted $1 pint night donations to benefit the rescue, and he and his wife have privately donated to the rescue. Donating the peanuts just made sense, Billy said.
"We had these peanuts that are aged out, we've had them for 10 months. We just didn't use as many as we thought," Billy said. "We're getting our new stock in for this year's Peanut Butter Jelly Time release. We thought, 'gee, we know some hungry bears, let's just make some calls.'"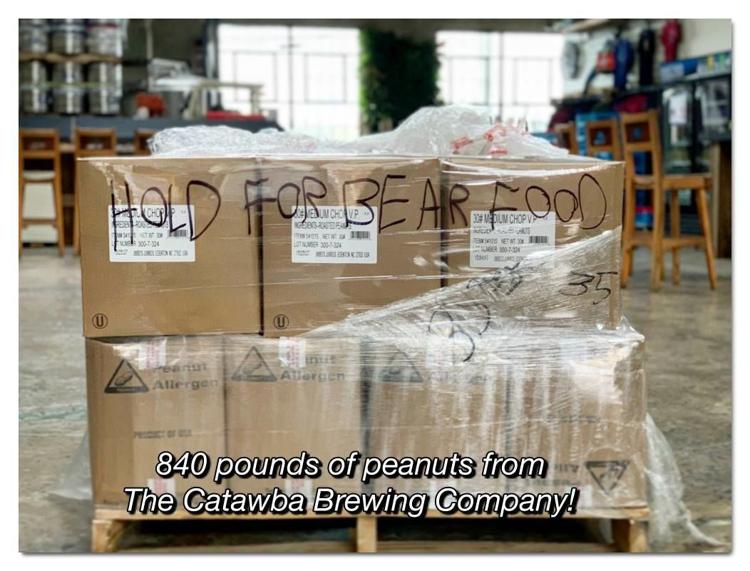 Improving their community is a main tenet of the business Billy and Jetta co-own with Billy's brother, Scott, Billy said.
"It's just really part of our DNA," Billy said. "If you look at our mission statement, one of the tenets is to make our area where we live and work better. This is just part of it."
Donations like the one Catawba Brewing Co . made don't happen every day, said Dana Dodd, executive director of Appalachian Bear Rescue.
"Generally speaking, we don't get a big donation of 800 pounds of peanuts from one place," Dodd said. "It's wonderful when we do."
One of the common misconceptions people have about black bears, Dodd said, is that they eat mostly meat.
"People think that black bears eat a lot of meat," Dodd said. "It's not that they don't eat any [meat], that's not their predominant diet."
Throughout the spring, bears at the rescue that are no longer being fed milk replacement formula eat a diet of mostly different berries. In the fall, the bears switch from their berry diet to one of acorns and nuts so they can gain enough weight to make it through the winter in their dens, Dodd said.
"You'll never have enough [acorns]," Dodd said. "No matter how many get picked up by somebody. So we have to supplement with things like peanuts."
That's why Dodd says donations like the one Catawba Brewing made, while infrequent, are still important to the survival of the bears.
"Donations like that really help us feed all of the bears," Dodd said. "Right now we have nine [bears] currently at the facility, and all nine of them benefit a lot from the donation that we received."
Usually, spontaneous donations of nuts are rare. When peanut stock gets low, the rescue makes a "peanut appeal" on Facebook, Dodd said, asking followers to purchase 25 -pound boxes of peanuts in shells from nuts.com .
"We have to watch really closely because there are a lot of people who like our little bears," Dodd said. "In just a few hours there is literally a ton of peanuts headed to Townsend on delivery trucks."
Donations help the rescue care for as many bears as possible, Dodd said. The bears the rescue takes in are saved as young cubs or yearlings, that is bears between 1 and 2 years old, that were either injured or orphaned, Dodd said.
"We care for them with as little human contact as possible," Dodd said. "All of them, when they're healthy enough, are released back to the wild, so we're not a sanctuary and we're not a zoo. We don't have any permanent resident bears."
The rescue is in its 22nd year and has cared for more than 280 bears, including 15 this year, Dodd said. Of those 15, two had to be euthanized because of how serious their injuries were, and five others have had serious injuries that lead to rising veterinary bills, Dodd said. Nut donations like the brewery's allow the rescue to focus on those bills.
"We had a lot of bears with very serious injuries this year," Dodd said. "The vet bills add up even though [the veterinarian costs] are very reasonable. Getting a donation like this allows us to assign more of our funding to paying for things like the medical care and things like that."
Appalachian Bear Rescue will be holding an online auction of ornaments that were hand painted by local artists, Dodd said. For more information on the auction, other ways to donate and to see daily photos and videos of the bears, visit the rescue's Facebook page at www.facebook.com/AppalachianBearRescue/.
Chrissy Murphy is a staff writer and can be reached at cmurphy@morganton.com or at 828-432-8941.