CONCORD – Seven years have passed, and friends and family haven't given up hope that they will be reunited with Crystal Dawn Morrison.
Morrison, who is from Rock Hill and lives in Concord, was 31 years old when she was last seen walking near International Drive and Highway 73 on Aug. 23, 2012.
Lacey Castro, one of Morrison's closest friends, is reminding people about the selfless woman whose last image was seen on camera at the Shell Gas Station on Davidson Hwy in Concord.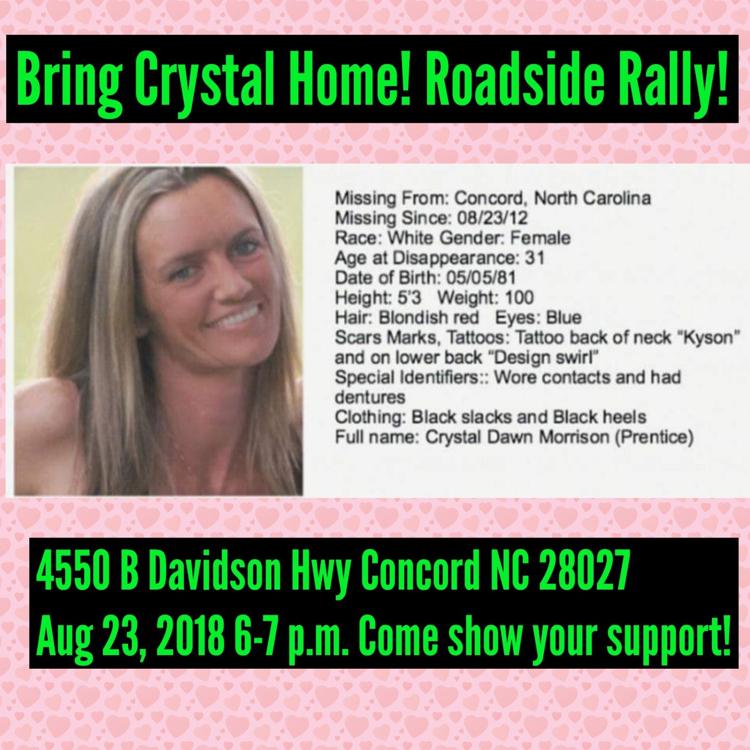 "You see it on the news all the time that people are found after years and years and years," Castro said. "They can overcome things they go through. Crystal is definitely an overcomer. It doesn't matter what's been thrown at her. I know she will fight and I know she will prevail. We are going to remain positive until we have a reason not to."
Morrison left work at Connextions Recruiting just after noon on Aug. 23.
Castro said Morrison wasn't feeling well, but she didn't have a car, a working cellphone or her debit card. She stopped at the Shell station and waited for a ride.
When her ride arrived, Morrison wasn't there and no one has heard from her since.
"She is the most selfless person you will ever meet," Castro said. "She is always asking if you are OK or if you need anything. What can she do for you? She is a giver. She is a fighter. She fights for what she wants and what she believes in. She is the best mom."
Morrison's disappearance remains a mystery. She has a now teenage son, Kyson, who lives with her parents.
Concord Police officers told the Independent Tribune that the case remains open and continues to be investigated.
Officers also said they receive tips regarding Morrison's disappearance almost monthly that they follow up on, but nothing that has directed police to her whereabouts.
Castro says she is offering $5,000 for 48 hours for information that leads to finding Morrison.
Morrison is described as about 5 feet 3 inches tall, weighing about 100 pounds. She has blonde and red hair, blue eyes, wears contacts and has piercings in her ears. She has her son's name, "Kyson," tattooed on the back of her neck and a "design swirl" tattooed on her lower back.
"The way I see it is, there's no evidence to support that she's not alive," Castro said. "I've always been a positive person, so unless I have evidence to support otherwise, I'm holding on to my faith and my hope that she's still out there."
Castro says she has become good friends with Morrison since the moment they met, on Cinco de May, which is also Morrison's birthday, a few years before she went missing.
Castro says the past seven years have been a struggle for her and Morrison's family, just hoping she is safe.
"They have been rough, not knowing where she is," Castro said. "Crystal is such a beautiful person. She really is a great friend. I know if the roles were reversed, she would be doing this for me. She wouldn't stop."
Within the next month or so, Castro wants to put a billboard up on I-85 to remind people the search for Morrison is not over.
While family and friends continue to look for Morrison, Castro and family members are pleading with community members to speak up if they know anything.
"I went them to know that anything they've heard that they shouldn't take it for granted," Castro said. "Any small, minute detail or rumor, it doesn't matter what it is, anything they've heard needs to be reported to the police. Sometimes you hear about cases where people have known something for years, they just take it for granted. It needs to be told to someone."
Tipsters can remain anonymous and should contact the Concord Police Department at 704-920- 5000 or the CUE Center for Missing Persons at 910-343-1131 or the 24-hour line at 910-232-1687. To learn more about this missing person case and others, visit CUE online at http://www.ncmissingpersons.org.