NASCAR driver Ryan Newman partnered with Oscar Mayer and Rise Against Hunger to fight food insecurity and malnutrition around the world.
On Thursday afternoon at the Roush Fenway Racing shop in Concord, Newman and more than 40 volunteers packaged 10,152 meals that will be sent across the world.
According to its web site, Rise Against Hunger "is an international hunger relief organization that distributes food and life-changing aid to the world's most vulnerable, mobilizing the necessary resource to end hunger by 2030."
Teams of five worked together to fill packages of food.
"They are going to be saving and changing thousands of lives," said Dave Thomas-Bush, a community engagement coordinator for Rise Against Hunger. "The meals will be sent internationally to school-feeding programs or orphanages and so on."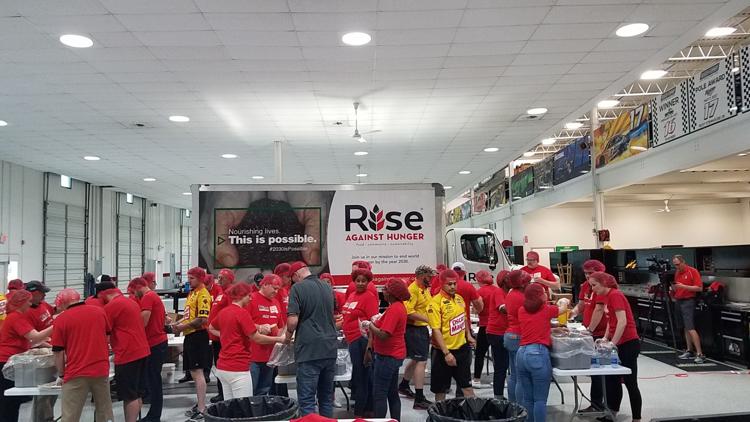 Newman will represent Oscar Mayer on his No. 6 car this weekend in the Coca-Cola 600 at Charlotte Motor Speedway.
"It's good team building and it's all for a good cause," Newman said. "Oscar Mayer is doing a good campaign to feed the hungry and make a difference in the world. I'm honored to be a part of this."
Thomas-Bush said he is thankful to have Newman lend a hand and help spread the word and make an impact.
"A lot of our meal-packing events aren't done with national people," Thomas-Bush said. "It's just like small churches and other organizations, which is great, but to have someone of his name and his stature, it speaks volumes."
Matt Riezman, associate director of marketing for Kraft Heinz, said the initiative is a big focus for them.
"As a company, we are really focused on feeding the world and finding a better way," Riezman said.
Newman is currently 17th in the Monster Energy NASCAR Cup Series standings.
He will honor Army Sgt. James Nolan, who was killed in action in Afghanistan in 2009.
"I think this weekend we are focusing on being a part of 600 miles of remembrance for Sgt. Nolan and his family," Riezman said. "It's an honor to share the car with him."