CONCORD – Twenty-four of Cabarrus County's bright young minds are spending part of their summer break developing assisted devices for people with disabilities.
The NAF Future Ready Lab has talented and creative rising juniors and seniors from Cabarrus County Schools participating in a paid internship that allows them to create, design, build and 3D print assisted devices for their need seekers.
Based on a collegiate program called the "MakerBot Disability Challenge," interns work with engineering mentors from around the area, physical and occupational therapists, teachers and caregivers to help design and print assisted devices that would make day-to-day activities easier for the disabled.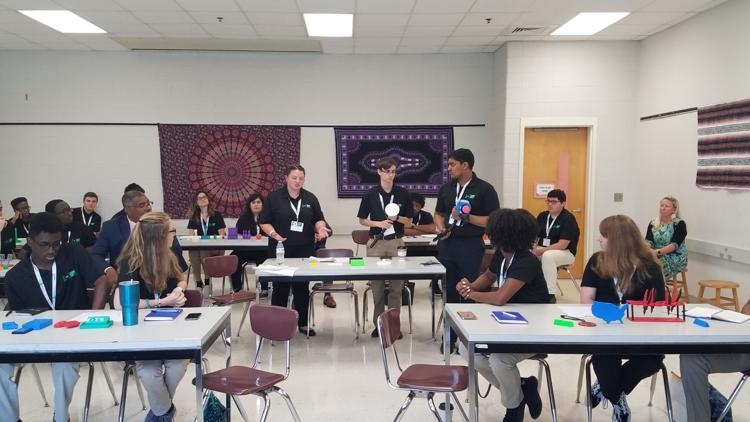 The internship started July 15.
The students were broken into groups which then met with their needs seeker July 17.
Each group will present their finished product Aug. 1 at Jay M. Robinson High School.
"A needs seeker is someone with a disability, so they pretty much tell us what they need or what can help them with their everyday life, like if they need help with gripping certain objects that they can't grip, we will make pencil grippers to help them," said Briana Leonard-Lott, a student at Northwest Cabarrus High School.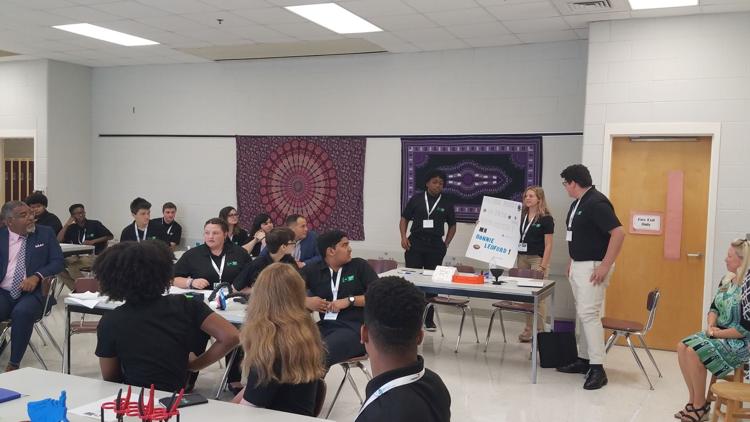 The students are from each of the Cabarrus County Schools NAF Career academies -- Mount Pleasant Academy of Energy and Sustainability, Jay M. Robinson's Academy of Engineering and Automation, Cox Mill's Academy of Information Technology, Northwest Cabarrus's Academy of Health Science and Biotechnology and Hickory Ridge's Academy of Hospitality and Tourism.
On Tuesday, NAF student interns from Cabarrus County Schools Career and Technical Education (CTE) department participated in a discussion from community leaders about being prepared for the future.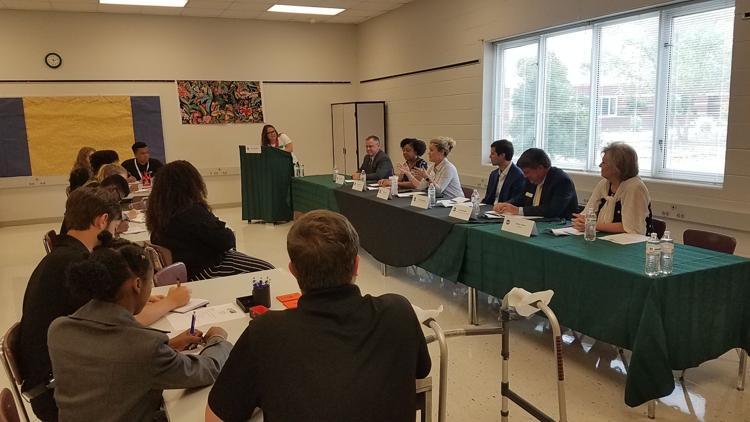 The panel of community leaders visited the students, offered insight and advice, and learned about the projects.
"It's important to highlight the great things that are happening with our academy students and how they are also helping the community, while working on their career ready and employability skills," said Tiffany Barfield, the Senior Director of Policy and Advocacy at NAF.
The teams presented their ideas to the panel.
Leonard-Lott, and her team, came up with an idea of designing and making a desk that attaches to a wheelchair, and has pencil grippers and a magnetic drawer for storage.
Other teams are working on projects to help those suffering from strokes, people in wheelchairs, children suffering from cerebral palsy, people who had their arm amputated and people who just can't grip onto a pencil.
"It means everything," Leonard-Lott said. "Even if this wasn't a paid internship, I believe we still would have been on this. This is something we don't have to be doing, but we are here every day doing this."
Through a $51,000 grant from the Jimmie Johnson Foundation, staff from Jay M. Robinson's Academy of Engineering purchased 10 3D printers last year.
Those printers are now used to print meaningful products for the disabled.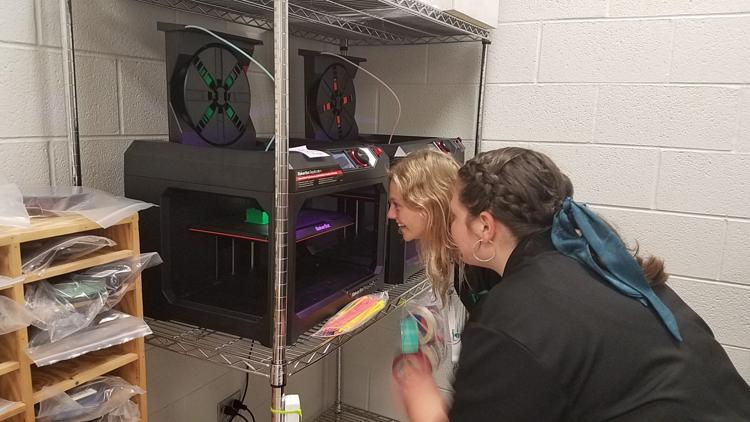 The NAF Future Ready Lab is in its second year in Cabarrus County Schools.
According to its website, "NAF is a national network of education, business and community leaders who work together to ensure high school students are college, career and future ready."
Barfield said the organization serves more than 100,000 students in 35 states.
"We have a large footprint here in North Carolina," Barfield said. "Our students go through a curriculum, and during that curriculum, they get work-based learning opportunities. Our gold standard is our junior year when you get a paid internship which is what these students are doing."
The students are provided a stipend paid through the Corning Foundation. Decision Path provided services such as interviews and counseling; S&D Coffee and Tea provide funding for supplies and materials; and Cabarrus County Schools Career and Technical Education paid for training, teachers with extended employment and work-based learning coordinators.
The students were chosen after applications were received and interviews were concluded.
"We have students with various ability levels, different interest levels and they all bring a lot to the table with different artistic abilities, programming abilities, design abilities, and they've been able to work together to form pretty cohesive teams," said Kristi Parlier, academy coordinator at Jay M. Robinson High School and Mount Pleasant High School.