The room at Jay M. Robinson was buzzing with excitement and some nervous jitters last week as students waited to present their creations to stakeholders and need seekers.
For three weeks this summer, 24 students from Cabarrus County Schools NAF Career academies collaborated with local business partners to plan and 3D print items for people with disabilities.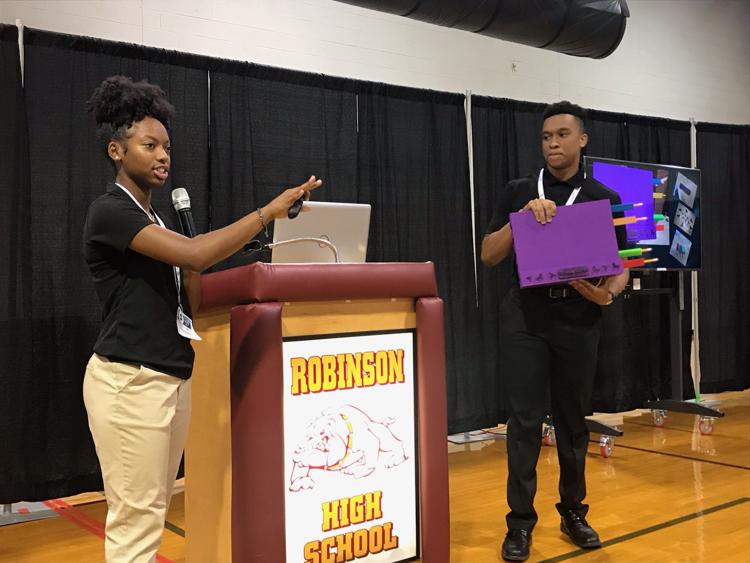 The NAF Future Ready Lab paid internship allowed students to apply real-world skills while also learning from experts in various fields. NAF is a national network of education, business and community leaders who work together to ensure high school students are college, career and future ready. There are NAF academies at five of the traditional high schools in Cabarrus County Schools; Cox Mill, Hickory Ridge, Jay M. Robinson, Mount Pleasant and Northwest Cabarrus.
It all started with a grant from the Jimmie Johnson Foundation. Jay M. Robinson's Academy of Engineering and Automation received a grant from the foundation to the tune of over $51,000 that allowed staff to purchase 10 3D printers.
Then two of the county's NAF academy coordinators heard about the new internship program, which was rolled out at a few schools across the country in 2017.
"It's really meant to help scale the high-quality paid internships for high school students across the country by overcoming some of the logistical barriers that a lot of our partners were facing to hire interns," Brooke Rice, senior director of NAF Future Ready Lab said on presentation day.
Kristi Parlier, coordinator for the Academy of Engineering and Automation at Jay M. Robinson, and Holly Harris, coordinator for Academy of Information Technology at Cox Mill High School, decided to roll-out Cabarrus County's own version of the internship in the summer of 2018. They called it the Fab Lab.
"Not to sit idly by, if you know Cabarrus County Schools, they were the first two to take what we learned from that pilot and start putting it into action in what they called the Fab Lab last year. And Cabarrus County really took those lessons we learned in that first year and learning in the second year when we rolled out the locally-sponsored NAF Future Ready Lab pilot this past fall," Rice said. "This summer Cabarrus County was chosen to be one of only four communities across the country to be part of that pilot."
The local sponsors for this summer's internship were DecisionPathHR, S&D Coffee & Tea and Corning Incorporated Foundation.
"We could not have done this without Corning, they are tremendous business partner. Corning Foundation donated funds to help get a lot started and then S&D Coffee and Tea came and helped with interview skills and talked a lot about being in the real world," Rusty Parker, Career and Technical Education (CTE) director for Cabarrus County Schools, said. "For the past several years now if you've been around Cabarrus County Schools for any bit of time, our focus in CTE education has really been work-based learning. We've tried to think of creative ways to give students a real-world work experience. So NAF came to the rescue with the Future Ready Lab."
A stronger and better program
When the coordinators created the Fab Lab last summer, Harris said the original plan to get it off the ground and then make it bigger and better. She said partnering with NAF this summer helped with the timeline, project management and being able to provide more experiences for the student participants.
Those experiences included a legislative panel with local business leaders, project management training and a work-life balance lesson with a trainer from A to Z Fitness.
"So I feel like we have increased the professional development opportunities to make it more skill-oriented to transition to the classroom, to the workplace, to college and with the collaborative measures effective teams training we have them, you really saw that shine through because they are from all different schools," Harris said. "They are from all over, all different backgrounds. They recognized quickly what one of our speakers said that if you're on a team and everybody knows the same information, you are on the wrong team. I think that really stuck a chord with them because they all came in from different backgrounds and honing those different strengths to be a more effective team."
Each group presented their finished products on Thursday, Aug. 1. Products ranged from a toothbrush holder for a need-seeker with cerebral palsy to a communication board for clients at What Matter Most Inc. in Concord, a human services company that provides support and services to individuals living with intellectual and development disabilities.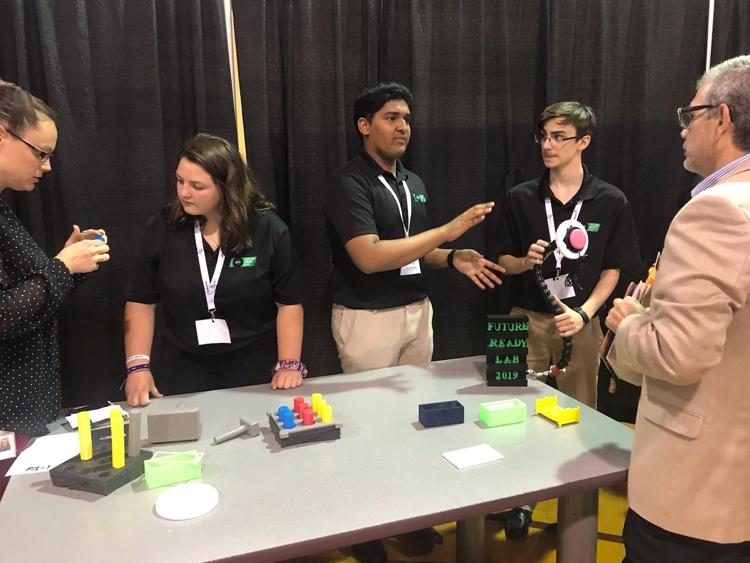 Coordinators worked with What Matters Most Inc. and district occupational therapists to identify possible need seekers that would be interested in letting the students print them something.
One of those need seekers was Ronnie Ledford, a 62-year-old with paraplegia. His group took his love for the Carolina Panthers and Atlanta Braves and incorporated it into a tray for his wheelchair.
"I think it's an amazing experience being able to see how we impact Mr. Ledford and even our coworkers and people around the community. It's really cool to see," Hickory Ridge student Hanna Martin said. "I was really uneasy at the beginning going into the internship but I wanted to participate out of the goodness for other people and learning, being able to learn and explore with other people."
Another group worked with an exceptional children's at Harold E. Winkler Middle School to create toys with large buttons that can be used for motivation in her classroom. They also used the 3D printer to make a music-themed ring toss game for a client at What Matters Most Inc.
"I think it went pretty well actually. I was interested in 3D printing anyway since I'm from the Academy of Information Technology, so I thought it was pretty similar to my interests," Serena Brantley, Cox Mill High School student, said. "I also wanted to be able to help people using my 3D printing and be able to apply my knowledge in the real world."