Hundreds of fans waited in line to meet NASCAR's newest millionaire.
Kyle Larson, the driver of the No. 42 car, met his supporters and signed autographs Wednesday afternoon at Food Lion on Concord Parkway in Concord.
The public appearance by last weekend's Monster Energy NASCAR All-Star Race winner was sponsored by Coca-Cola and Food Lion.
Food Lion was also accepting food donations for the Second Harvest Food Bank of Metrolina.
"It's always cool when you can spend a little time with some race fans, sign autographs and take photos," Larson said. "We are always thankful to see their support throughout this week and watching us on the weekends."
Larson said he's received a lot more attention since winning the $1 million prize at last week's all-star race at Charlotte Motor Speedway.
It was his first NASCAR Series Cup win since Richmond in 2017.
"It's always cool when you win," Larson said. "A lot of people have been congratulating me. It's been a while since we won a race so it was a neat deal."
This weekend, Larson is gunning for the checkered flag at the Coca-Cola 600.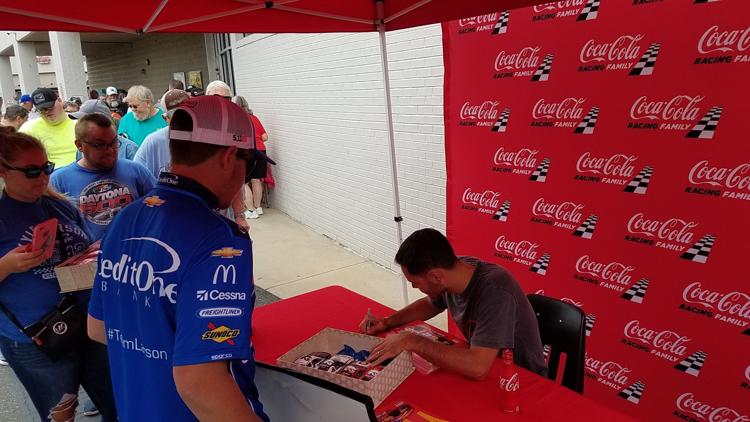 Larson, a California native who is 15th in the points standings, signed collectables for about 200 fans, many coming from far away, including Germany.
"Just having their support means a lot," Larson said. "We all want a big fan following so seeing all of the die-cast cars and sheet metal for me to sign is cool. Knowing they collect it, it means a lot."
Gary Meadows traveled 13 hours from Rome, New York with his son Brandon to attend both races at Charlotte Motor Speedway.
They waited at the front of the line for nearly 4 ½ hours to meet Larson.
"He's the $1 million man," Meadows said. "We've met him a few times, plus this is our hobby, and he's a good driver and a likeable guy."
Spencer Cowan is in town for the races from Daytona Beach, Florida. He met Larson wearing the "Team Larson" jersey.
"He's good with his fans and he's a great racer," Cowan said.
Cowan was at Saturday's all-star race to witness Larson's big-time victory.
"I'm sure that helps him get a lot of people out here. Why not come out and see the winner of the All-Star race?" Cowan said.