The Cabarrus County Board of Education saw a first draft of this year's capital plan at its work session on Monday, Aug. 5. The plan included $380.5 million in funding needs to build new schools and cover capital improvement projects through 2027.
On this draft, Beverly Hills was slated for renovation to be used for another purpose, but during its meeting on Monday, Aug. 12 the board voted 7-0 to add it to the capital plan for renovation or replacement— depending on funding— for 2026.
This decision was made after a presentation of enrollment projections and school capacities by Brian Schultz, assistant of auxiliary services and Tim Lowder, executive director of operations. In the presentation the men shared schools that are under capacity, between 90-99 percent capacity and over 100 percent capacity.
Based on the 2019-20 projections Harrisburg, Patriots, Mount Pleasant, R. Brown Elementary, Coltrane-Webb, Beverly Hills, W.M. Irvin, Weddington Hills and Cox Mill elementary schools are all slated to be at or above 100 percent capacity this school year. Harrisburg Elementary's capacity will be reduced to about 80 percent once the new Hickory Ridge Elementary opens in 2020.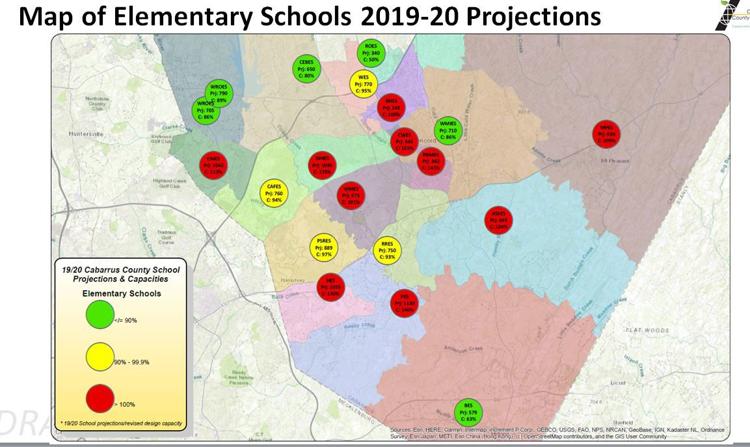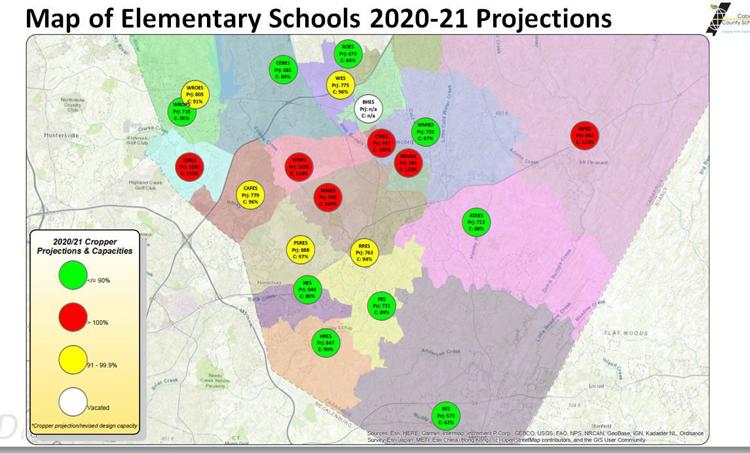 Concord's two other neighborhood schools— Coltrane-Webb and R. Brown— are scheduled for replacement on the capital plan with R. Brown opening in 2024 and the new Coltrane-Webb set to open in 2024 or 2026, depending on if it's built on the same site or a new site.
The new R. Brown will open with 800 students and relieve Wolf Meadow and W.M. Irvin. The new Coltrane-Webb will be built for 650 students on-site or 800 students if a new site is located and relieve Weddington Hills.
Once the numbers were presented, board member Carolyn Carpenter made a motion to put Beverly Hills back in the capital plan to be built around the same time as the replacement R. Brown McAllister is built, which the district hopes will be completed in 2024.
But board member Holly Grimsley convinced Carpenter to push that date back after expressing concerns about some of the capacities at other schools. She said that a new Coltrane-Webb needed to be first before Beverly Hills is addressed.
"I am all for us putting Beverly Hills back into the plan here and doing a rebuild, but I have a real issue with building that school before R. Brown and Coltrane-Webb. I don't want to see that school go away because it's right there dead-set in the middle of everything so it does not make sense to me, but timing is everything," she said. "We cannot continue to leave Weddington Hills and Wolf Meadow in the state that it is. I am all for doing this but I am not for putting that school in before Coltrane-Webb. These red dots and these numbers and these capacities speak volumes."
Heeding Grimsley's advice, Carpenter agreed to change her motion to add Beverly Hills to the capital plan for an estimated $24 million to open after Coltrane-Webb in 2026, which will all depend on funding from county commissioners.
"These people have waited 65 years for things and they have funded everybody else," Carpenter said of the Beverly Hills community. "They've funded West Cabarrus, they've funded Hickory Ridge, they've funded things in Harrisburg… you know it's about time they get funded."
That motion passed unanimously 7-0 which led to a round of applause from the audience.
When the discussion shifted to whether or not to vacate Beverly Hills in 2020, which the board voted to do in June 2018, Carpenter quickly made the motion to reverse the vacate and keep the school open.
That motion passed 4-3 with board members Carpenter, Grimsley, Laura Blackwell and Vice Chair Rob Walter voting for it and Chair Cindy Fertenbaugh, Barry Shoemaker and David Harrison dissenting.
The teacher supplement question
All of the decisions about Beverly Hills only leave one question left; where will the money for teacher supplement increases come from for 2020-21?
The board recently voted to spend $686,000 of its fund balance to help the supplement move from 8 percent to 9 percent. The county commissioners agreed to put up the other $686,000 to make this happen.
However, this is only for the 2019-2020 school year which means the school board has to find extra money in its operational savings to keep the supplement at 9 percent after next school year. The proposal on the table was that the supplement increase would come from operational savings once Beverly Hills was vacated. Now that the Beverly Hills option is off the table, the board is tasked with finding the money to continue the supplement increase elsewhere.
Finance Officer Kelly Kluttz provided the board with some tools to cut operating expenses to cover teacher supplements and determine where the money can be saved.
The board tabled any decisions or discussions on the teacher supplement to its September meeting.